30 years of interdisciplinary research: The Daedalus Society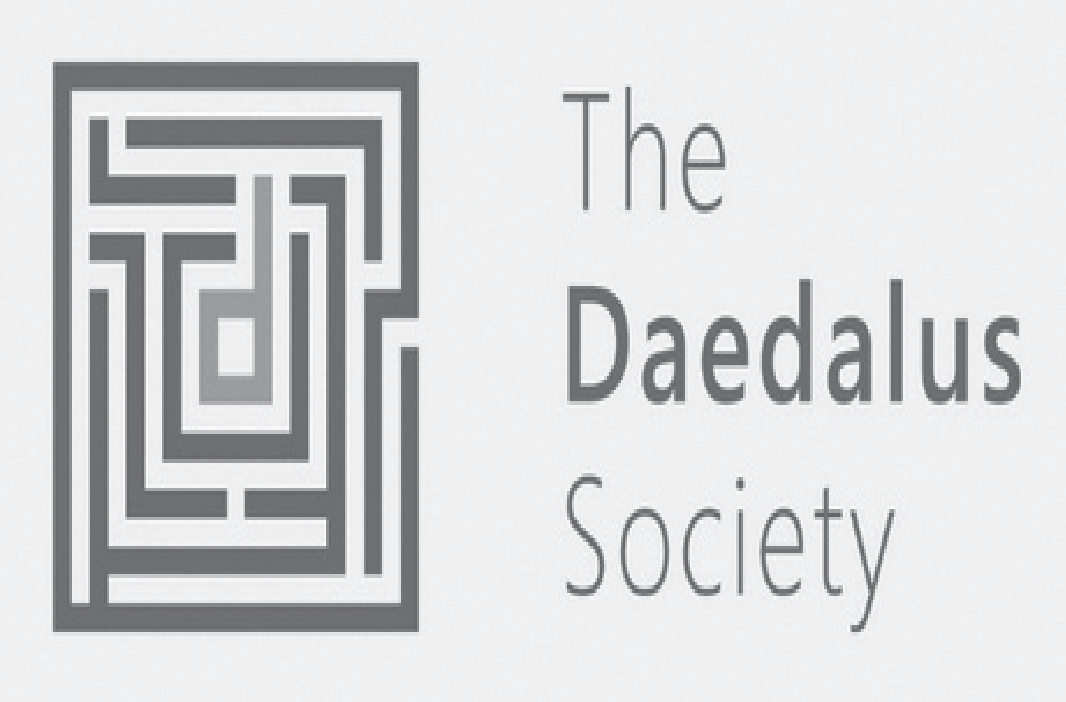 The Daedalus Society's logo
By Raka Custer
For the past 30 years, the Daedalus Society has worked with faculty and students to present cutting edge research to the University community. Since its inception in 1993 with a lecture by former Physics Professor Jim Evans, the lecture series has returned each year without fail, whether in-person or online, as it briefly was during the height of the pandemic. There are four lectures per year, typically two per semester, each belonging to one of the four major disciplines: the humanities, natural sciences, social sciences, and fine arts.
Members of the Daedalus Committee (Monica DeHart, Zaixin Hong, Diane Kelley, and Rachel Pepper) meet once a year at the end of April to discuss candidates for the following year's lectures. Each member of the committee belongs to one of the four disciplinary fields, and have all presented a lecture in the past. They are tasked with finding and recommending professors from the departments within their fields, many of whom are on sabbatical or have recently published research that might be interesting to share with the campus community. Dr. Diane Kelley, Professor of Francophone Studies and the Committee's representative for the Humanities, gave a Daedalus lecture in 2005, and was asked by the committee shortly afterward to join as their Humanities representative. Helping select Daedalus presenters introduces her to research she might have never been exposed to otherwise.
"It's a really fun committee to be on because we get to learn more about what our colleagues are doing. We meet once a year to choose who to invite. Through the year, we're in contact about arranging the talks, who can come and any details that might come up." Kelley said.
Another key aspect of the Daedalus Society is its emphasis on interdisciplinary research and collaboration with members of the student body. Professor Zaixin Hong, representative for the Fine Arts, recalls that although this year's first Daedalus lecture by Professor Siddharth Ramakrishnan was about the biology of snails, the images used in his presentation were illustrated by biology and fine arts double major Marion Rogers. Hong praised the collaboration these lectures can provide. "So, it's really like the way art and science have that kind of collaboration. This professor recognized our senior students' contribution to this very important research. You can see that this is very meaningful to us. Our teaching as faculty are inseparable from our own research projects, which greatly enrich our own understanding of the subject, but also motivate students to do their work!" Hong said.
Often, the majority of attendees are other faculty, retired faculty and alumni, but the committee is working to get more students involved. While presenters are encouraged to invite eight of their own students, the committee would love for more students to join in on the event. Professor Kelley knows that the event space is limited, but students having too much interest in the event might not be the worst problem for the society to have.
"The one thing I'd like them to know is that they can come. Professors who are speaking get to invite students to come hear what they are working on and the discussion after it, and enjoy a good dinner," she said.
Professor Hong also believes that the Daedalus Lectures offer students entirely new insight into their professor's work outside the classroom, and how research is integral to a liberal arts institution.
"Your research is actually an important driving force for you to work here, and that research is part of your teaching. Since 2004, my research is ongoing, it's not just 'I publish one, it's finished,' it's ongoing. And then you can relate it to your teaching, and then your students will get involved in this process," he said.
Whether this Puget Sound tradition will persist uninterrupted for another 30 years is hard to say at the moment, but the Daedalus Society remains hopeful for the future.
"Research is getting truly interdisciplinary, and that is the feature of what Daedalus is all about," said Hong. Academia can feel like a neverending labyrinth, but with Daedalus leading the way, there's light to be found at the end of every corridor.