Rita Moreno, icon of Hollywood's Golden Age,
brings humor and reflection to Pierce Lecture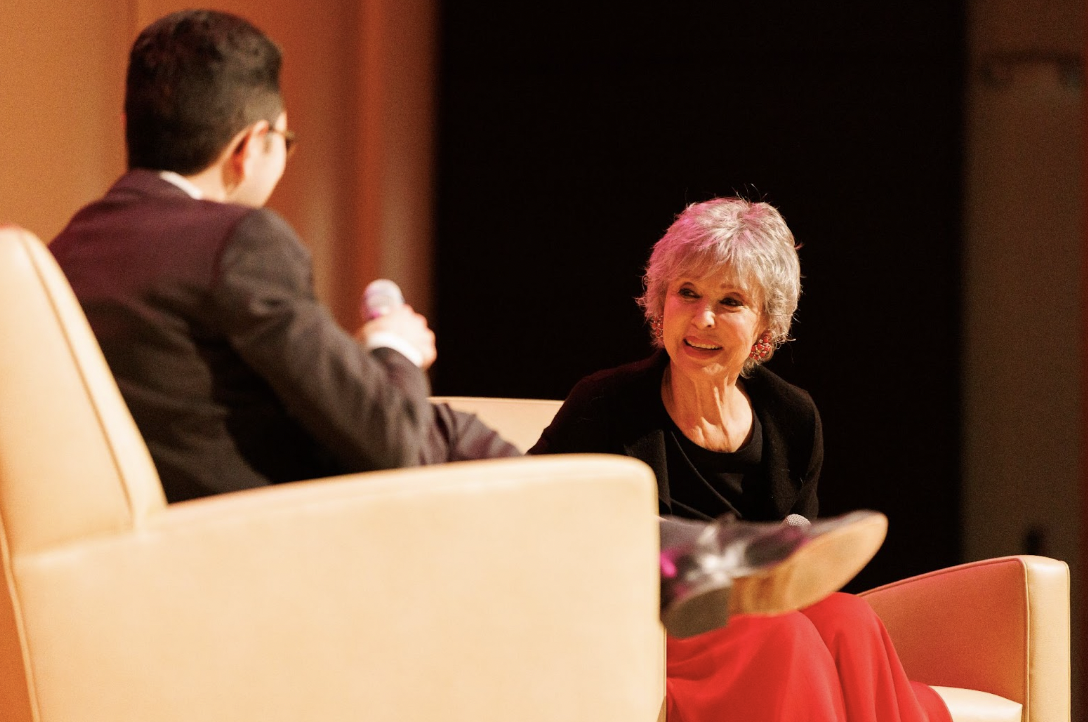 Rita Moreno with Professor Gomez. Photo Credit: Alex Crook
By Audrey Davis, Editor-in-Chief
Content Warning: this piece contains brief mentions of suicide and rape
On April 10, 2023, students, staff, and community members packed into Schneebeck Concert Hall to see this year's acclaimed Susan Resneck Pierce lecturer, Rita Moreno.
Moreno opened the evening by hailing Tacoma, exclaiming, "What a city!" Joined onstage by Associate Professor of History, Andrew Gomez — whose class she visited earlier in the day — the two jumped right into Moreno's story.
Moreno immigrated to America from Puerto Rico with her mother at the age of five. As a little girl in a very foreign New York City, not speaking any English, Moreno, or Rosita Dolores Alverío — as she was known before Hollywood — realized quickly that it was "sink or swim" when it came to language. Somewhat unconsciously, she began to swim, setting a precedent for the determined energy she has carried throughout her life
Despite Moreno's bubbly persona, her early days — and much of her career, for that matter — were full of obstacles. Her palpable attitude of perseverance has been a necessity. Growing up in "el Bronx," Rita faced unrelenting racism and harassment. Hollywood further scorned Moreno, frequently casting her as the "island girl" stereotype. Moreno divulged a conversation she recently had with Jessica Chastain. The two were discussing sex scenes, and while Chastain discussed the awkwardness associated with the production process, Moreno had a disturbing realization: habitually being cast as a "dusky woman" meant many of her early characters "didn't get love scenes. They got raped," she said.
Moreno's experiences were so severe that she sought out psychotherapy following a suicide attempt. Moreno insists therapy was the only thing that was able to "set her straight" after years of barbs and physical assault eroded her sense of value as a person. Eventually, she told her therapist, "I think I love me, and I think I'm a good person. I think I'm ready to go out into the world."
And out into the world she went, becoming one of only 18 individuals to receive all four coveted honors in the performing arts: Emmy, Grammy, Oscar, and Tony (EGOT). This occurred despite being perpetually overlooked for quality roles. Moreno and particularly her portrayal of Anita in "West Side Story" have become inspirational models for Hispanic communities.
Moreno was informed years after her Oscar win about the concurrent reaction in Spanish Harlem in 1962. As the names were listed off for best-supporting actress nominees, "'Fay Bainter in 'The Children's Hour,' Judy Garland in 'Judgment at Nuremberg,' Lotte Lenya in 'The Roman Spring of Mrs. Stone,' Una Merkel in 'Summer and Smoke,' and Rita Moreno in 'West Side Story,'" the neighborhood — usually loud and raucous, according to Moreno — went dead silent. When she was announced as the winner, cheers of joy and hollers of "She did it! She did it!" erupted. Moreno explained that the echoed sentiment truly signified, "We did it!"
Moreno was the first Latina to ever win an Oscar, and remained the only one until Ariana DeBose won the Oscar for the same role as Anita in Steven Spielberg's 2021 adaptation of "West Side Story." At 91 (though you'd guess a few decades younger just from listening to her speak), Moreno worries that she won't be here to see further growth of Latino roles in media.
When asked by an audience member if she would ever slow down, Moreno answered passionately, "Hell no!"