Profiles in Puget Sound: Professor Renee Simms delivers Daedalus Lecture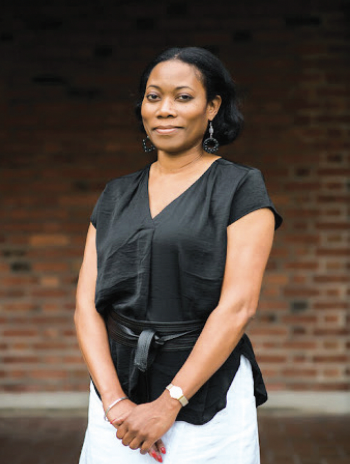 Media use from reneesimms.com/home
By Raka Custer
On Thursday, March 30, students, faculty, and alumni alike poured into the Murray Boardroom to attend Professor Renee Simms' Daedalus Lecture, "Fire Under Feet: Creative Writing and the Decolonial Imagination." Having just returned from sabbatical and braving a recent knee injury, Professor Simms explored the process and history behind a manuscript for her forthcoming memoir.
This hybrid-memoir tells the story of Simms' life and childhood in Michigan and the story of the historic black neighborhood she grew up in, Northland Gardens, exploring the history of this historic black community from 1970 to 1997. Simms labels her work a "hybrid-memoir," a term to which she ascribes a double meaning. Not only does Simms intersperse her prose with poetry, photographs, and artwork, but the work itself simultaneously focuses on Simms' life and the perpetually-changing neighborhood she was raised in. Fittingly, the lecture itself took on a hybrid form as well, as Simms presented excerpts from her manuscript, coupled with moments from Northland Gardens history and further explored through demonstrations of her creative processes.
Professor Renee Simms is an associate professor for the AFAM department and also a contributing English faculty member. While she initially interviewed for a visiting position in the English department in 2011, Simms was asked by former Dean Bartanen to fill a different visiting position in the African American Studies department instead. Ever since, Simms has taught courses in African Diaspora Literature, Black Feminism and Fiction, and, in the English department, Advanced Fiction Writing. This latter class is particularly fitting, as Simms' own creative writing has stemmed from a desire to see new narratives within the literary landscape
"I've just always been a reader of fiction. I love novels, love short stories, and wanted to try to write my own. I think what draws us to creative writing in the first place is we feel we have stories that we haven't seen published and that we want to express our own observations of the world and experiences," Simms said.
Though it is not a work of fiction, the developing manuscript she presented at the Daedalus lecture exists partially out of that desire to help another untold story take form. While part of the reason she chose the hybrid format was because it allowed her to shift the focus between herself and the wider community, it also presented her with a set of challenges unique to writing a work of nonfiction.
"It is different writing about real life. You have to be aware of people's feelings. I don't think it's fair to write about people without letting them know, and I don't think it's fair to not have empathy when you're writing about someone who is real. So, thinking about not just the things that they do that maybe are troublesome, but maybe understanding what motivated them to do whatever behavior you're putting in the book. And so that's a huge burden," Simms said.
Simms believes that writing about the past provides her with a sense of catharsis and pushes her beyond those hurdles. Her new understandings of Northland Gardens and the people she grew up with are at the forefront of her process.
"These are things I've been thinking about for a long time. I didn't always understand what I experienced as a child. I didn't understand the place the way I do now. It took me a long time to be able to process what happened and to have the language to talk about it. So, it feels like, because I'm at that point, I need to get it done," she said.
Although Simms' manuscript is not yet finished, the nuanced historical research Simms presented at the Daedalus Lecture and the respect for her subjects, with whom she lived next door to for years, demonstrated a sense of care. Simms believes this sense of care should be at the center of any nonfiction work.
"Writing is a powerful tool. Words do harm people, words can hurt, words can cut. And so, I do think that we have a responsibility to be mindful of how we're using words, especially when we're talking about other people's lives. You know, there are legal reasons, but if I'm gonna call myself someone who is practicing in the humanities, then that means I have to pay attention to how I am interacting with and dealing with the humans that I'm writing about," said Simms.