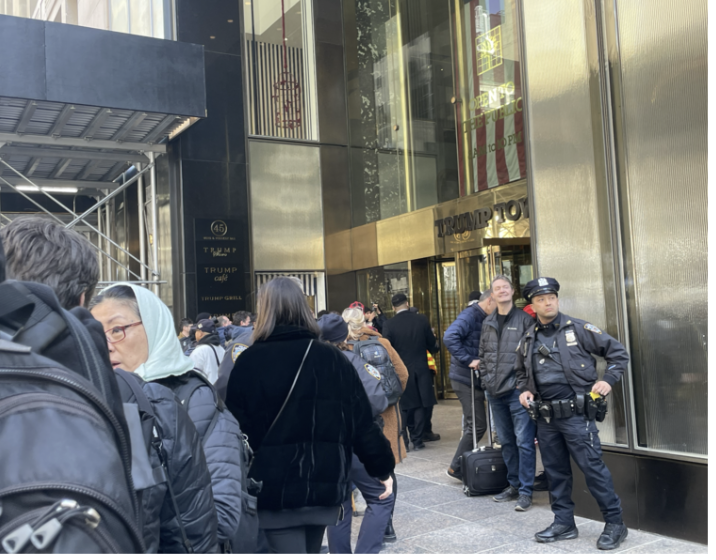 NYPD officers standing next to protesters at Trump Tower on March 21 2023, the day Donald Trump claimed he would be indicted and arrested. Photo Credit: wikimedia commons
By Ainsley Feeney
Joe Biden plans to run for re-election in 2024, not ready to officially announce
Only 37% of Democrats support Biden seeking a second term, according to the Associated Press.
Texas federal judge's preliminary injunction on mifepristone begins today, Friday, April 14
The injunction undoes FDA approval of mifepristone and puts national access to the abortion pill on the line. Despite efforts to block and appeal the decision, the issue is likely headed to the Supreme Court.
Supreme Court Justice Clarence Thomas under fire for failing to disclose reported luxury trips funded by a billionaire Republican donor
Democratic Senators have called for an investigation and possible impeachment.
Former President Donald Trump Indicted by Grand Jury on 34 Counts of Fraud
Trump was arrested on Tuesday, April 4. This makes him the first president to be indicted for a crime. The specifics of each charge have not been released, but it is confirmed that some have to do with hush money that Trump paid to Stormy Daniels.
Finland Joins NATO
Finland becomes the 31st country to join NATO. The move is most likely in response to an increasingly aggressive Russian military.
Brandon Johnson Elected New Mayor of Chicago in Runoff Election
Johnson defeated a less progressive Democratic candidate in a highly-anticipated runoff election.
Anti-Trans Bills Running Rampant in the United States
North Carolina seeks to ban trans women from competing in women's athletics. They join conservative politicians in nearly every state looking to pass anti-trans legislation, from bathroom bills to healthcare bans.
LSU Wins NCAA Women's Championship Tournament, UConn Scores Men's Title
The first weekend in April marked the championship games for both NCAA leagues. Controversy ensued after First Lady Jill Biden suggested inviting both LSU and Iowa, the opposing team, to the traditional victory White House dinner
"Barbie" and "Shrek 5" Stir Up Excitement for the Movies
A new trailer for "Barbie," directed by Greta Gerwig and starring Margot Robbie, gave the most in-depth look at the film's world yet. It was also announced that the fifth Shrek movie is in the works, with the original cast returning to play their beloved characters.