Tennessee fights for gun reform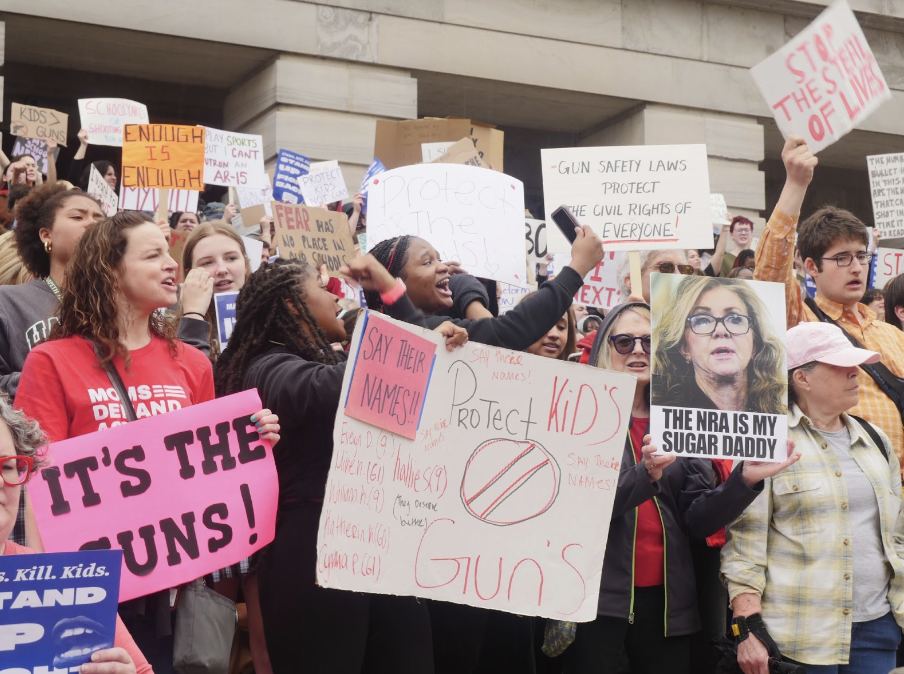 Students rallied in downtown Nashville as part of the Nashville Student Walk Out on April 3, 2023, Photo Credit: Carwil Bjork-James, flickr
By Hannah Lee
After a gunman took the lives of three children and three adults at the Covenant School in Tennessee on March 27, hundreds of people gathered at the Tennessee Capitol to demand tighter gun control laws. Young people, including children, have shown up to demand that Tennessee lawmakers protect them. More than a thousand Tennessee students participated in a walkout on April 3.
In response to the recent shooting, Governor of Tennessee Bill Lee proposed that an armed security guard be stationed at every Tennessee public school. He also suggested that they boost mental health support for Tenneseeans, and implement further physical security measures at public and private schools. However, Lee continues to support a 2021 statute that allows residents that are 21 years and older to carry a handgun without a permit.
Protests continued throughout the week. On Thursday, March 30, while protestors sat in the Tennessee House gallery, three Tennessee House Democrats approached the podium without being recognized to speak and led several chants calling for gun reform. The representatives that led these chants were Reps. Gloria Johnson of Knoxville, Justin Jones of Nashville and Justin Pearson of Memphis. The Tennessee House of Representatives voted on April 6 72-25 to expel Justin Jones and 69-26 to remove Justin Pearson, while Gloria Johnson was not expelled. Johnson recognized that her whiteness may have protected her from being expelled.
Back in June of 2022, President Biden signed a landmark bipartisan gun control bill that would make it harder for young people to buy guns, deny firearms to domestic abusers, and help authorities take weapons from people whom they deem dangerous. While the bill was a step in the right direction, more compromise regarding gun policy between the two parties in Congress is unlikely in the face of this new tragedy
As of April 12, the Metro Nashville Council — responsible for determining who would fill the seat —voted Representative Justin Jones back into the Tennessee House of Representatives.