Spotlight on Sustainability Services!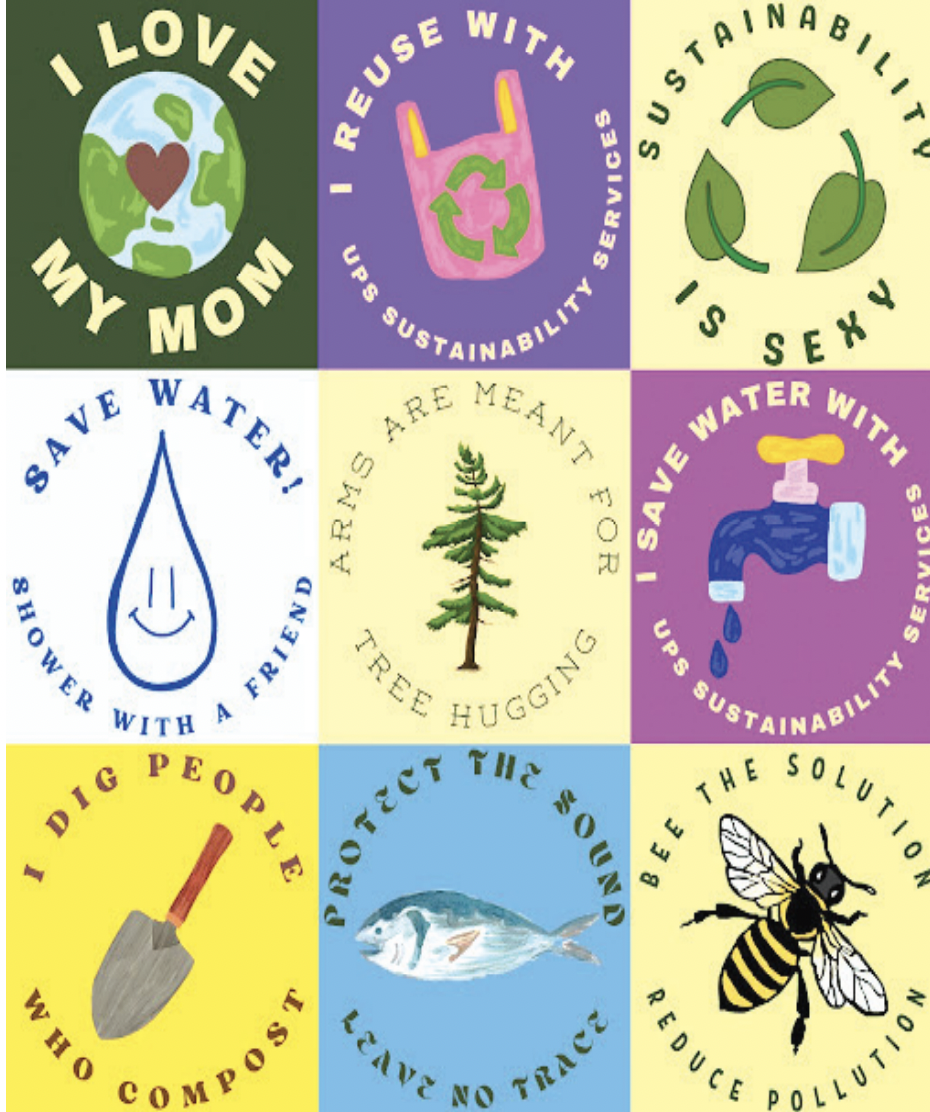 Stickers designed by Sustainability Services Outreach Lead Lily Poe Photo/art credit: Lily Poe
By Sam Gerrish
We all know our University's ubiquitous mantra: Loggers Live Green. But what does that mean in practice? Behind the scenes a team of students works hard to make the University of Puget Sound more sustainable.
Sustainability Services is a branch of Facilities Services, but what makes it unique is that it is predominantly student-run. The team currently includes a project manager, a student manager, several field leads, an outreach lead, and a sustainability event assistant, all of which are work study positions filled by students. The primary responsibility of Sustainability Services is campus recycling. From the SUB to the president's house, they manage the collection and sorting of recycling from all campus sources except Theme Row, where recycling is collected from bins on N. Lawrence St. by the City of Tacoma. Recycling at the University is far more than just paper and beer cans; as stated on the University's Sustainability Services webpage: "In addition to processing the commingled, glass, cardboard, and electronic waste recycling on campus, Sustainability Services also diverts many unconventional items from the waste stream, such as Styrofoam, packing peanuts, metal, fluorescent and CFL light bulbs, batteries, clothing, and furniture."
Prior to COVID, the group was limited to the management of recycling on campus, but they've since expanded to include outreach efforts as well, thanks to the work of seniors Alden Robert and Kaylynn O'Curran, who have worked for the department since they were first-years. When they were allowed to return to work in the wake of the pandemic, the lack of official staff management at the time meant that the students of Sustainability Services had the ability to reshape their own department. "It was very helpful in many ways because it allowed us to understand what was working for us, what wasn't, and what we felt was lacking in our previous capacities," said Student Manager Alden Robert.
In March of 2022 Lexi Brewer was hired as Director of Sustainability for the University, but the Sustainability Services team doesn't feel limited by her management. "We have, even now I'd say, a lot of autonomy as students," said Project Manager Kaylynn O'Curran.
Brewer is on the same page. "It really is student-run and student-led. I kind of feel like I'm in a support role to help them achieve what they want to achieve. But it is really the students who are driving things forward. And I'd like it to stay that way," she said. 
Although the students involved with Sustainability Services are paid employees of the University, the group is in some ways beginning to make up for the loss of the University's Eco Club, which was one of the many student organizations that became a casualty of the pandemic. While the department is not as focused on activism as the Eco Club was, the decision to expand their work to include outreach came about as a result of the students' understanding that educating the campus community is a necessary part of promoting sustainability. "Awareness is absolutely essential," said Robert.
Sustainability Services has already hosted several events over the course of this academic year, including a film screening and a "mending meetup" in the Makerspace, where students were encouraged to bring clothing and jewelry in need of repair. The department coordinates Grizz's Garage, the annual start-of-the-year sale of second-hand dorm items at steep discounts. They are also in the process of conducting a food waste collection trial in order to gather the data necessary to determine the feasibility of making composting a part of their responsibility. This would be a huge step in University sustainability and has been a long time in the making. "A lot of people are really excited and want for there to be composting on campus, and we do too," said Robert.
But proposing such a significant systemic change comes with many practical questions. "The food waste collection initiative has really just been focused on answering all of those questions so that we can put in a composting system once and for all that everybody on campus that has a stake in food waste disposal is satisfied with," added Robert.
The process certainly hasn't been without resistance. "Alden has been fighting tooth and claw to implement that at our school. At every step, there are people who tell him no, and he's like, well, I'm gonna keep trying actually," O'Curran said.
O'Curran herself is most excited about Earth Month and the plethora of events she has planned for the campus community. These include:
● Earth Month Extravaganza (Sunday, April 2 from 4pm-6pm in the Rotunda)
● Make a Bird Feeder with Peter Hodum (Tuesday, April 4 from 5pm-7pm in the Rotunda)
● Tote Bag Decorating Party (Friday, April 7 from 4pm6pm in the Makerspace)
● Speaker Mary Anne Hitt (Tuesday, April 11 from 6pm7:30pm in Upper Marshall Hall)
●Loggers Pitch In Event with DIRT and Carrie Woods (Sunday, April 16 from 11am2pm in the Thompson Forest)
● Earth Month Trivia & Giveaway (Wednesday, April 26 from 12pm-1pm in Upper Marshall Hall)
The Sustainability Services team knows that there's a lot of work still to do. Brewer hopes students will come to her with their sustainability concerns and wants their feedback during next month's visioning workshop for the development of the University's Climate Action Plan. A student last semester approached Brewer about stopping the use of pesticides on campus, and through their collaborative efforts, the University has ended this practice everywhere except for athletic fields, which have different maintenance standards. They are in the process of earning a Green Grounds Certification. "We have a lot more power as students I think than people believe, but a lot of the time — and this is something Lexi will say, too — a lot of the time it's helpful for her to have those students there to push and kind of re-emphasize what she says," O'Curran said.
Besides advocating, the easiest thing to do, according to the Sustainability Services team, is to be more mindful of what you're recycling: check the little number within the recycling symbol printed on plastic, because only numbers 1 and 2 are recycled on campus. That means no Diversions cups, or plastic amazon packages, for example. Contamination is an even bigger issue. "If you dump any food, any liquid, anything like that in the recycling, it is all trash," said Field Lead Anni Laberge-Shusterman. "We have signs everywhere. If you're confused just next time you're going to throw something in your recycling down the hall, just look up. Chances are there's a sign right there with pictures and enumerating exactly what you can and cannot put there," she added.
Given the upcoming graduation of several seniors on the team, Sustainability Services is looking for new student workers passionate about the environment, both in the form of temporary positions related to Grizz's Garage, and long term positions within the department. They're open to input, and welcome students to get involved. "We're happy to interact and we want people to ask us questions," O'Curran said.