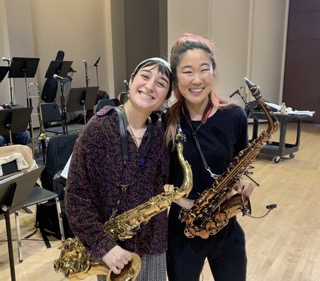 Music major Chloe Montoya ('24) and artist Grace Kelly
By Ari Lauer-Frey
The music building may be the one building most students never enter during their time at the University. At most, they may know something about music students' unorthodox class schedule or might have heard a song make its way out of the building and onto the quad. Within the somewhat mysterious School of Music is a community of individuals bonded by their shared dedication to a form of education that brings with it unique challenges and opportunities.
Movies like 2014's "Whiplash" offer a sensationalized narrative of what it's like to practice and study music at the college level. Even at rigorous music conservatories, when these stories are closest to the truth, they often exaggerate for the sake of dramatic tension. However, these dramatizations do highlight a certain intensity that seems common even within the music program at this small liberal arts college. Chloe Montoya ('24), a music education major, says that there is a certain mindset of perfectionism ingrained into music education. "The culture of music and classical music is just to never be satisfied with yourself and there's always something you can do better, so people get really hard on themselves," they said.
It remains indiscernible how much of this drive for perfectionism is produced institutionally by possibly outdated expectations of the relationship between individuals and their musical lives, and how much it is simply the result of these students' high-level commitment. It seems likely to be a combination of both. Being a music student requires a different kind of relationship between the student and their studies. When the instrument is the primary mode of academic participation, it can be hard to find moments of separation or distance from one's studies. Julia Vahey ('24), a double major in the Bachelor of Arts in Music and Biology, knows the demand firsthand. "Sometimes you feel like there isn't a way to fully unplug from it. Because there's always more that you can put in," she said.
Montoya's class schedule could be easily mistaken for all of the classes offered by the School of Music. From popular music pedagogy and advanced conduction to woodwind tech and elementary school education, Montoya is enrolled in more than double the normal amount of courses. "There's ten things I'm involved in right now on my schedule, and there's probably about three or four of them that are zero credit," they said.
The life of many music students is characterized by an all-encompassing involvement with music. Their musical life is simply their life. This immense degree of participation can also be seen in the many academic responsibilities, both formal and informal, that define these students' college experience. Because of this commitment, the structure of a music student's schedule has inherent differences from other areas of study, and asks for a somewhat intense form of involvement. This involvement can create a challenge for students when they try to extend themselves to facets of college life beyond the musical. It is not that it cannot be done, but rather that these external connections require concerted effort and compromise. Ben Kerr, a major in the Bachelor of the Arts in Music and a student-athlete gives an example of this: "I mean, I have figured out my routine, but I have to miss three track practices a week."
Yet, it is also in this dedication to musical life that a remarkably close-knit and supportive community has grown. The massive amount of time, energy, and emotion poured into music creates a bond among these students, who share their dedication to the musical components of life. For many music students, those inside the School of Music are their closest friends. "You just find yourself spending a lot of time with this almost isolated little community, to the point where those are the regular people in your life. No matter who you know outside of the school, those are the most consistent people," says Vahey. Perhaps by necessity, in response to the challenges of being a college-level music student, this community becomes defined by its closeness and its ability to support each other.
Such a close-knit community can be both a blessing and a limitation. As Dr. Gwynne Brown, professor of courses in music theory and musicology noted, "thank God for the CORE!" Though the school of music may in many ways operate as an insular community, it is still part of a greater structure of liberal arts education. This allows music students to engage with other areas of studies and other types of people, an opportunity that students at an institution solely focused on music may not have. "That ability to imaginatively and critically connect music to other ways of seeing the world, I think, makes you a better musician and makes for a richer life. And if you're in college, it's a really special opportunity to take in a lot of different ideas," Dr. Brown said.
It is an exaggeration to say that the life of a music student is wholly different from everyone else on campus. They share many of the same difficulties and joys of college life. But their route through college is distinct. "In the science classes and the labs, it's like career training, and that's what being a music major is like. But the career itself is batshit, and is basically part of why it's so crazy," says Vahey