Puget Sound Women's Basketball conference win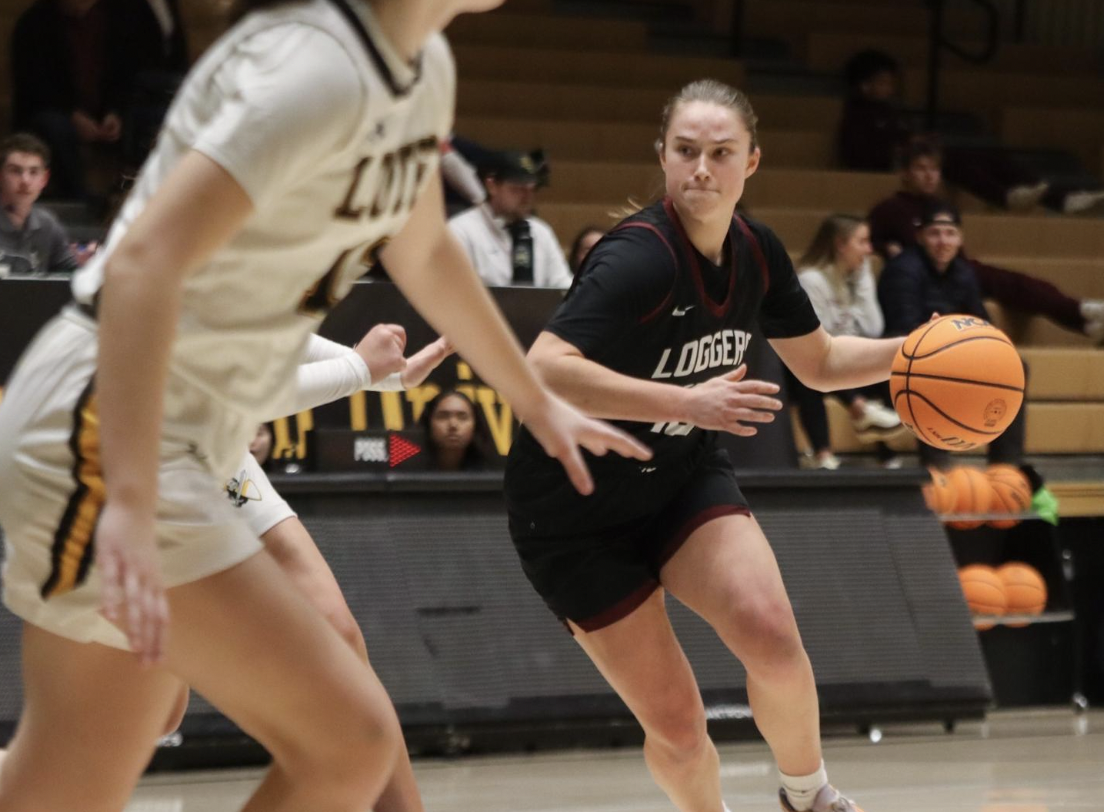 Women's basketball take home the NWC title. Pictured: Paige Gerhart Photo Credit: Puget Sound Athletics
By Luke Ahearn
The University of Puget Sound has won only three conference titles across all of its sports programs since 2016. While school spirit has never dwindled completely, this year's women's basketball team is an exciting shift of pace that has the student body and local community filling the fieldhouse for their home games this season. The head coach of the program, Casey Kushiyama, is responsible for the elite mindset that has served as the basis for the team's success this season
At the college level, sports are about winning; to some degree, every team has to believe their hard work is being done in the pursuit of a championship. Whether or not those sentiments are realistic is often made apparent after the first game day, but those lingering hopes of victory resurface each year, even for those who finish at the bottom consistently. "We've always tried to focus on the process and doing things on an everyday basis to just have championship habits and championship standards and just living up to those," says head coach Casey Kushiyama about the Puget Sound women's basketball team. They are currently ranked either sixteen or twenty-first of all NCAA DIII basketball teams in the country, (21-4 overall, rankings vary between WBCA.com and D3Hoops. com).
At the D3 level, Coach Kushiyama does his recruiting personally, a part of the process that has made his program successful. It starts before the athletes even become Puget Sound Women's basketball players; the championship mindset is a philosophy that Kushiyama brings to the program, before the program's personnel are set in stone.
"I don't necessarily recruit for positions, I recruit for roles. And then we always recruit the kids that are gonna fit into our culture. So even if you could be the most talented kid in the world, if you're not gonna be selfless, sacrifice for the betterment of the team, then you're not our kind of kid," said Kushiyama.
Puget Sound's most recent women's basketball title was in 2017, which happens to be the year immediately prior to Coach Kushiyama being hired as head coach. "I was actually at Whitman and Puget Sound swept the regular season conference. And so you know they won the regular season championship but then Whitman won the Conference championship and the NCAA matchup. So, we ended up splitting that season two and two. Puget Sound hired me a few months later," he said
Coach Kushiyama has instilled a championship mentality in these athletes that has carried them to the top of the North West Conference standings. Given all the current hype around the team, Kushiyama says it's important to focus on the tangible parts of the game that they can control. Their in-the-moment mindset has delivered them to the doorstep of a conference title, but even still, the team must remain focused on the here and now. "The results are out of our control, and so we are just trying to focus on each play and just everyday habits and everything will kind of take care of itself from there," he said.
The a positive team culture are the backbone of the program, but every championship team relies on the strength of its leadership. With the COVID pandemic having stolen a year of competition from certain athletes, last year's senior players had the opportunity to return to the team for a final season. "This year I feel like we came in more confident and hungry knowing that we have the ability to be a championship caliber team. But overall, our process has never shifted and our success is a testament to the trust in our process," said fifth-year senior captain, Sammie Swartout, before the team brought home the title in the final game of the season