Sit back and laugh with "The Game of Love and Chance"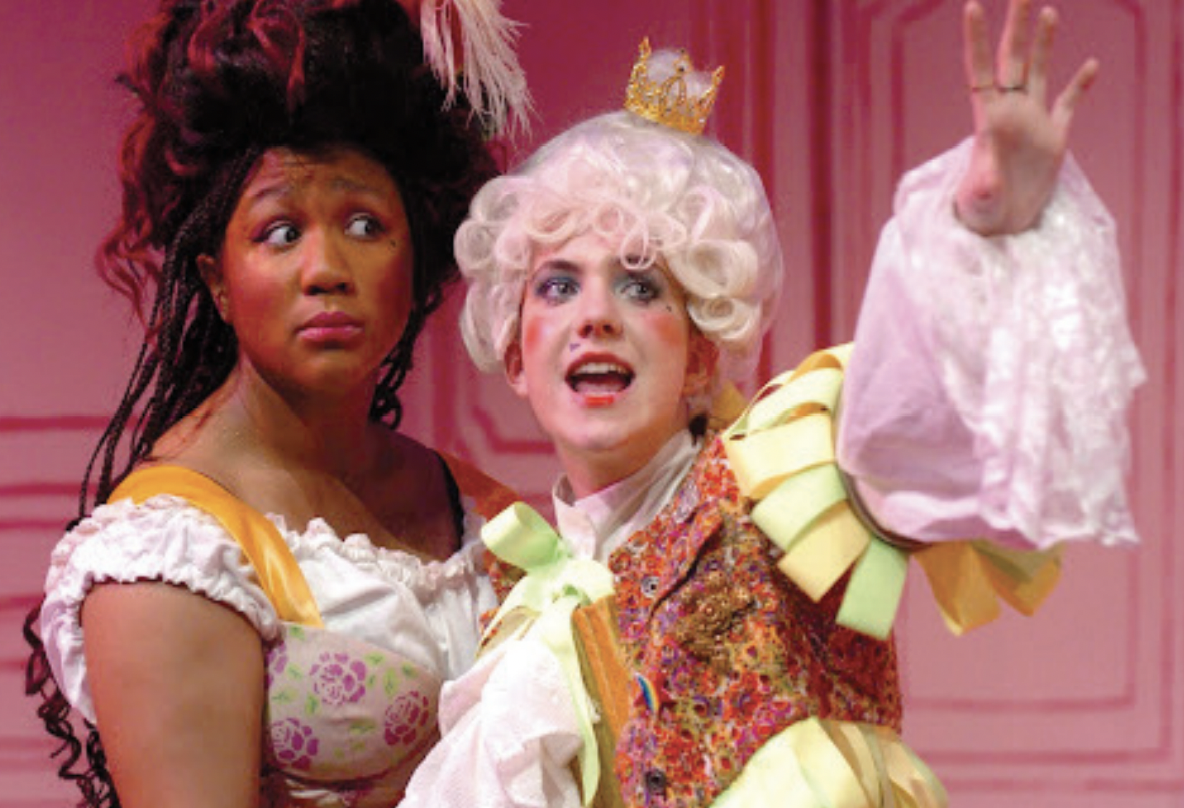 Mya Woods as Lisette and Allison Turek as Arlequin, taken by Kurt Walls. Used with permission.
By Raka Custer
This weekend marks the last opportunity to go see this Spring's Mainstage production, "The Game of Love and Chance". The play, adapted by Stephen Wadsworth from the 18th century French play "Le Jeu de l'amour et du hasard," is directed by Professor Jess K Smith, '05, associate professor and chair of the Theatre Arts department. Professor Smith has directed other notable productions at Puget Sound, including "Machinal" in 2021 and "Antigone" in 2018
Written in 1730 by iconic French playwright Marivaux, the three act play centers on two soon-to-be-married aristocrats, Silvia (Alice Noble) and Dorante (Layne Jacobs), who each independently come up with the plan to swap places with their servants in an attempt to discreetly observe their betrothed. Neither noble-servant pair knows that the other is pulling the exact same ruse, and as their plots become increasingly entangled with new schemes all parties involved fall disastrously in love, much to the delight of those few characters in the know. In the University's production Marivaux's work holds up despite nearing its 300-year milestone; while it relishes in disrupting (though not dismantling) the social hierarchies of its era, it still speaks to our current love of cheesy rom-coms, eccentric characters, and well-won happy endings.
Set within the powder-pink walls and magenta floors of a stylized drawing room, the actors bring unabashed joy and humor to their characters as they fully inhabit the stage; peering behind the many doors, bawling over a plush settee, and making hysterical use of an entirely anachronistic boombox. In short, the cast and crew provide the production with an infectious energy that is matched by the playful set design. In both her roles as the maidservant Lisette and as the play's sound designer, Mya Woods can feel that energy on and offstage, and encourages the audience to reciprocate it.
"Being on both sides of the production allowed me to really get into this show and just see how much love the cast and crew have put into everything. If I could say anything to someone seeing the show I would say this: React! Laugh! Cry! Gasp! We want you guys to love this show as much as we do because this show is so so funny and full of joy," she said
The upcoming performances of "The Game of Love and Chance" are on Friday, March 3 at 7:30, and Saturday the 4th at 2:00 and 7:30. Tickets are $10 for University students and staff, and can be purchased ahead of time or before the performance at the Norton Clapp Theatre in Jones Hall