Athlete of the Issue: Savanna Smith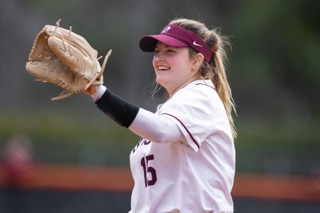 Photo provided by Savanna Smith, used with permission
By Andrew Benoit
This issue's Athlete of the Issue is RHP Savanna Smith ('23)! Smith stepped away from smashing homers at the plate and pitching an impressive 3.05 ERA at the mound to answer a few quick questions from The Trail:
Q: What type of attitude do you try to bring to the team?
A: Being on this team has always been a place where I can be myself and forget about everything that's going on outside. I like to give that kind of energy back to the team. I want to bring positivity, encouragement, and fun.
Q: What was going through your mind before you hit the home run against La Verne?
A: I approached the at-bat against La Verne with a calm mindset reminding myself to attack the ball. I had struggled the day before up at the plate and didn't want to put too much pressure on myself. All I wanted to do was do my job of moving the runner over to strengthen our chances of scoring.
Q: Tell me about the mental and physical discipline to pitch two full games in LA.
A: The physical side of pitching that many games in LA is what we work for all of preseason. We do our best to be in the best physical shape we can to push through 6 games in 3 days. The mental side is something that's hard to train. I try to use visualization and physical reset cues to keep my head in the game. Honestly, I'm someone who enjoys the mental pressure and I feel I do better in those high-pressure situations than in a lax setting.
Q: What is your favorite moment from your career in Logger softball?
A: My favorite Logger softball moment has been our win against Linfield in my sophomore year. It had been years since we had beaten them and all odds were against us. But the strength we had on the team and our mental toughness led us to our ultimate win and very close other games with Linfield. I love beating the odds and proving that while we may be seen as the underdog, we have the ability to beat anyone we put our minds to.
Q: What advice would you give to athletes on campus?
A: My advice to student-athletes is to enjoy the little things and be as present as possible. I'm in my last season of softball ever and that's pretty scary to think about. However, being able to keep myself in the present allows each game to feel like a new opportunity to let my hard work show. I know 10 years down the line I'm probably not going to remember the missed plays or the pitches I could have thrown better, but I'll remember the little moments of fun and memories I made with my teammates.