Sitting down with Seniors: Institutional Wisdom and Musings on Graduation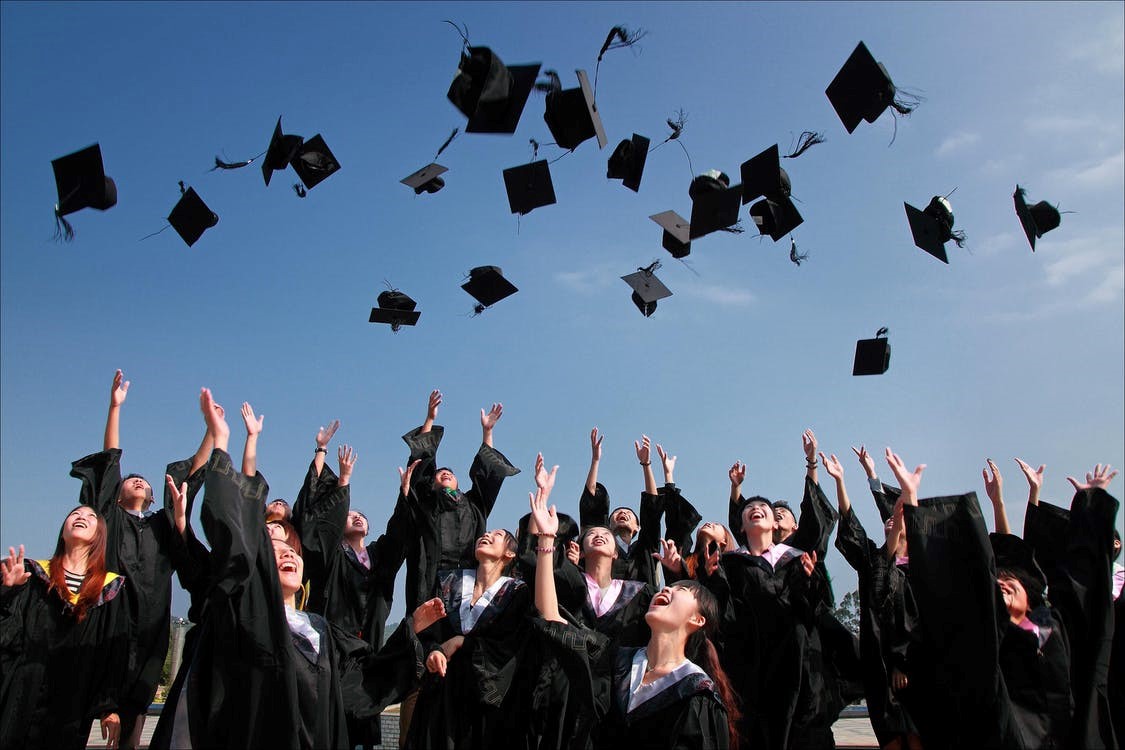 Photo Credit: Pexels.com
By Nola Thury
As the last class of students who had a full year of college pre-pandemic, the class of 2022 has a unique perspective on our institution. Sent home halfway through sophomore year, current seniors saw friendships break down and new kinds of relationships emerge.
  I asked a few seniors how the onset of the pandemic impacted their social lives.
  Leona DeRango said, "I was pretty pissed because COVID got in the way of the person that I was seeing." Leona pointed out, "I could have been married and had a child if it wasn't for Covid." However, the break facilitated some positive changes as well. "I didn't feel like I had a community on campus before the pandemic. And then afterward, having to be holed up all the time, I quickly learned who my real friends were and who I wanted to spend time with and devote energy to. And now I feel like I have closer friends because of COVID," Leona said.
 Willa Bartholomay said that the timing of going home sophomore year "was sort of a blessing for me. I'm fortunate to have a pretty good relationship with my parents, so home was nice. I had a lot of time to just recover from the over stimulating-ness of college and the chaoticness of social stuff. So in a way, that singular part of COVID at that moment was sort of relieving."
  Many seniors wonder what their college experience would have been like had the last two years been different. "I think part of me is really sad that I'm leaving because these friendships have just started. And I have this idea that those friendships would've been created a year ago, if COVID hadn't happened and I would've had more time, But at the same time, I don't think I can say that for sure. And I think COVID allowed me to have a lot of introspection and allowed for a lot of people to have time to introspect and figure out what they needed in friendship or what they needed within themselves, or are still figuring that out. Obviously, we're always learning, but I think that that's attracted me to a lot of new people this year," Willa said.
"So I definitely feel like part of me has this feeling of being robbed of a year and a half of school and going through a lot of really hard stuff and wishing that I could have had, you know, more time here that was enjoyable. And then another part of me is like, well, obviously we're here." They say "So it's a give and take of not knowing if I would've been here no matter what, or, or if COVID like pushed me here."
  At the end of sophomore year, many students returned to Tacoma. Willa said, "the biggest challenges were trying to make college happen with a tiny little group." Pressure to make the experience the same led to feelings of overstimulation and numbness.
  In terms of positive changes, Willa said "I'm looking far less for affirmation from anybody else, which is something I was looking for all the time before COVID at school. I was always wanting to be seen, and that might just be a senior and freshman difference."
  I asked Willa how they feel about graduating, they said "I'm recognizing the uniqueness of this place and, just that there are people I will not see and that I've done a lot of growth and learning here and it's been really hard and it's been really good."
  When asked what they will miss about college, Addie Tinkham said, "I'm going to miss the people that I know that I would've liked if I interacted with more, or I know that I would've loved if I interacted with more." They will also miss "biking down the empty Tacoma streets in the middle of the night."
  Throughout our time at the University of Puget Sound, we've collected a wide variety of Sub hacks, University secrets, and general college tips. As a new generation of students cycles through campus, here are some pearls of wisdom we'd like to share.
General advice:
You have a higher chance of getting into art classes if you email the professors before you register for classes, or declare as a major or minor to get in.
Ask people if they want to be friends
Go to on campus events!
Use coursicle for registration!
Go to the CWL and office hours- "you'll have a better time and get better grades"
Join a club!
Learn the Tacoma bus system
Take Religion 307 "Prisons, Gender, and Education" with Tanya Erzen
Have CES look at your resume
Institutional Knowledge:
There is a parking lot under Todd Field
Free regular tampons in Sub bathrooms and pool locker room
Self-conscious at the gym? There's a secluded basketball court upstairs!
You can easily get on the roof of Jones
The a cappella concerts are the best events of the semester
You can get security to drive you anywhere within a one-mile radius of campus
Use the security number at checkout for a discount at Safeway
Sub hack: Add soup on top of other ingredients
They put salsa in the salad bar for breakfast
Never register your car
What do you wish you could tell yourself 2 years ago?
"You have all the tools already within yourself to figure it all out. You get to look to other people to learn from other people, but you do not have to succumb to other people." -Willa
"Drink more" "Drop out" – Leona
"Become an art major" – Addie (Geology major)