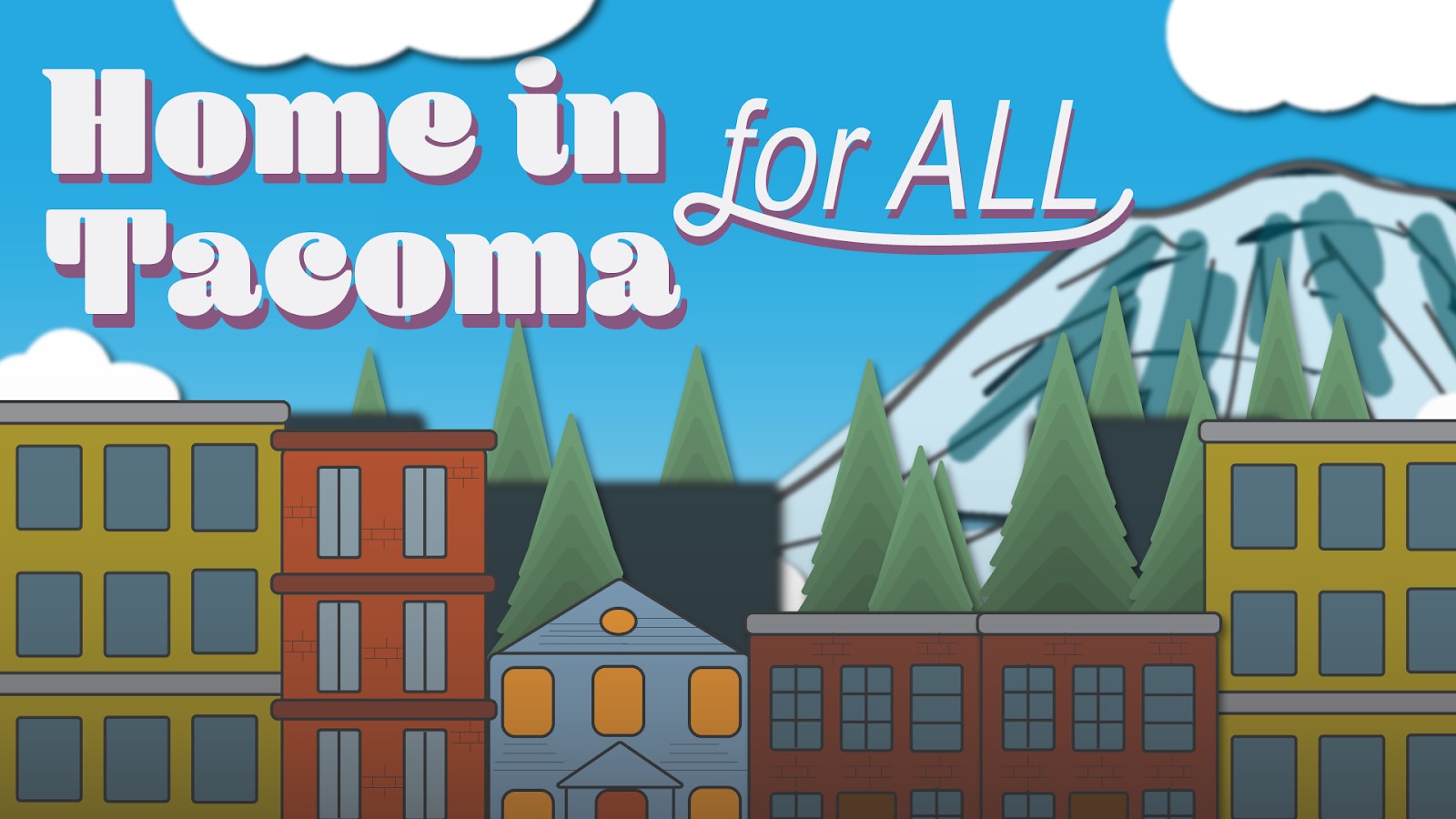 Created by HTA Campaign volunteer Daniel Medina, and granted permission by David Galazin
By Emma Loenicker
In 2021, the Tacoma Democratic Socialists of America (DSA) adopted a Housing Green New Deal campaign with the intent of creating more equitable and environmentally conscious housing policies in Tacoma. In early 2022, the Tacoma DSA Housing Justice Committee (HJC) and the Eco-Socialism Committee launched the "Home In Tacoma For All" campaign that outlines a renter's bill of rights.
John Adams, the Tacoma DSA co-chair, said that "if we want to achieve the goals that we wanted to achieve with the original priority for our chapter, the housing green new deal, then we needed to create a campaign that would most effectively engage the Home In Tacoma process."
The Tacoma City Council approved Phase one of the housing reform deal called Home In Tacoma, on Dec. 7th, 2021. Phase one primarily constructed a vision and laid the groundwork for more just and sustainable housing policies. Phase two, which is in progress and will likely last through mid-2023, is expected to bring extensive visible change.
The TCC initiated the second phase to develop zoning and updated standards and take steps towards affordability, anti-displacement, and sustainability. In an interview with The News Tribune in December 2021, Elliott Barnett, senior planner for the City of Tacoma said 2022 will be the time for community engagement and preliminary strategizing for phase two. The TCC aims to reflect community feedback with the outcomes of phase two.
The Home In Tacoma For All platform is putting pressure on the TCC to accommodate certain demands in the implementation of phase two. As a grassroots movement, the campaign hopes to encourage housing policy transformations through affordability, stability, tenant rights, and sustainability.
When asked about the impacts of phase one, David Galazin, chair of TDSA HJC, said the city planning committee has "delivered a zoning plan for a city that reflects the city's resolutions to meet its growth targets and begin dismantling the racist legacy of redlining."
Adams said that looking forward, "We want the city to establish a social housing developer, who will develop housing that will meet the needs of many income brackets, not just an elite few." Adams contends that this would change the very nature of the housing market.
The TCC will face extreme pressure from landlords, developers, and fossil fuel interests. A campaign priority is combatting corporate forces impeding equitable housing systems. "Starting with passing the Home In Tacoma For All platform, our collective efforts are aimed at restoring the united political power of the working class and its allies in Tacoma," Zev Cook, co-chair of Serve The People Tacoma, an organizer for the Tacoma DSA, and current student at the University of Puget Sound said.
"Our fight is to build a movement that is both of and for the dispossessed; for the evicted. That speaks for those who don't stand to benefit from exclusionary zoning, and skyrocketing housing prices, a cut-rate transportation system, and encroaching gentrification, which is a modern-day transformation of settler colonialism" Galazin said.
The Tacoma DSA far surpassed their goal of 500 signatures, with over 700 as of April 20th. "I've been out canvassing almost every week for the past few months and the response from the community has been overwhelmingly positive," Cook noted, "combining virtual and pen and paper signatures, we've already well exceeded our original goals."
Galazin mentioned that "People have been enthusiastic about signing the petition. Even more telling is that we're meeting people and they want to do more than sign. They want to get involved," Galazin elaborated, "It's no mystery why. Last year landlords in Tacoma hiked rents by 22%. Wages aren't going up like that. So, families are being uprooted from their homes, their schools and their communities."
The Tacoma Tenants Union, The Lived Experience Coalition, Serve The People Tacoma and TDSA hosted The Home In Tacoma For All Community Forum at 1:00 PM on April 23rd, at Evergreen College, Tacoma. The event featured guest speakers from the LEC and State Senator Yasmin Trudeau. "They have powerful stories that will change your understanding of who is unhoused and how people become unhoused," Galazin said.
The Home In Tacoma For All commission will meet on May 4th to vote on the recommendations they will present to the City Council. After the vote, the Home In Tacoma For All commission will reformulate and "decide what we need to do next to keep pushing."