Unearthing Positionality: Student-led Event Educates Faculty and Staff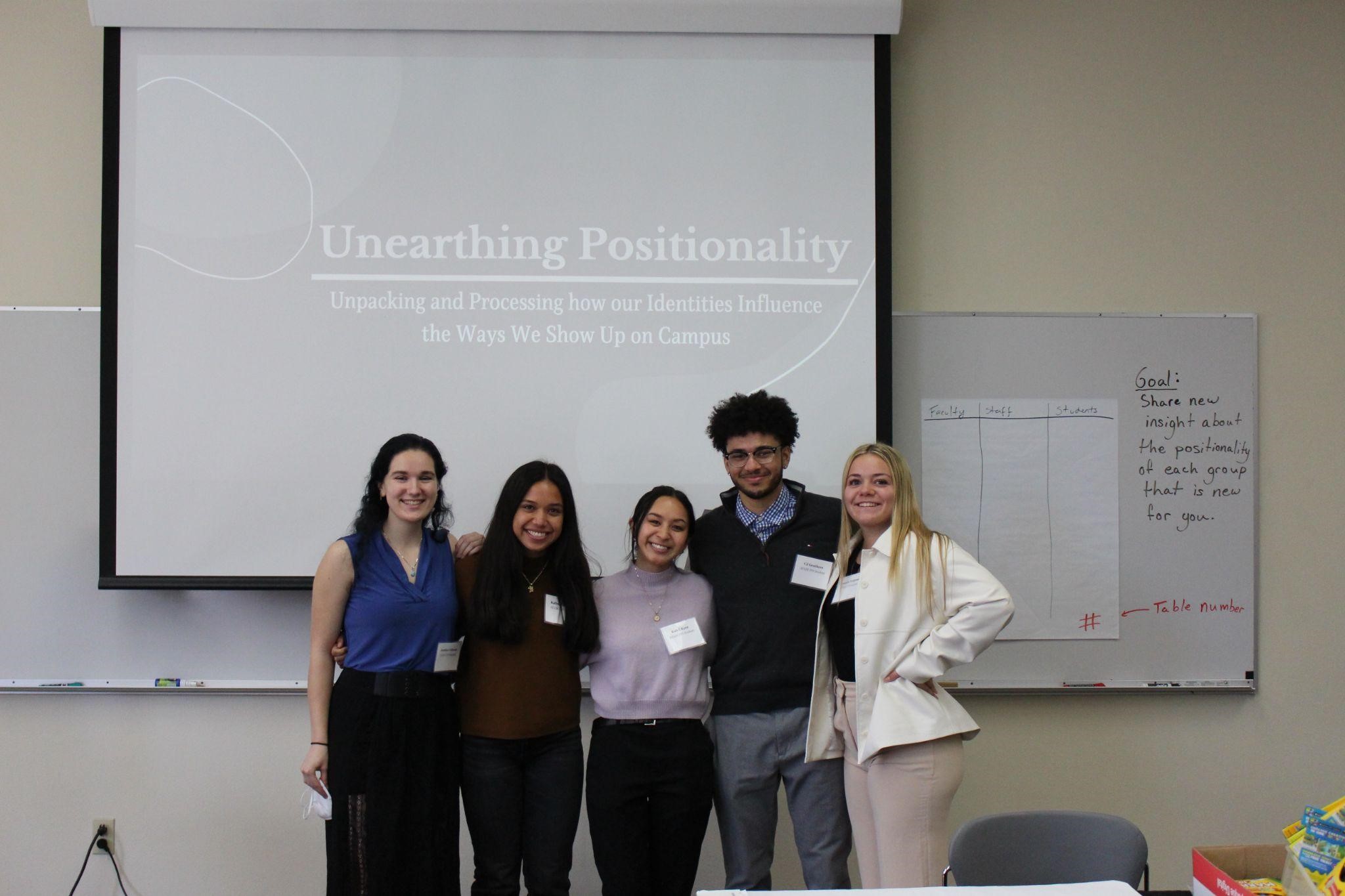 AFAM 399 Students Photo Credit Anna Mondschean
By Kate Patterson
On April 8, five students from Dr. Brackett's African American Studies 399: Public Scholarship class hosted an event teaching Puget Sound faculty and staff about positionalities and asking them to reflect on their own. "Every year, this course holds a workshop about an aspect of identity. This year, my classmates and I chose 'positionality' as we feel it is of the utmost importance in recognizing how the cumulation of our own identities influence the ways people see us, how we see ourselves, and the ways we treat each other," Kahli Kyee said. They titled the workshop "Unearthing Positionality: Unpacking and Processing how our Identities Influence the Ways We Show Up on Campus."
With support from Dr. Brackett, the following students organized the workshop: fourth-year Jordan Calhoun, fourth-year Kalina Cordero, third-year Amanda Ferguson, third-year CJ Geathers, and fourth-year Kahli Kyee.
At the event, Dr. David Leonard, professor in Washington State University's School of Languages, Cultures, and Race, spoke about his article, "My Life in the Classroom, Where Race Always Matters." Leonard described his journey in working towards allyship. He distinguished between giving oneself the title of ally and actual allyship as a series of actions. "So much of the work should never be seen and will never be seen," he said. Our duty is to learn, but never assume that we fully understand.
One of the pedagogical tools the students utilized was the 'power flower.' Each petal of the power flower listed a characteristic, for example race, religion, gender, educational debt, ability, and sexual orientation. Faculty and staff reflected on whether they were in a dominant or marginalized group for each category. After reflection, they colored the petal with a corresponding color, either purple or yellow. "In order to recognize the way you enter a space or communicate with another person, you have to unearth the parts of your identity that are normalized or taken for granted," Calhoun said.
One often overlooked example of a positionality is citizenship. Someone who has been a United States citizen all their life might overlook the struggles and insecurities that come with being undocumented.
Near the end of the event, students distributed cards from Puget Sound community members featuring relevant stories of times positionality impacted them. Many of these stories were in the form of harmful remarks students heard around campus. Several of the students also verbally shared how their positionality impacts them. "Many of these stories showed how our identities were degraded, stereotyped, or dismissed," Calhoun said. Kyee shared one particularly awful experience when a teacher told her, "you write like a schizophrenic, like you actually write like you have schizophrenia." She reflected on this grossly inappropriate comment, saying, "This is a comment that returns to me every time I start and finish a piece of writing. There is a lingering self-doubt in the back of my mind that has never left me."
Kyee also spoke more generally about the power of our words: "Although we feel like the people we see, teach, and learn from are only in our presence for an hour a day, a semester, or a year, it is important to recognize that the ways we treat people transcend time and spaces, and remain to exist in our minds as feelings of doubt, anger, frustration, and pain," she said to the group.
In his student statement, Geathers specified the goal of the workshop. "We are not asking you to go out and teach about positionality to the people you lead as a result of this talk, rather we are asking you to reflect on your own positionality and the relation you have to it." The event offered a space for vulnerability, and asked participants to take the time to think deeply about how our individual positionalities affect the way we interact with the world around us.
"In the emails we sent out as invitations to you all, as well as on our event posters, we say how when we as faculty, staff, and students enter a space, our identities are not left at the door. That is a reality we all share." Cordero said. The group of students from AFAM 399 thoughtfully created a space and prepared materials that furthered understandings of positionality, helping the 35 faculty and staff in attendance grow as community members.
Cordero later added that she appreciated the willingness of attendees to listen. "Sometimes it can feel like we are silenced and our voices and feelings are not always valid. But people showed up for us who wanted to do the work and who wanted to better understand the community around them," she said. It is important that we are intentional about being the best community members that we can by reflecting on our positionalities and listening to those around us who have backgrounds different from our own.