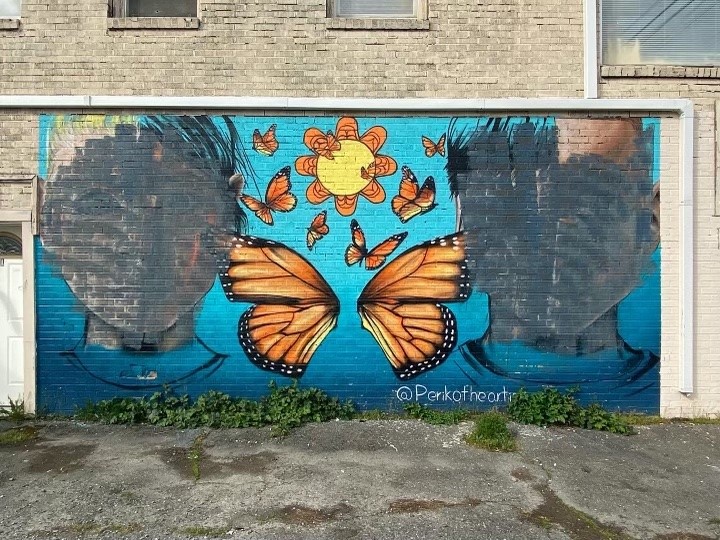 Gerardo Peña's "I Am Tacoma" Mural Photo Credit: Gerardo Peña
By Emma Loenicker
Tacoma's Unity Christian Ministries Youth Center is home to Gerardo Peña's "I Am Tacoma," a mural representing Tacoma's diversity. The mural was defaced on March 20th. Peña, known as "Periko the Artist", said that he painted the mural to represent "all of the different kinds of faces" he sees within the community, and to capture the "migration spirit" of the Puyallup land we share.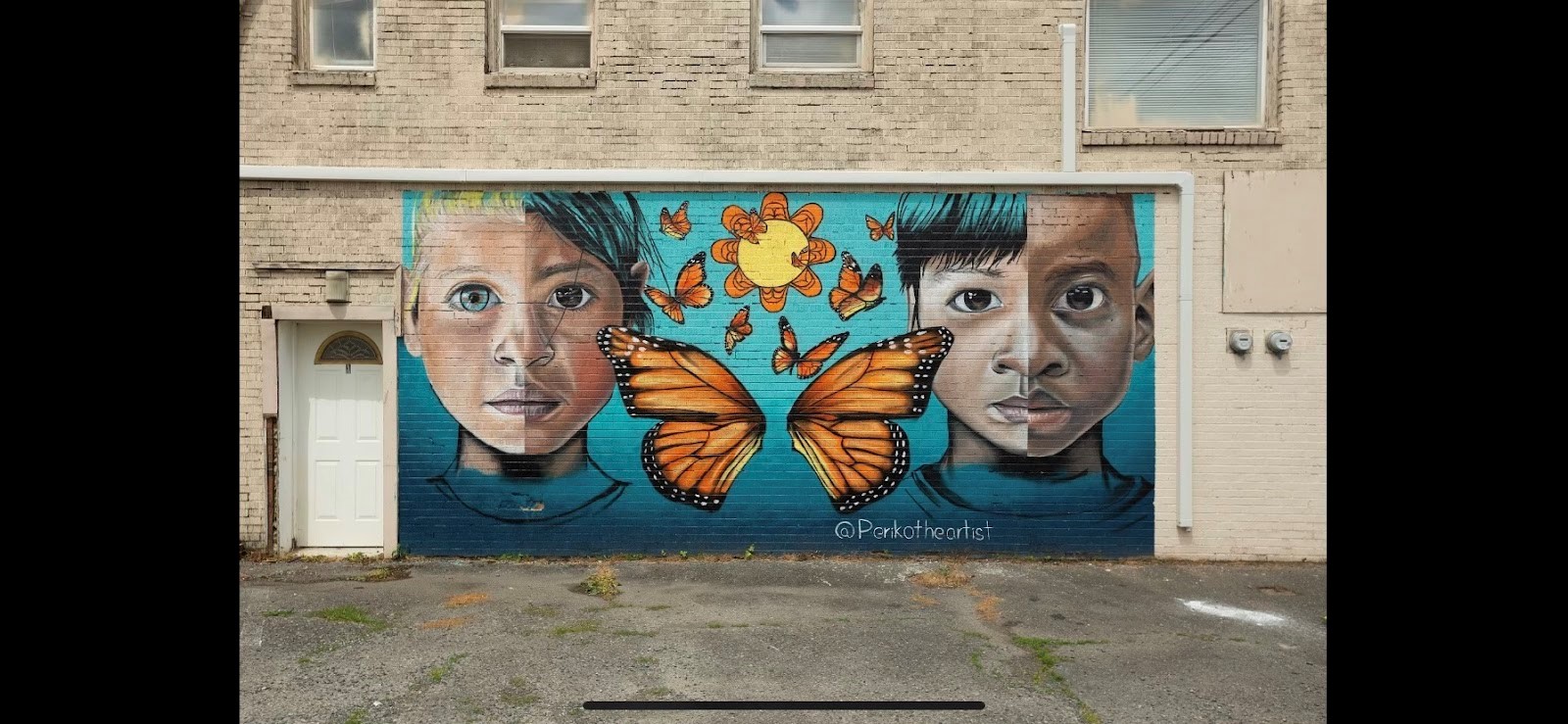 The mural depicts a pair of monarch butterfly wings, surrounded by four children's faces – those of Caucasian, Latinx, Asian and Black children. When you stand in between the butterfly wings, you are embracing your place within Tacoma. The Tacoma Arts Commission funded the mural, which Peña finished in March of 2020.
Pastor Lenall Battle, who runs the Unity Christian Ministries Center, informed me that a neighbor's surveillance camera caught an elderly man that formerly worked for the church exiting his vehicle with a paint roller in front of the mural. This same man is known for using racist slurs. The man, who previously designed advertisement artwork for the church, defaced the Black child first and returned in the following days to deface the three remaining children.
The mural is beloved by the community. Pastor Battle referred to Peña's vision as "the type of mural that would bring the community together and ease the tensions with everything going on in politics."
Pastor Battle filed a police report in response to the vandalism. Peña expressed that his disappointment and sympathy go out to the people feeling targeted and hurt by this crime. Peña relayed sentiments of community members that this "felt like an attack on their community, and it felt personal."
Peña explained that painting a public mural is like "giving it to the public." Once it lies within the community, it becomes theirs. Peña keeps his public works as uncontroversial as possible seeking minimal backlash against the community. In this case, a mural that pays homage to Tacoma's diversity was still not welcomed by all.
Peña remains optimistic and wants people to focus on healing and moving forward because "the majority of people didn't want this to happen." Peña explained that "keeping it optimistic is important. We're going to repaint it. There is such a small percentage of people that really want to react to it. I mean it's one person in the whole community."
Peña and Pastor Battle agreed that the mural should be re-painted as soon as possible because the vandalism is a disservice to the community. "Leaving a piece like that defaced for too long, it speaks. We want to restore it so people can be optimistic again," said Peña.
Within 24 hours of the vandalism, Peña received enough donations from Tidy Up Tacoma, Spaceworks, and dedicated community members to repaint the mural. He hopes to repaint it within the next month.
Pastor Battle and Peña are planning to use multiple coats of sealer when repainting, and to install a surveillance system to deter future vandalism.