Earth Day: a climate summit and day of action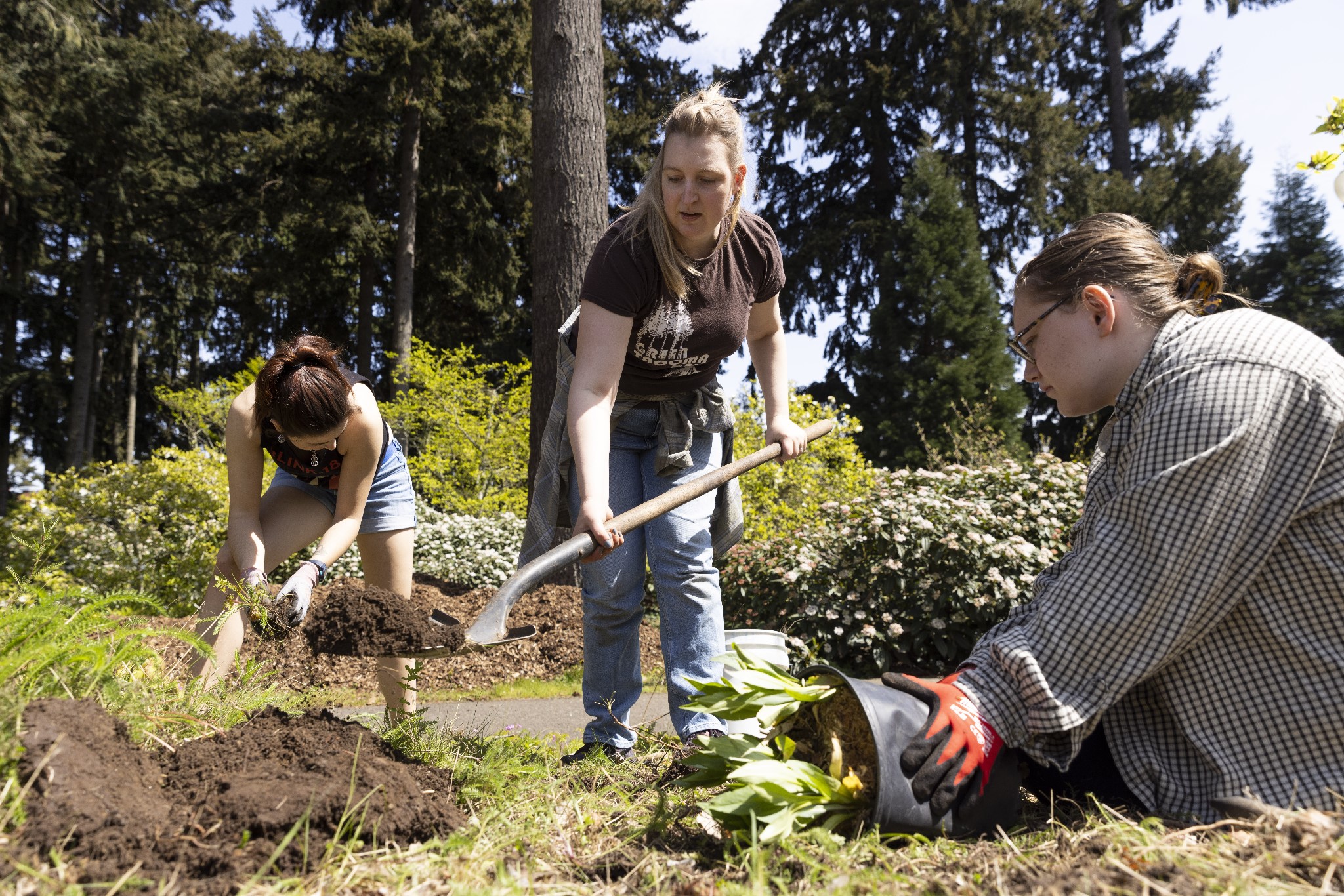 Students participate in Earth Day event Photo credit: Sy Bean
By Kate Patterson 
On April 22, Puget Sound's sustainability team put on several events to help students get involved in climate action and celebrate Earth Day. The sustainability team includes two student employees, Sustainability Project Manager Kaylynn O'Curran, a third-year, and Lily Poe, Sustainability assistant and second-year. They work closely with Lexi Brewer, the sustainability director at The University. We, as a university and as a globe, are deep in the midst of a climate crisis, and addressing it is of the utmost importance, especially as young people. 
  According to a temperature analysis by NASA's Goddard Institute for Space Studies, the planet has warmed by at least 1.1 degrees Celsius since 1880, with the majority of warming happening since 1975. Already, we are seeing the disastrous effects, from fires to droughts to other extreme weather events. Though the issue is undoubtedly overwhelming, we are not alone in our worries, and there are opportunities to work together and help combat climate change. 
  Focusing on Puget Sound, one of the earth day events was an online climate summit. "It's very common that UPS students feel as though they're in a bubble, you know? We very much stay on campus," O'Curran said. The summit offered students a way to get out of this 'bubble' and connect with groups around Tacoma. "We planned an entire virtual earth day summit around it, where we had 16 different organizations come with a variety of different environmental backgrounds," O'Curran said. At the beginning of the event, each organization briefly shared, and then students had the opportunity to talk to organization representatives in breakout rooms. The event was open to multiple Tacoma schools, including Pacific Lutheran University, Tacoma Community College, University of Washington Tacoma, and a local high school. 
  Later in the week, on April 24 there was a day of action, with a food drive and an event where students tended a garden of native plants. I was unable to attend but was able to interview my colleague, Chloe Shankland, who attended. In the woods between Wyatt and Thompson, they weeded an area, previously planted with native and medicinal plants, that had become overgrown. "The task was simple: weed a small patch of land and replant native plants. The work was physically demanding for beginners but simple to learn and tremendously rewarding when finished," Shankland said. She also described it as being a "total escape" from her anxieties, due to the grounding nature of the work. 
  There are truly a multitude of ways to get involved in helping the planet. The garden restoration event was an example of a small-scale project focusing on bringing plants native to the area onto the Puget Sound campus.
"There's no one right way to get involved with this," O'Curran said. From gardening to advocacy to art our individual strengths inform where will be effective, and find enjoyment, in the climate fight. 
  Sustainability services at Puget Sound is a wonderful place to start. They are on Instagram, at @loggerzlivegreen. These individuals are great resources for students with ideas for projects surrounding sustainability. They are not only an outlet for existing passions, but a resource for students looking for a way to be involved. Their emails follow: Kaylynn O'Curran, kocurran@pugetsound.edu; Lily Poe, lpoe@pugetsound.edu; Lexi Brewer, lbrewer@pugetsound.edu; and Lindsay Walker, lwalker@pugetsound.edu. One recent project they have undertaken is offering composting in residence halls. Sustainability services did a beta test in the fall of 2021 and hopes to implement it more widely soon. 
  "I think there are lots of parts of sustainability where having a student champion, or advocacy, or someone who wants to kind of get the ball rolling, can do a lot," Lindsay Walker, staff member and program coordinator for the Sound Policy Institute, said. Those at sustainability services are committed to doing their part but need help from campus to be most effective. As Walker said, energy from students makes a big difference. One step in the right direction is the Green Fund, which is administered by ASUPS and provides funding for plans to increase sustainability on campus. 
  Brewer looks forward to making a climate action plan for the University and will start next year. The goal will be to make a clear pathway to net-zero emissions for The University and make climate efforts more trackable. "I'm really looking forward to collaborating with students and faculty, and kind of the broader community too, and putting that together," she said. 
  In the face of the climate crisis, we can only find success through collaboration. "If there's something exciting about the climate crisis," Walker said, "It's this big problem that we all need to come together as a community to solve, and we all have different things that we can bring to that." We have a lot of work to do, but hope can be found around us in working with others passionate about the climate.