Love, Theatre, and Community: Senior Theatre Festival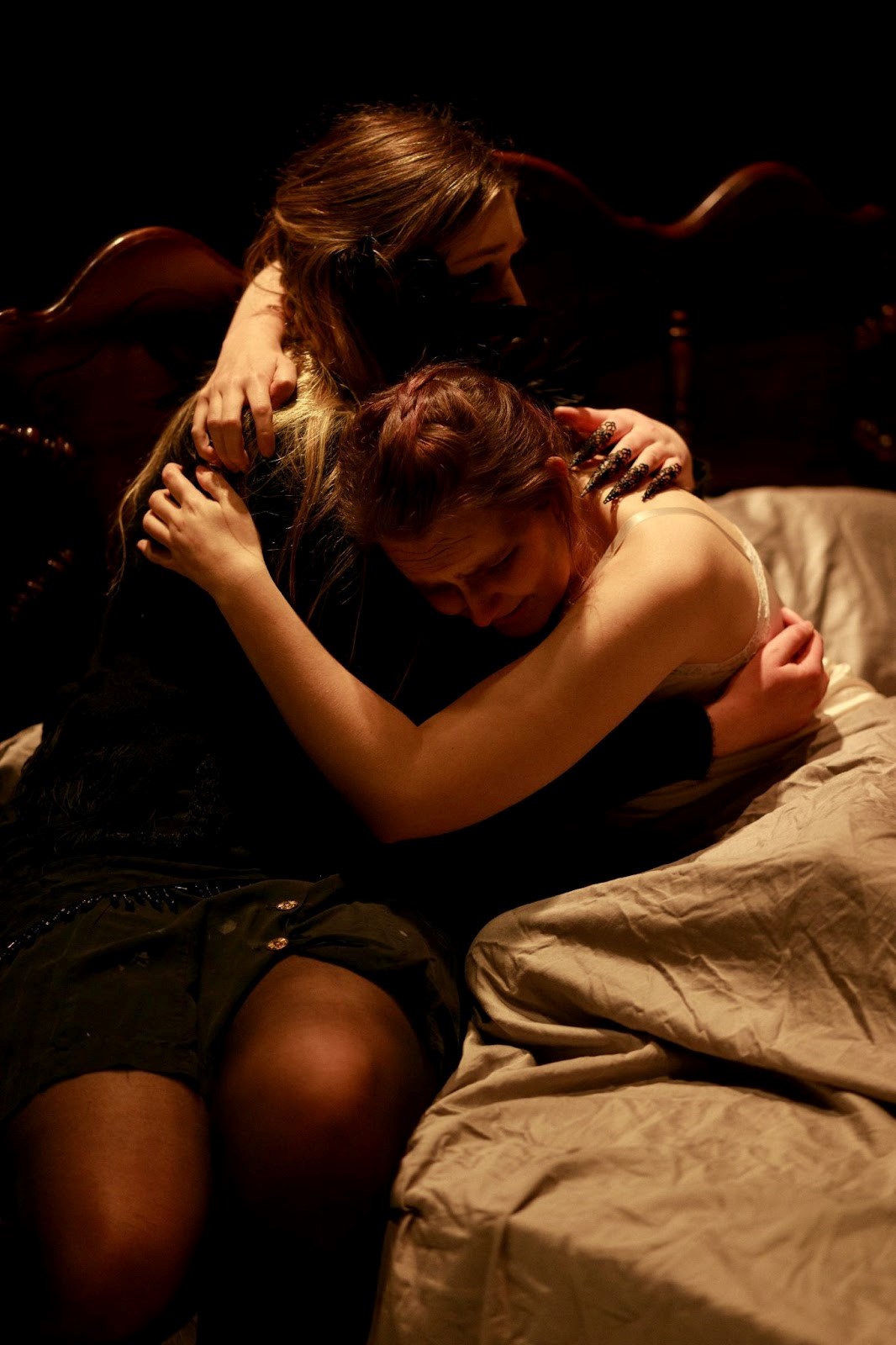 The emotional final moments of "Woman and Scarecrow." Photo Credit: Jesse Beecher
By Chloe Shankland
The University's Senior Theatre Festival celebrates student theatre in a glowing send-off for the department's seniors. Theatre majors of the class of 2022 come together and create three almost entirely student-run shows. Willard Franklin, one of three festival directors, described it as an opportunity "to work with fellow students, and it definitely makes something that is amateur, but it's something to literally just do whatever you want and… watching it is any theatre is good theatre because there will always be a moment you will remember from it." The 2022 lineup includes, "Woman and Scarecrow" by Marina Carr, "The Effect" by Lucy Prebble, and "4:48 Psychosis" by Sarah Kane. 
The season's first play "Woman and Scarecrow" by Marina Carr performed in Norton Clapp Theatre, took place on April 1st and 2nd. Carr's work explores the last moment of a woman's life, as she examines her highest and lowest moments alongside her steadfast champion Scarecrow. Dramaturg Anya Cavender summarizes the impact of the play in the program, "While death claws at the closet door willing Woman to give in, Scarecrow protects her, leading Woman Through a mediation on the intricacies of love, passion, grief, motherhood, and marriage."
The Trail spoke to director Brittany Holloway about the experience. She described her first time directing in person as "a lot of running around, a lot of making decisions, and doing a lot of work behind the scenes that a lot of people aren't aware of." However, it's well worth it: "I get to explore so many different sides of myself through acting and through directing, and it's just such a great outlet, and it's creative in so many different ways," Holloway said.
The second show of the festival is "The Effect" by Lucy Prebble. The play follows two young volunteers, Tristan and Connie, through a clinical trial for new anti-depressants. The two fall in love but begin to question if it is only the result of newfound dopamine, causing chaos as they explore the effect of love, depression, and humanity on each other. The show opens on April 15th and is directed by Gabi Marler. Her favorite moment is an early dance sequence choreographed by senior Sydnee Kokubun. "It's just this really brilliant moment where it's just two people falling in love, and we have some really cool technical effects happening there," Marler said. Overall, she hopes her work will contribute to increasing accessibility in theatre and describes the show as a "labor of love."
The third and final show is "4:48 Psychosis" by Sarah Kane. When asked to summarize his show, director Willard Franklin mentioned it was difficult to describe but gave some of the context for its production."Sarah Kane was very notorious for writing very violent and obscene plays, and then the final play she wrote was 4:48, which is 40 pages long; there are no characters, stage directions, or form. It's essentially one big gigantic poem cut up into sections. The final version was written about five weeks before her death, and it dealt a lot with mental illness, and psychosis, and suicide." Franklin said. He describes his mission as a director as "to see what the play is like if it's produced with the utmost love and care." Furthermore, Franklin highlighted the importance of stepping out of triggering spaces when necessary for both actors and audience members. He also showed the importance of love, intentionality, and authenticity in art.
The three directors hold a clear reverence for the art form and community, making the whole experience a love note to student theatre in all its challenges and joys. "Theatre to me is about love," Franklin said. The directors also wanted the student body to know the festival is open to all and encouraged all students to show up for auditions in the future. "It's always really exciting to see non-majors; hopefully, we're not too intimidating," Marler said.
"The Effect," opens April 15th at 7:30 pm, with two more shows on April 16th, at 2:00 and 7:30. "4:48 Psychosis" starts on April 22th at 7:30 pm, with two more shows on April 23rd, at 2:00 pm and 7:30 pm. Get your tickets and come out to support our theatre department!