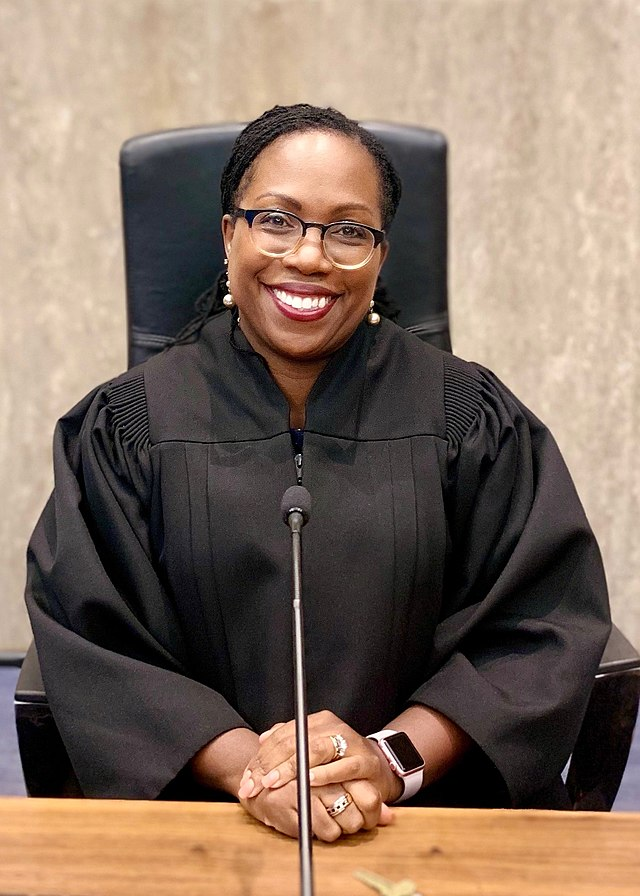 Official portrait of Judge Ketanji Brown Jackson Photo Credit: Wikimedia Commons
By Emma Loenicker
  On Feb. 25th, 2022, President Joe Biden nominated Judge Ketanji Brown Jackson to succeed Justice Stephen Breyer as the next Supreme Court Justice. Judge Jackson's confirmation hearing began on Monday, March 21st, concluding on Thursday, March 24th. Biden and the Democrats hope for Senate confirmation of Jackson by April 8th.
  A White House press release reported that "President Biden sought a candidate with exceptional credentials, unimpeachable character, and unwavering dedication to the rule of law. He also sought a nominee—much like Justice Stephen Breyer—who is wise, pragmatic, and has a deep understanding of the Constitution as an enduring charter of liberty."
  Judge Jackson's resume is rather exceptional-so much so that the White House's press release named Judge Jackson "one of our nation's brightest legal minds." Throughout childhood, Jackson was regarded as a high achiever; a reputation she carried with her through Harvard undergraduate and Harvard Law School, where she was an editor of the Harvard Law Review. The White House report attributes her curiosity and legal aptitude to her fathers' pursuit of law school when she was a preschooler.
  As a former public defender, Judge Jackson has experience representing vulnerable and underrepresented defendants. The press release stated that Judge Jackson "would be the first former federal public defender to serve on the Supreme Court." According to Vox news, her representation of controversial clients such as a detainee at Guantanamo Bay indicates a dedication to criminal justice reform. 
  The White House press release reports that "with multiple law enforcement officials in her family, [Jackson] also has a personal understanding of the stakes of the legal system."
Beyond her experience that makes her well-equipped to serve on the Supreme Court, Judge Jackson's relationship with the legal system allows her to offer a distinct perspective on the function of the justice system. Specifically, "how critical it is for the justice system to be fair and impartial."  
  During his campaign for Presidency in 2020, President Biden formally pledged his commitment to Black voters. "The person I will nominate will be someone with extraordinary qualifications, character, experience and integrity. And that person will be the first Black woman ever nominated to the United States Supreme Court. It's long overdue in my view." Biden said.
  While Biden delivered on this promise, some members of the Black community took issue with the so-called "quota" nomination. Biden's use of racial identity as a prerequisite during such a polarized time may warrant concern. 
  While many people are optimistic about Jackson's confirmation, the recent history of SCOTUS nominations discourages positive expectations.
  In late September 2020, nearing the end of former POTUS Donald Trump's term, controversy swirled when Trump nominated Amy Coney Barrett to succeed the late Justice Ruth Bader Ginsburg. Trump's nomination was confirmed by a simple majority in the Senate. 
  In March 2016, former President Barack Obama's nomination of Merrick Garland to succeed Antonin Scalia was blocked by then-Senate Majority Leader Mitch McConnell. The comparison of Trumps' successful appointment of Barrett and the obstruction of Obama's appointment of Garland, when looking at the timelines, struck many as unjust and points to the GOP's likelihood of undermining Judge Jackson's confirmation.
  On March 2nd, 2022, when Senate Majority Leader Chuck Schumer [D-NY] spoke with ABC News following his closed-door conversation with Judge Jackson, he expressed his praise for her character and proclaimed that in his view, she "belongs" on the Supreme Court. His hope for her upcoming confirmation trial is that "Republicans will support her." 
  Conversely, McConnell said on the matter, "I also understand Judge Jackson was the favored choice of far-left 'dark money' groups that have spent years attacking the legitimacy and structure of the court itself." The Minority Leader also made intentions of carrying out a "rigorous, exhaustive review" of Judge Jackson's nomination.