Swimmers break backstroke records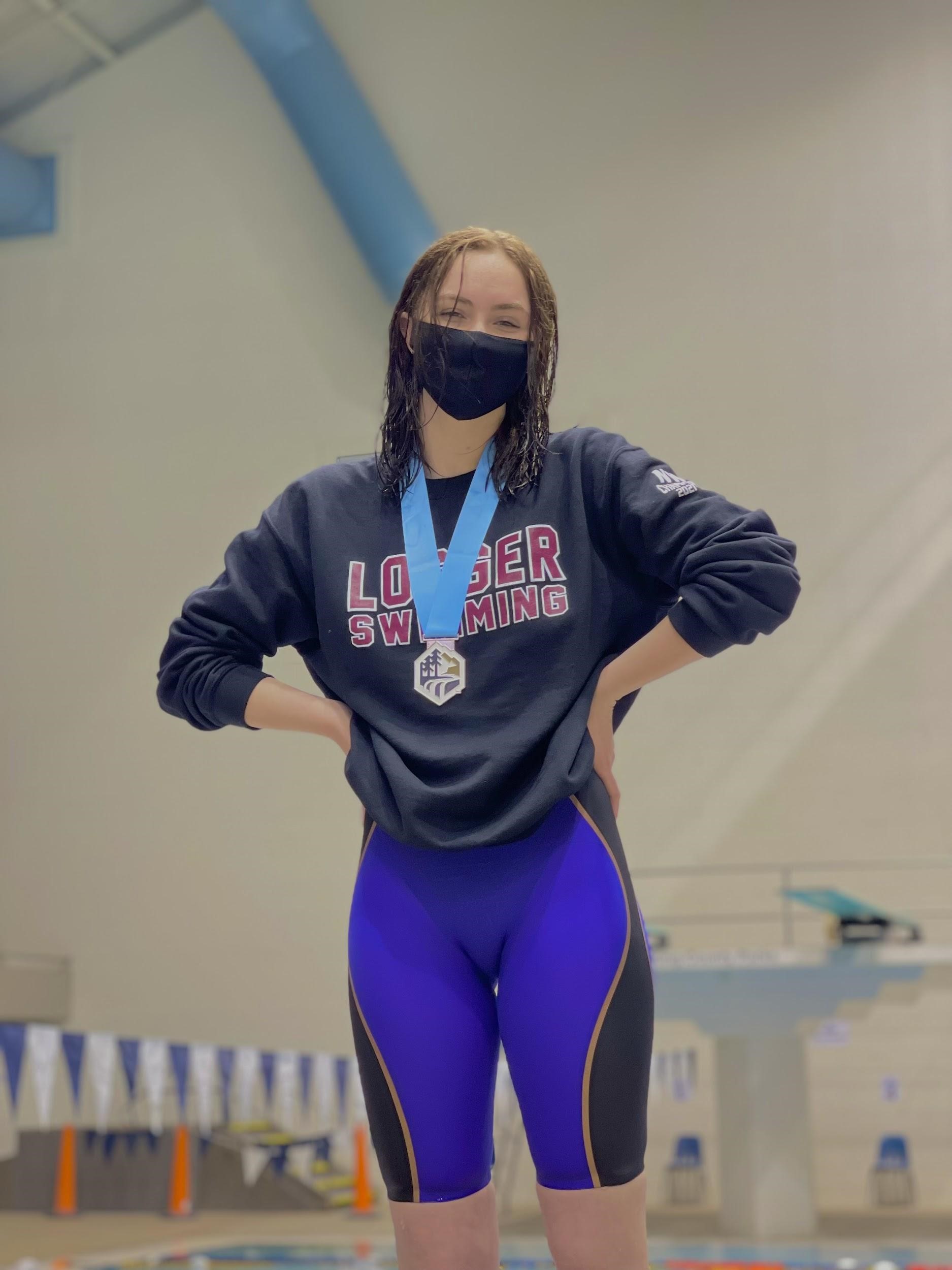 Nolan poses after record breaking weekend in February
 By Luke Ahearn 
  Mounted on the wall in Wallace Pool is a board of records, some of which remain unbroken since the inception of organized swimming at the university in the 1980s. The board acts as a physical representation of the program's history, and motivator for current athletes; it is a big part of the university's swimming culture. 
  Some of the records are recent, but many are from past generations of swimmers. "The records are posted, kids can see them everyday and that's not an accident. I don't need to talk about it a lot because there it is, everyday" says coach Chris Myhre who is in his 28th year coaching swimming at the university. 
  Records at the pool are special, so when two were broken at the NWC championship event on February 13th, 2022 it was a big deal. In an outstanding weekend, first year swimmer Emily Nolan won two North West Conference Titles and broke the Puget Sound Record for the 100 yard backstroke held by Bryanna Tyrgg since 2003. 
  Emily is from Phoenix, Arizona where she first competed in archery, but she made the transition to club/competitive swimming in 2018. "Archery was going better than swim, but I decided I wanted to do swim more", she notes about the path of her athletic career. 
  Despite only swimming competitively for four years, one of those with the university, Emily has quickly become a key member of the Puget Sound Swim team. She attributes her success to years of hard work and dedication, "It was a lot of time and effort I'd say. The club I was in, I was swimming 25 hours a week along with another high school team in the fall." Emily has pushed herself hard to become the athlete she is today, after trading her arrows for goggles. 
  Emily's coaches label her a gifted young swimmer with the potential to conquer the field of competitors over the course of her career at Puget Sound. "In the 100 back she was second to a girl at Whitworth who is also very talented, but quite frankly I think Emily is more talented, and so whether she wants to or not I see her beating that girl" says coach Chris Myhre. Emily plans to do just that, and has her eyes set on breaking the university's record for the mile backstroke next. 
  While the NWC titles are nice, the record means something more to Emily, "I've been trying to get a record, even in high school for so, so long and I think it's kinda cool that every time I get a new best time in that event it's going to be a new record, which is kind of fun" Emily said.  She's excited and proud for the day her name is finally put up on the board. 
  Ethan Schwartz, a second year swimmer from Mercer Island, Washington broke Puget Sound's  200 yard backstroke record, during the same weekend as Emily. He started swimming at eight years old, and has been competing for 12 years.
  The record is the culmination of his lifelong passion, and years of dedication. In his sophomore year of high school, Ethan's long-time swim coach passed away. "My sophomore year of high school my long time swim coach was diagnosed with stage four cancer. He ended up passing away that summer. But he really is the biggest reason I am where I am. The biggest reason I am the person I am and the reason that my love for swimming is what it is" Ethan said.  He now dedicates his swimming career to his former coach. 
  Ethan has achieved something incredible in taking Jackson Kowalski's 13 year old record, and that accolade means everything to him, but he's not done yet. His enthusiasm and work ethic make him a threat to other swimmers in the conference and some of the other names up on the record board. 
  With the changing of the record board Puget Sound swimming is entering a new era led by these talented young swimmers.