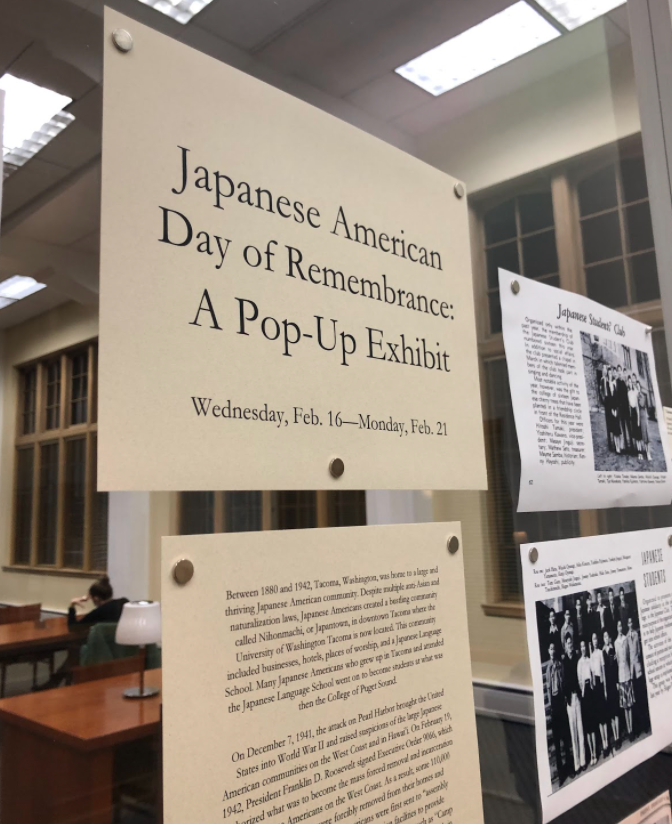 Pop-up exhibit display in Collins Library Photo credit: Kate Patterson
By Kate Patterson 
February 19th, 2022 is the 80th anniversary of Executive Order 9066. This action, signed by Franklin D. Roosevelt, ordered the incarceration of thousands of Japanese Americans on the West Coast; this caused immense harm to these communities and violated the American promise of freedom. 
On February 16th, The University of Puget Sound hosted a virtual event for Japanese American Day of Remembrance, with about 50 people attending. For the first ten minutes of the event, four Puget Sound students spoke. This event as well as our article seek to center the voices of the Japanese American community. Hayden Hotchkiss, fourth-year said, "This history is incredibly important to me, as both of my grandparents were incarcerated due to Executive Order 9066." 
Hotchkiss and the other students explored some of the history and impacts of Executive Order 9066, and shared how it impacted them as well as their families. "I often think of the privilege I have as their granddaughter, hearing their stories from internment, but never experiencing anything close to it in my lifetime," Hotchkiss said. Another Puget Sound student, Mimi Carrier-Berndt, second-year, echoed the same sentiment, saying, "I have nothing but the utmost respect for those that were less fortunate than me and hope to honor their history not only today, but for many years to come."
In 1942, 36 Japanese American students at University of Puget Sound were forcibly removed from campus and incarcerated in concentration camps. During the virtual event, students read the names of these 36 people who were not allowed to continue their education and life here. This was a time of reflection and remembrance to consider the gravity of the opportunities taken away from these students: individuals around our age, learning and living where we are now.
Next, Geoff Froh and Brian Niiya from Densho presented. Densho is a Seattle-based organization and long-standing public history project that documents these accounts. Their website sums it up: "We offer these irreplaceable firsthand accounts, coupled with historical images and teacher resources, to explore principles of democracy and promote equal justice for all." 
Densho recently relaunched their Sites of Shame project with a new, easily navigable and cutting edge website. The map provides information about different Japanese American incarceration sites. The sites are marked with dots the size of which corresponds to the camp's peak population. For each camp, there is a description, timeline, and the peak population. 
This is possible because the War Relocation Authority kept detailed records. In fact, the records, often written by members of the Japanese American communities themselves, document where each person came from and where they moved after leaving  a camp. This is visually represented on the website: yellow lines show peoples' origins while blue lines show where they went after they were released from the camp. 
The camp closest to Tacoma was Camp Harmony in Puyallup, Washington. It was located at a fair grounds, eliciting dissonance between the intended function of the area and the injustices committed to Japanese Americans during World War II. Sites of Shame shows that Camp Harmony, a temporary assembly center, was active from April 28, 1942 to September 12, 1942, and had a peak population of 7,390 people. 
The horrifying history of incarceration of Japanese Americans during World War II should continue to serve as a lesson today. According to Niiya, another goal of Densho is to be an ally for groups experiencing scapegoating reminiscent of this history. One example that Geoff Froh, Deputy Director of Denso, shared was unfair treatment of undocumented immigrants. The parallels to ICE detention facilities like the Northwest Detention Center in Tacoma, WA are unacceptable. Froh explained that Densho is sponsoring a Japanese American Day of Remembrance Day event at the Northwest Detention Center along with several immigrants rights groups. 
The shameful history of the US government incarcerating Japanese Americans during World War II is something that we all have a responsibility with which to reckon. The virtual event was both an opportunity to learn about this history and an opportunity for the Japanese American community on campus to remember and honor those who came before them. 
"On this day, may we all remember and honor the 36 University of Puget Sound Students and every one of the 120,000 Japanese Americans who were interned," Hayden Hotchkiss said. This is a day to reflect on the liberties that were stripped from deserving people, and think about preventative measures against ongoing discriminatory efforts to scapegoat and suppress.