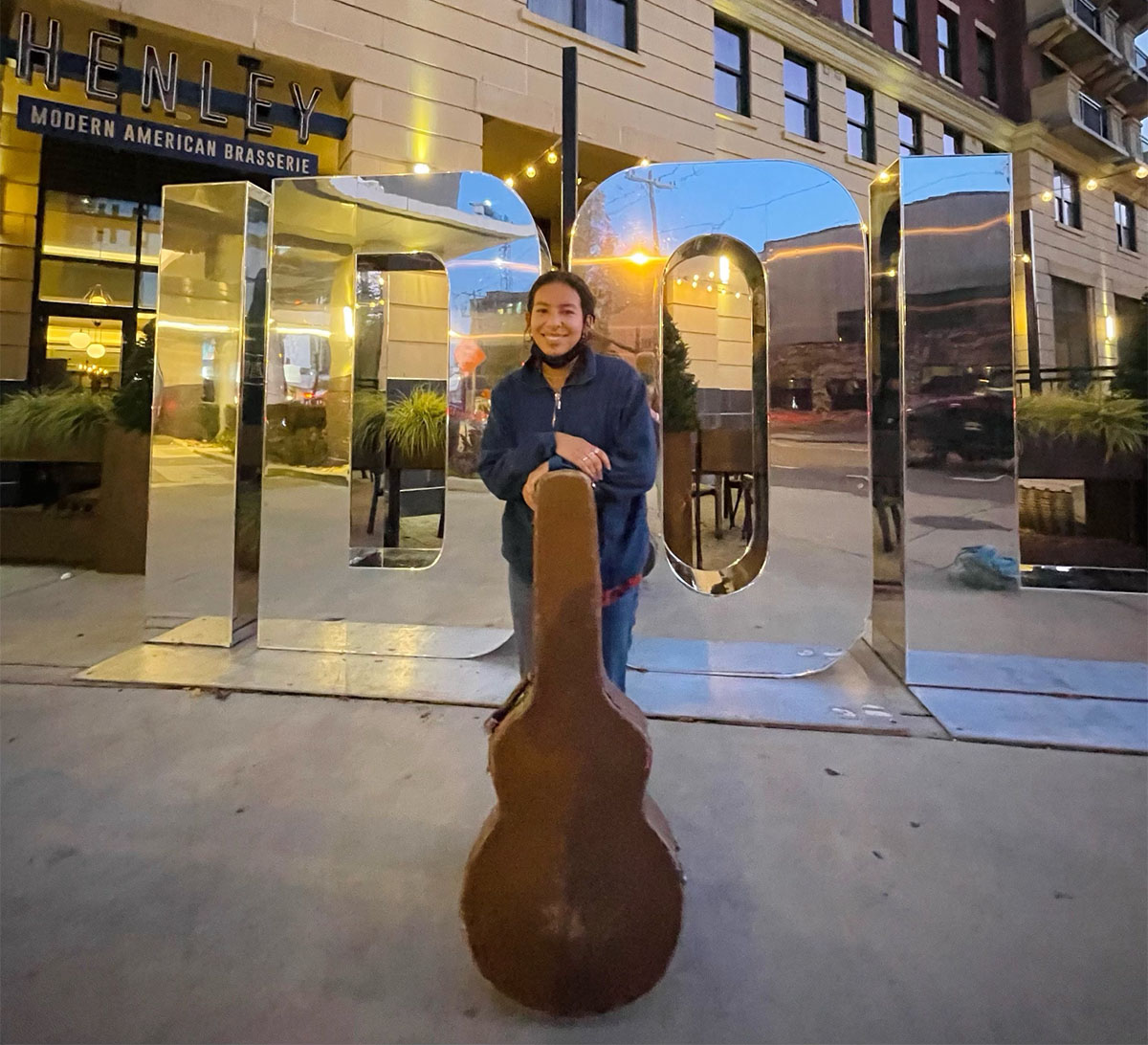 Zia Blue at American Idol audition Photo credit: Danny Czerkawski - a fellow contestant
By Sabrina Hubbell
Around May of 2021, Zia Blue, second-year, decided to post a video of herself singing Sixty Years, by Sophia James, to her Instagram story. Little did she know what sharing that 60-second clip would lead to. Shortly after Blue posted the video, the artist reposted the cover to their instagram story.  After viewing Blue's video through Sophia James' Instagram, a senior producer from American Idol contacted her. "They reached out to me like hey I saw your story do you want to audition for season 20 of American Idol?" Blue said.
Blue then started to get in more contact with the senior producer. "It was really crazy. I started getting emails that had the official American Idol logo on them and I was like what the heck? It was just very surreal and still is very surreal. I don't know if I'll ever be like wow yeah that happened. It's just kind of like a dream!" said Blue.
At the time, stuck in an awkward transition in her life, Blue started to play around with recording and posting singing videos to her social media. Out of the eight jobs Blue took over the year, she found herself taking on a field technician role. "I took a gap year and on that gap year I took a job with the USDA. I was doing a native pollinator study in the Mojave desert and it kind of ended up being something I didn't want to be in" Blue said. Blue ended up quitting her job and moving into a house she sublet with a friend.
Zia has been singing from a young age and grew up in a very musical family. She was involved in choir all four years of highschool. "I've been singing for literally like my entire life. I really honestly don't know when I started singing. I think it's always just been incorporated into my life" Blue said. She mentions that music festivals and concerts were very important to her family which they often attended together.
Before possibly having the opportunity to audition in front of the TV judges, Blue first completed the required preliminary auditions via zoom. "I had two zoom auditions. I did one in my house that I was currently being evicted from"
All while dealing with the parts of her life that felt unsure, Blue was selected to continue with the audition process. The next step would be to another audition in a discrete location.
In her audition journey, Blue connected with new people that shared her passion for music. She explained the excitement of being surrounded by people like herself. "I haven't had a lot of creative friends in my life so it was cool to be like oh yeah that syncopation is so crazy!We were all united in the way that we all just loved music and we loved to be around other people who love music" Blue said.
Thus far, Blue explains that she doesn't have much performing experience, especially on a stage. "I think I'm extra cautious right now especially since I haven't done a lot of performing and I need to just get over that and truly just love the art of being in front of people" Blue said.
Blue explains that being kind to yourself can be hard for people when pursuing goals and dreams. "I've personally struggled really hard with being imperfect. Even if I post a reel on instagram or you know, a minute long video, I get in my head and I always tell myself I'm not good enough. You're never gonna be the person that's perfect." Blue wants people to know that it is ok to allow yourself to be imperfect.
Blue explained the importance of self kindness. "I feel like I am having to take time to find myself as a performer and as a songwriter and finding myself within my own music and being proud while also believing that I can be better" As an artist, Blue recognizes that she struggles, like many others, believing in her abilities and being proud. "Go easy on yourself! You're better than you think you are!" Blue said.
The first episode of American Idol's Season 20 premieres on February 27th.