Puget Sound staff and faculty compete in the Wellness Challenge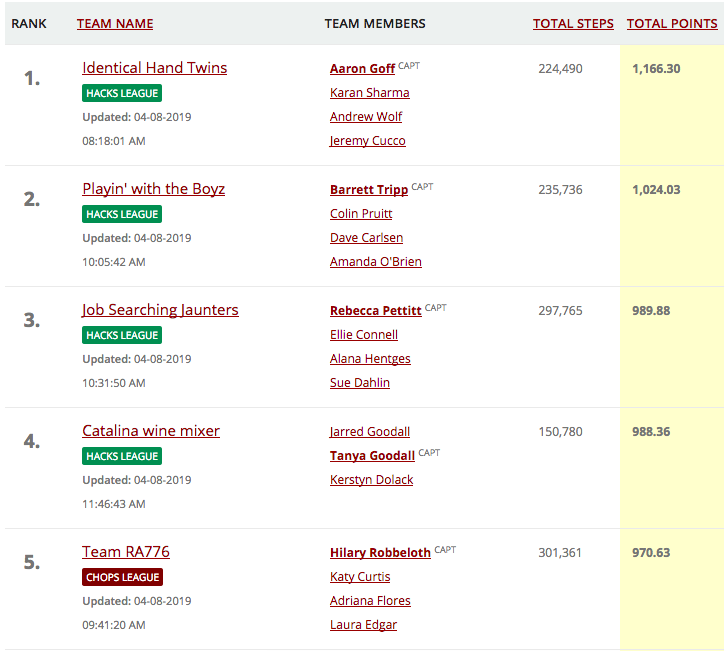 Wellness Challenge player rankings as of Monday, April 8. Hacks League is presently dominating Chops League. Current rankings available on the Wellness Challenge website.
It is well-known around campus that Loggers care about the health of the environment by living green; however, Loggers also care about the health of the people that help make the University of Puget Sound a great place to study and grow. Starting on April 1 to May 12, the University's Staff Senate is hosting a competition for staff called Puget Sound Wellness Challenge.
Through this event, the University's faculty and staff are encouraged to create healthy habits by giving them the chance to be rewarded for it.
"The Wellness Challenge is a six-week event where staff and faculty participate on teams to earn points by walking, exercise, eating fruits and veggies and drinking water. There are also bonus point events that people can attend that are centered around physical and emotional wellness," Athletic Trainer Lisa Kenney wrote. This event brings out the competitive side of people to help them improve, experiment and learn about new ways of living.
"This is Puget Sound's first year participating! Staff Senate, in partnership with university leadership and the faculty for this event, is excited to act on President Crawford's initiative to support and inspire staff and faculty as a part of Leadership for a Changing World and hope to have an annual Wellness Challenge!" Kenney wrote.
In today's society, many people are focused on changing the world around them but starting with changing themselves to be healthier can also lead to a healthier Earth.
Because of the potential the community has shown to change, the University created the strategic plan, Leadership for a Changing World. This plan includes many events such as the Wellness Challenge. The Leadership for a Changing World ultimately is "a student-centered strategic plan guided by our vision and values, built on our mission and educational goals and supported by a commitment to do all that we can to make a Puget Sound education ever more meaningful, relevant, accessible and distinctive," the description of the plan found on the Puget Sound website reads.  
Both the Leadership for Changing World and the Wellness Challenge are fairly new, but hopefully they will be able to succeed and create a healthier campus.
"We want to encourage our campus community to be active, and tracking steps is an easy way to do just that. Overall, the campus goal is to get over four million steps – the number of steps it would take to arrive in St. Louis ­- President Crawford's hometown," Kenney wrote.
Accomplishing this amazing goal is not only going to improve the health of the participants but also bring the community together under a common aim.
The Wellness Challenge is focusing on improving the staff and faculty's health with a little competitive twist. Staff and faculty can sign up online with a team of four. If a person doesn't have a team but still wishes to participate, they can be paired up with others that don't have a team either, according to the instructions found on the Puget Sound website.
"Points are recorded and tracked on a website, where each participant has their own profile, and there are groups, blog posts, articles, etc. At the end of the Challenge, the winning teams will be recognized at the Annual Staff Recognition Event and the Fall Faculty Dinner," Kenney wrote.
Points are awarded to teams by counting their steps, helping others and attending the multiple events selected for the Wellness Challenge.
"There are a handful of events, and we are hoping to continue to add more. We are very excited to have partnered with staff and student groups on campus: the CHWS staff is holding a brown bag lunch session on wellness, there is a Bike Swap on campus, and we are planning a few others as well!" Kenney wrote.
Competitions are great ways of bringing the community together. Even though the Wellness Challenge will have and recognize a winning team, everyone could be considered a winner. Just by attempting to take part in this event, a person can focus on cultivating healthier habits that can improve their daily lives.
To learn more about the challenge or see current standings, visit pugetsound.mywellnesschallenge.org.
Tags :
Health
wellness
Wellness Challenge