Professors highlight need for environmental justice in Tacoma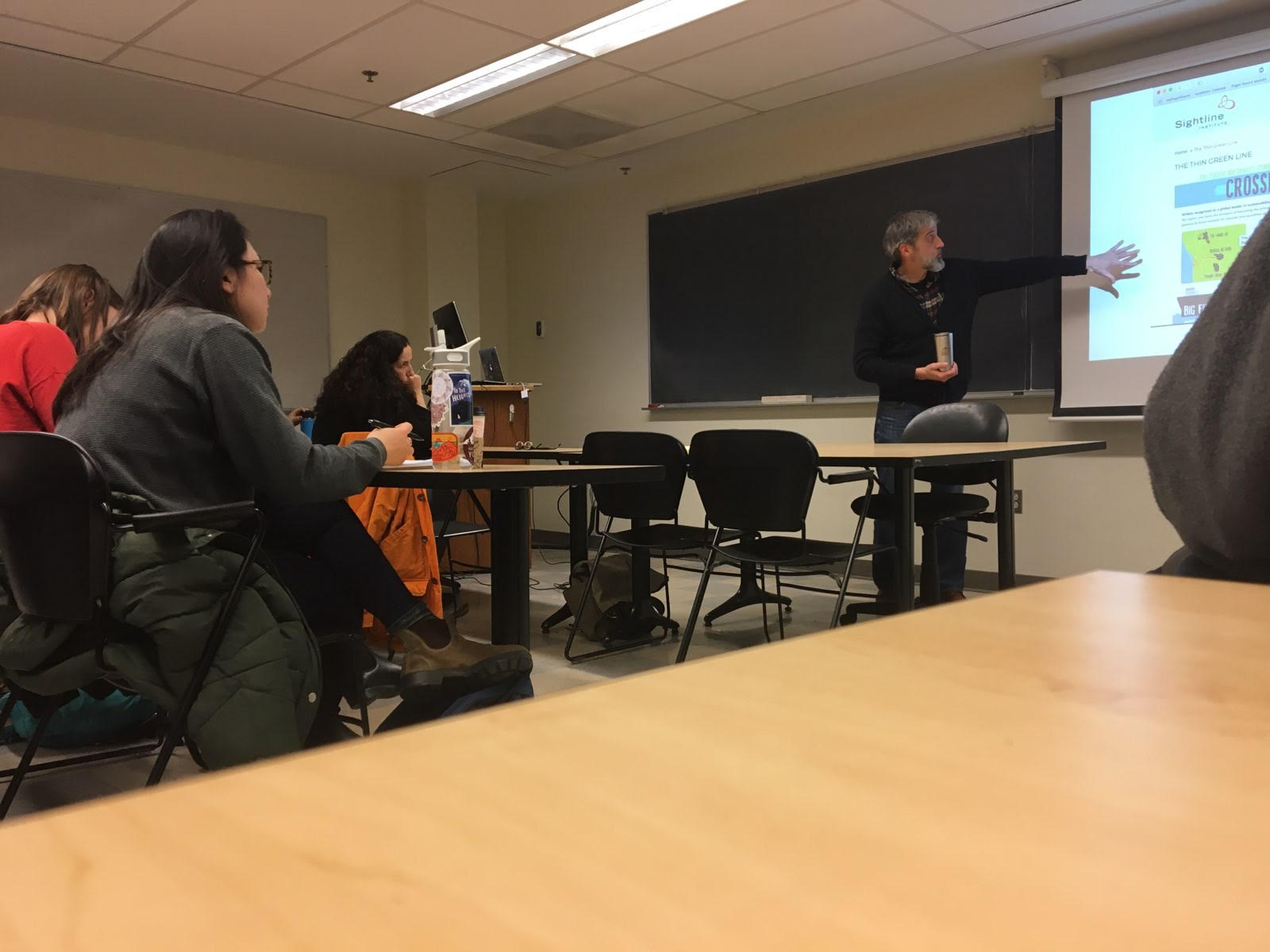 Professor Kupinse presents during the discussion — Photo credit to Christina Conry
On Feb. 26, campus community members came together to participate in a discussion of "What Do We Mean by Environmental Justice?" part of the Spring 2019 Climate Justice Speakers series.
Those in attendance mainly included Environmental Policy and Decision Making (EPDM) students and professors, but there was also a strong turnout from unaffiliated students and other community members who expressed an interest in the discussion topic.
The panel consisted of professors from various departments, each speaking to a different aspect of environmental justice. Following the presentations, EPDM professor Rachel DeMotts facilitated a space for discussion and questions.
First to present was philosophy professor Ariela Tubert, who focused her presentation on environmental racism in the United States while also highlighting it as a global issue.
Tubert defined environmental racism as "the disproportionate exposure of people of color to environmental hazards and environmental health burdens."
She went on to highlight how communities of color experience higher exposure rates to air and water pollution than white communities, often living in close proximity to industrial facilities, landfills and hazardous waste sites.
One such example is the water crisis in Flint, Michigan. Since 2014, residents have been without clean water because the water supply was insufficiently treated, resulting in lead contamination.
The poor governmental response has been labeled "a result of systemic racism" by the Michigan Civil Rights Commission.
Tubert went on to discuss how communities of color are also disproportionately affected by climate change, facing longer response times and less federal support in recovery from natural disasters such as hurricanes.
The impact of environmental racism on an individual is extensive, affecting health, lowering life expectancy and quality of life.
The conversation continued with a short presentation by history professor Doug Sackman.
Sackman talked about the historical lack of environmental justice in America, highlighting the redlining of communities, the denial of specific services to minority communities and the creation of the Green Book, a travel guide for African Americans that listed available businesses during this period of segregation.
Sackman discussed how the civil rights movement is intertwined with environmental justice, reflecting on a quote by Martin Luther King Jr: "It really boils down to this: that all life is interrelated. We are all caught in an inescapable network of mutuality, tied into a single garment of destiny. Whatever affects one directly, affects all directly."
The essence of this quote refers to the interconnectedness of humans and the environment, and also between humans themselves, speaking in both the language of ecology and of justice.
The third and final presenter of the evening was English professor William Kupinse.
Kupinse focused his presentation on environmental injustice in the Port of Tacoma. He highlighted the multitude of toxic industries and fossil fuel refineries located at the port, and its effects on the surrounding community.
Kupinse referenced the previous night's Liquefied Natural Gas (LNG) refinery talk (read about it in Features, page 6), and highlighted how these toxic industries are infringing on Puyallup land and negatively affecting those held at the Northwest Detention Center.
Kupinse informed the audience that the area that the Northwest Detention Center is located on is not zoned as a residential area, despite the 1,575 individuals currently detained there.
He went on to mention ways that students can get involved to work against environmental injustice, specifically within politics. He highlighted city council members and Washington governor Jay Inslee and their positive opinions of natural gas, and encouraged students to make their voices heard.
Senior Abby Shade shared her thoughts: "I thought the speaker series was really well organized and was representative of the interdisciplinary nature of environmental justice. I am so excited to learn more from people who are passionately seeking environmental justice both inside and outside of our campus community!"
Tags :
environment
Justice
Racism
Tacoma