An insider's scoop on the naked run
Ellen starts off the semester off by shedding light (not too much!) on a tradition that rounded out our last semester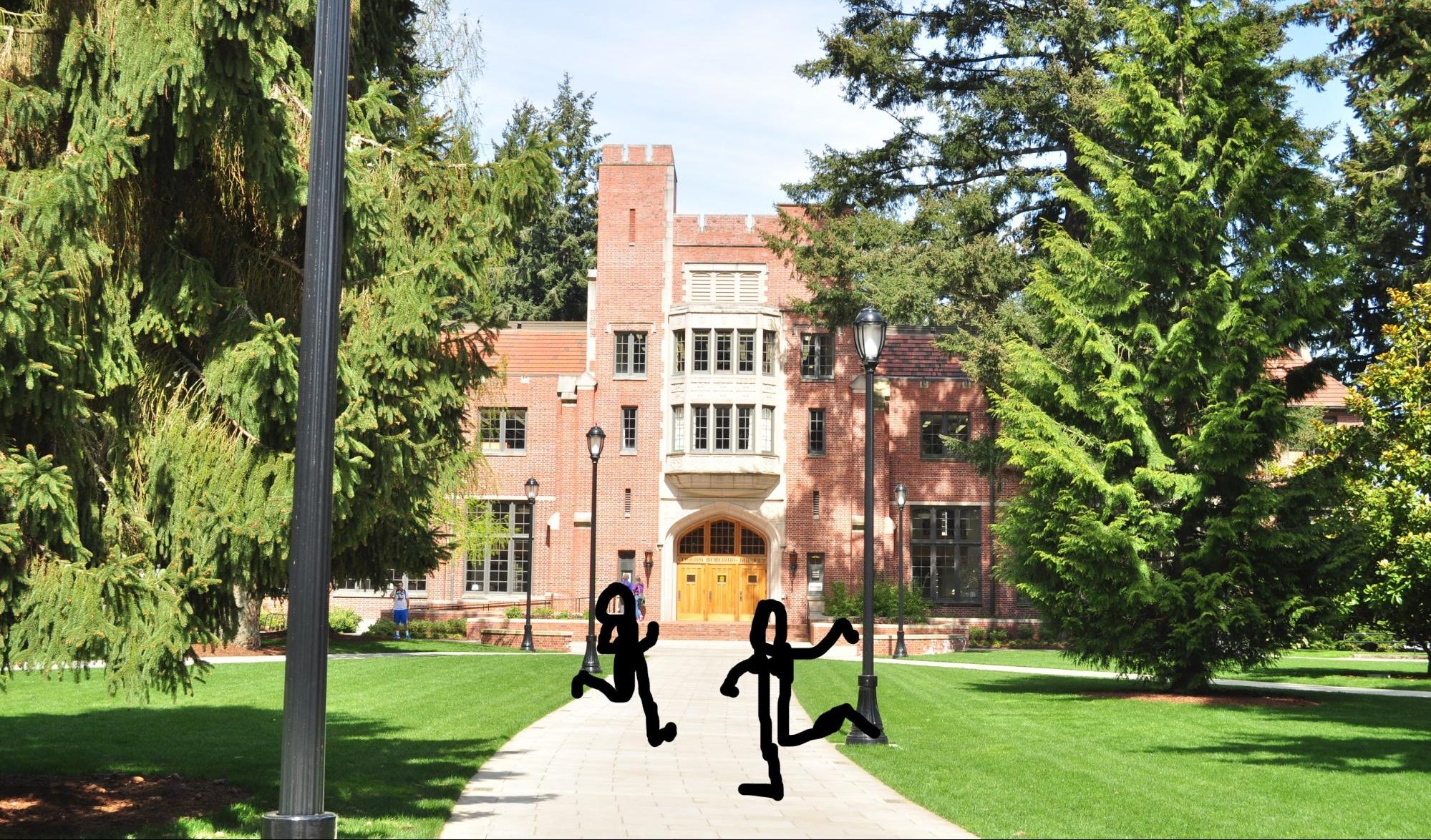 Photo courtesy of Wikimedia Commons; artwork courtesy of Molly McLean
If you were around the library, Thompson Hall, or the S.U.B. the Sunday night before finals week began, you probably saw, or at least heard, the screams from the naked run. The Puget Sound naked run is a biannual tradition in which 30 to upwards of 70 Puget Sound students streak across campus in the nude.  
College streaking is hardly a new activity. Naked running seemed to be well-established on some U.S. college campuses by the 1960s. A 1967 student newspaper article at liberal arts university Carleton College in Minnesota discussed the most recent student streaking, and Time Magazine called college streaking a "largely growing trend" in 1973. Many other college campuses have famous naked runs, such as the UC Santa Cruz "First Rain," in which students are encouraged to streak through the campus woods during the first time it rains on campus. Some colleges, such as Hamilton College in New York state, even boast unofficial "streaking teams" that streak not only at events on their campus, but throughout other East Coast college campuses.
Chris Dowd, the Collins Memorial Library Circulation Services Coordinator, said that the naked run has happened every year the Sunday before finals week since she started working there in 1983. Dowd remembers that students used to wear paper bags or masks on their heads, but in recent years students have thrown caution to the wind and gone mask-free. Her colleague, Cassandra Palmore, who has worked for the library since 1991 agrees that the naked run has occurred in the library for as long as she can remember.
Besides the occasional awkward hallway run-in with nude students while she fetches her dinner from the staff lounge, Palmore said that she hasn't had any problems with the run.
"The only issue that I've seen was during the first few years after we started to require that students use their keycard to access the library after 9 p.m.," Palmore said. "Some people would get locked out of the library in the nude, with their clothes locked inside the library. They would have to knock or call or something. I would feel so bad for them!"
Some students at Puget Sound today feel that the naked run isn't all light-hearted. Students on Puget Sound-affiliated Facebook groups have voiced that they feel the run overrides their consent to witness nudity when it happens unannounced in public spaces like the Library or the S.U.B. Additionally, others agree that the run only really celebrates traditionally attractive bodies that are slim, white and cisgender.
Junior Maxx Cohn said that he posted a statement on the Facebook group wall of each class of Puget Sound beforehand in order to warn students about the run so that it could be "more of a consensual event." The message stated that students who would like to avoid seeing the run should avoid the library, Thompson and Harned Halls, the big sequoia tree and the first floor of the S.U.B. between 9 and 10 p.m. that Sunday night. He also noted that anyone who chose to witness the run should not under any circumstances film or take photographs of the event for the runners' privacy.
"I have never received a complaint by any student or anyone else about the naked run," Palmore said. "I do usually send security an email about what happens as an update but no one is very concerned about it. If anyone were to complain, I think we would take action, but for now I think it's fine for the kids to let some steam off."
Cohn helped to organize the naked run last semester, mainly through a large Facebook group message.
"The naked run is probably my favorite day on campus," Cohn said. "Every bit of stress I accumulate over the semester is ditched for a breezy stroll around campus to wish my peers good luck on their finals and hopefully helping in sharing the stress-free liberation of running around naked with your friends."
He decided to help organize and lead the event when a graduating senior told him that they needed him to help continue to tradition.
"I jumped at the opportunity. I thought it'd look awesome on a resume." Cohn said. "It ended up being exciting and weirdly rewarding helping lead it, and being able to contribute to the legacy of my favorite tradition at UPS is just another way I feel at home on campus amongst my fellow nudist Loggers."
Tags :
naked run
tradition