Security Services holds 'Understanding Security Campus Response' panel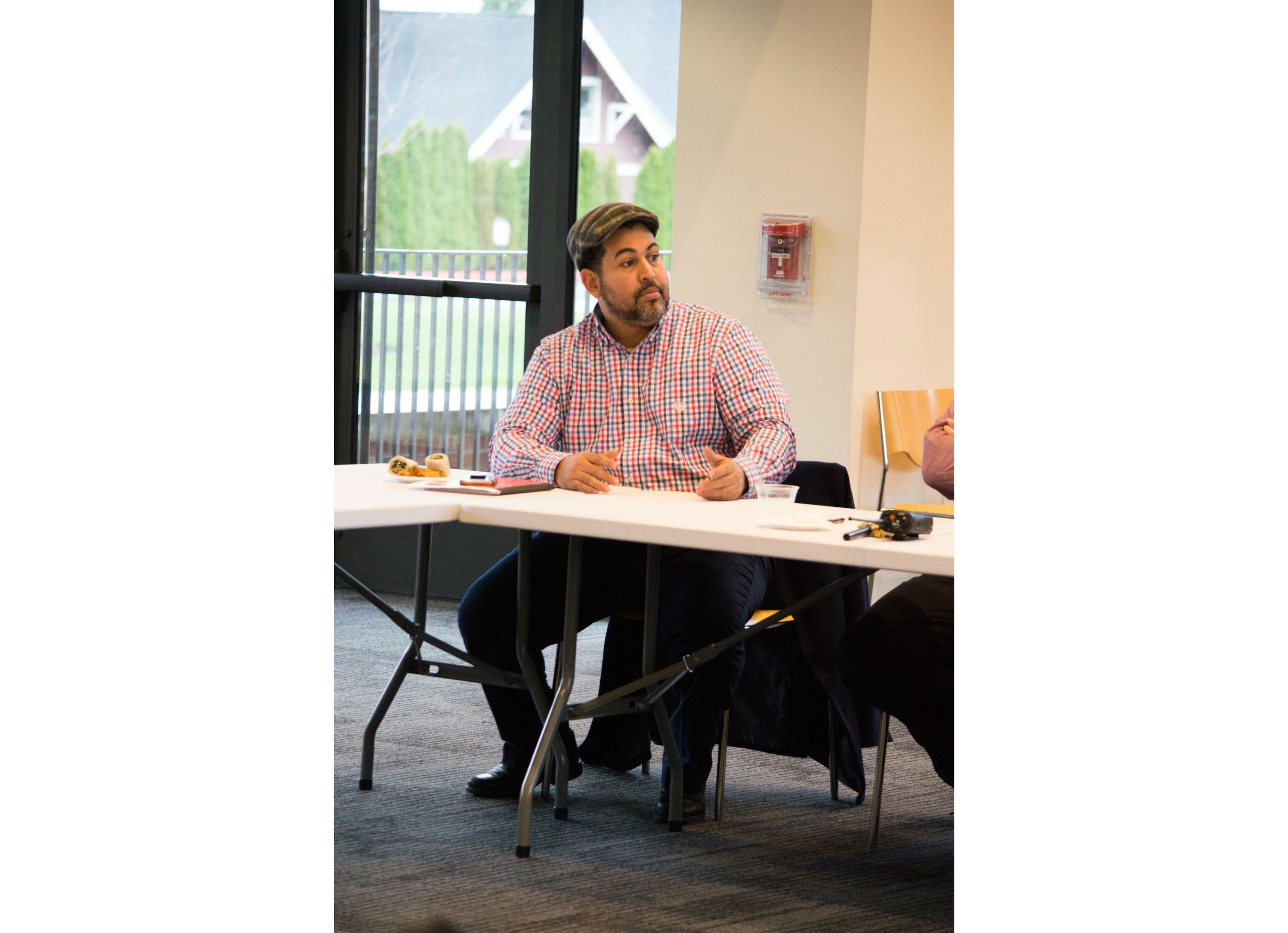 Chief Diversity Officer and Dean of Diversity and Inclusion Michael Benitez presents at the panel — photo credit to Katherine Kessler
On Nov. 28, security services held a panel titled "A Conversation with Security Services and Chief Diversity Officer: Understanding Security Campus Response." The goal of this event was to educate campus members on the work that Security Services does and to foster conversation about security policies and campus response.
The panel members were Chief Diversity Officer and Dean of Diversity and Inclusion Michael Benitez, Director of Security Services Todd Badham and Associate Director of Security Fred Creek. They each explained their roles and duties on campus before opening up the event to questions and discussions. There were 12 people in attendance, mainly faculty and staff.
Badham explained that the main roles of security are escorts, medical aid calls, suspicious activity calls and admits (unlocking rooms for campus members). 1,775 admits have occurred this semester alone, 405 of those in academic buildings with the other 1,370 occurring in residence halls. Security has escorted 314 people, responded to 37 medical aid calls this semester and 85 calls about suspicious people or activity.
Overall, the panel emphasized that campus response is constantly adapting to changes on our campus and in the world.
Most of the campus members who attended the panel wanted to discuss the campus response to the "It's Ok to Be White" posters that were hung up on campus last month. These posters have shown up on many college campuses in the last two years, such as American River College, Duke University, North Carolina State University, Tufts University, Tulane University and the University of Delaware, according to Inside Higher Ed.
According to the Washington Post, the posters came about from a 2017 4chan post that encouraged people to hang posters on college campuses and elsewhere. The intention of these posters, as stated on 4chan, was to trick progressive news outlets into saying the opposite, which would prompt white Americans to align with white nationalists and the alt-right.
These posters were hung up on the Puget Sound campus on Oct. 31. However, the whole campus was not notified until Nov. 7, when Michael Benitez sent a campus-wide email about the incident.
Prior to that campus-wide email, however, faculty members were notified of the posters. Several staff members were upset by this choice, and the overall campus response to the posters.
One staff member at the meeting stated, "Not informing our campus that those posters were on our campus … to me just feels like a lack of opportunity."
She criticized the action of informing faculty but not staff: "It also makes the assumption that staff don't have relationships with students." She also added that it was ironic that the incident was just after the Race and Pedagogy conference, which fostered open conversations about racism in spaces of higher education.
The intention in waiting to address the posters was acknowledging their goal of hysteria and divisiveness, and trying not to empower that purpose. "We don't need to send an email out immediately to the campus community letting them know about these postings that are tied to white supremacy agendas, but are not biased themselves," Benitez said.
One professor stated that the group who hung the signs could come back to campus, and that it was likely they would post more provocative statements if so. He asked, "What are we going to do? Are we going to wait until they post truly offensive biased statements? Or are we going to be ready, and preparing the students?"
Tags :
panel
security services