Black Student Union shares experiences at Puget Sound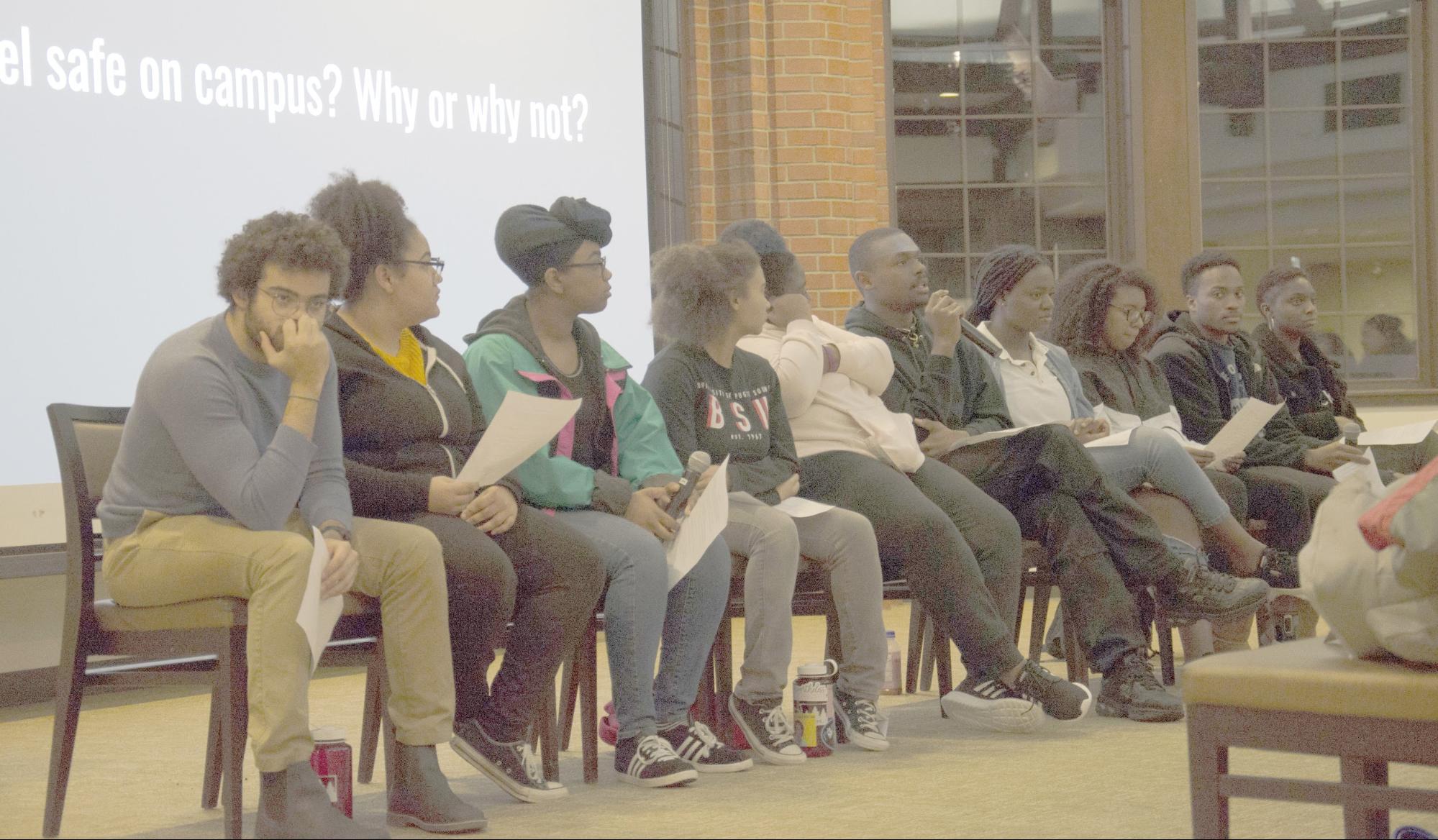 Members of the BSU present at the Q&A panel — Photo credit to Augusta Grassl
On Nov. 28, the Puget Sound Black Student Union (BSU) hosted an uncensored Q&A event titled "Navigating Systems of Oppression at Puget Sound."
The event was open to the entire campus community, and featured a panel of 10 BSU members: Tomicia Blunt, Dale Baker, Shayla Tyler, Ernestina Savage, Mimi Duncan, Christina Mills, Isaiah Thomas, Mushawn Knowles, Jade Herbert and Naloni Haskins.
BSU President Nia Henderson proctored the event, asking the students on the panel a series of questions related to their experiences and interactions on campus. There were 14 pre-determined questions asked and at the end of the event, the space was opened up to the audience for additional questions.
Henderson began the conversation by asking panelists: "Do you think your major/minor department is supportive of your needs?" There was a limited response from the panel, but most students shared positive sentiments toward both the African American studies and Communications departments.
A related question asked was "How are your relationships with your professors?" Many panelists voiced the discomfort they often faced in the classroom when discussing race, as professors would frequently look to students of color to speak.
The shared sentiment was that professors need to realize that in a sense, they too, are students, and in need of educating.
From there the discussion shifted to the idea of tokenization and how students of color navigate the feeling of being tokenized in the classroom.
Sophomore Tomicia Blunt opened up about the confusion she feels when asked to participate in events, wondering if they want her for her opinions or if they just want to feature a black voice.
Henderson went on to ask the panelists if they felt safe on campus, to which the overwhelming response was no.
Naloni Haskins talked of constantly feeling the need to be aware, replying: "No, but I also don't feel safe anywhere."
The panelists talked of their strained relationship with security, their fear of wearing hoods even in Washington's rainy weather and of experiencing "double consciousness" — a split of identity where one does not feel the safety necessary to be their true self.
Also discussed was panelists' experiences with organizing groups of people and planning events under the institution of Puget Sound. Mushawn Knowles spoke candidly of the difficulty POC experience when attempting to organize and make progress, and the emotional toll of being sent in administrative circles.
Henderson went on to ask: "Has anyone ever confused you for another black person on campus?" to which many of the panelists agreed and expressed their frustrations.
One panelist called the names of several women present, asking them to stand, and informed the audience that she had been mistaken for each of these women at some point in her time at Puget Sound.
The final question of the night asked panelists their thoughts on how the campus can be more inclusive. Many participants talked about financial barriers to attending Puget Sound, the lack of resources available on campus and the need for more outreach to increase retention of POC.
One attendee, Puget Sound sophomore Deryn Gersoff, shared her reasons for attending and reactions to the event: "Hearing the perspectives of a few black students on campus was very eye-opening and educational and I appreciated the students who told their honest stories of oppression."
Nia Henderson, who has served as president of the BSU for the past two years, talked of her reasons for hosting this important event: "There is an obvious disconnect between the White experience and Black experience at UPS. Students of color should not be in tears their first week of college because they are hyper aware of the differences they have with their peers, have the urge to transfer, or feel like a failure because of the racial dynamic on this very campus.
"In our current political climate, it is easy to become discouraged, remain silent and allow systems of oppression to prevent us from engaging in dialogue about race, racism, bias and inequality, but I encourage my non-black peers to challenge their thoughts and beliefs by seeking and engaging in uncomfortable conversations surrounding these topics," Henderson wrote.
Puget Sound sophomore and BSU Treasurer Shayla Tyler spoke on the importance of events such as the Q&A panel: "We, as a collective group, plan to continue holding these spaces for these conversations because the only way to make strides for change is to take action and start the dialogue."
Tags :
Black Student Union
experiences