Southeast Asia Symposium recognizes LIASE impact at Puget Sound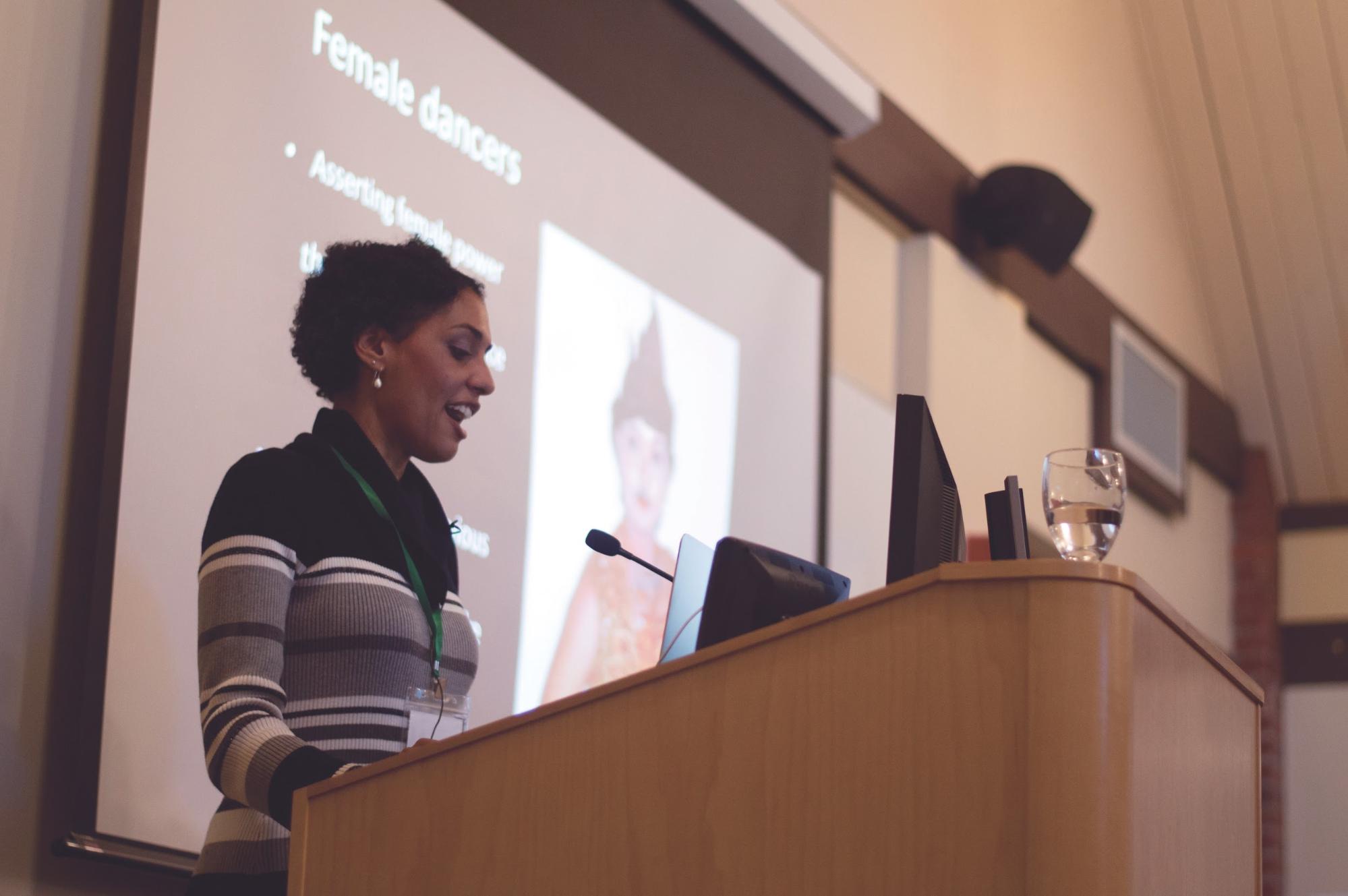 Christina Sunardi presents on femaleness in east Javanese dance — Photo credit Katherine Kessler
Last Friday and Saturday, the University of Puget Sound hosted its fifth annual Southeast Asia Symposium with support from the Luce Initiative on Asian Studies and the Environment (LIASE) and the Henry Luce Foundation. Under the direction of Professor Gareth Barkin, this two-day event offered presentations, cultural engagement activities, workshops and student research panels.
To commence the symposium was the keynote presentation entitled "Accessing and Embodying the Magnetic Femaleness Through East Javanese Dance Performance" by Christina Sunardi, an associate professor in the Ethnomusicology program at the University of Washington.
Sunardi's presentation was based on observations and research performed during her fieldwork in Malang, a city in East Java, Indonesia. She discussed her analysis of female masculinity and male femininity in traditional East Javanese dance and reflected on her time immersed in the culture.
"Despite the strong prevalence of Islam in Malang, and despite Islam's prohibitions against cross-dressing and taking on the gender attributes of the opposite sex, it was not unusual for both males and females to perform East Javanese dances as cross-gendered dances," Sunardi said.
"Performers actively affect and disrupt pre-existing conventions of performance, notions of tradition and assumptions about male and female."
Even though Sunardi's work delved into a very specific aspect of Southeast Asian culture, her account of living in Malang acted as a promotion of the pursuit of fieldwork to Puget Sound students, something LIASE recognizes the significance of and hopes to continue supporting. Barkin, especially, is an advocate of fieldwork and semesters spent abroad, and values students' experiences doing so.
"For students attending the events, I hope they'll learn some interesting information about the region from their peers, our keynote speaker, and our cultural association partners, and hopefully be interested in learning more, perhaps applying to our next LIASE field school in Thailand or taking some of the Southeast Asian languages we've been able to offer as part of our LIASE program on campus," Barkin said.
Through LIASE, Barkin and the University have been able to increase international fieldwork opportunities to students as well as further academic exploration into Southeast Asian culture. Students can pursue majors in Asian Languages and Cultures or Asian Studies and study abroad in China, Japan, South Korea, Thailand, Taiwan, Vietnam or India.
"When I first heard about the LIASE grant in 2013, I thought it could be a great opportunity to expand the sort of work I'd been doing to incorporate a greater focus on Southeast Asia's environmental challenges, which are many, and how developing a rich understanding of local culture, politics, and economics was critical to understanding them," Barkin said.
The Symposium itself has grown over the last four years as an engaging event not only for students directly in the LIASE community, but for those in the outside academic community too.
"I have tried to make it not just a forum for returning students to share their research, but also a venue for other students and faculty who've done work or spent time in Southeast Asia to reflect and discuss their experiences," Barkin said.
"We have a relationship with the United States Embassy in Jakarta that's yielded great collaborations with young Indonesians over the past two years. … So the symposium's expansion has mirrored our widening engagement with Southeast Asia as a University."
This year, the Symposium even featured returning students of the Pacific Rim study abroad program who shared their experiences during Saturday's Poster Session.
Aside from the speakers and presentations, the Symposium also welcomed attendees to dine on Southeast Asian street food and learn about batik, a method of color dyeing.
The rich variety of cultural opportunities offered is the direct result of the work of Barkin, LIASE and the Symposium direction team, who have strengthened an academic department on campus and created a two-day celebration and conversation of Southeast Asian culture on campus.
"Diversity is a central focus of our work on this campus, but that focus hasn't always been on the sorts of international, cultural diversity that helps us to become global citizens and leaders in an increasingly integrated, multicultural world," Barkin said.
"So events like our symposium are an effort to put Southeast Asia in the spotlight, and point out how an awareness of its cultural, economic, political and environmental topics is a crucial part of global learning and citizenship."
As this is the last full year of the LIASE grant, 2019 may be the final time the Symposium is hosted. Yet Barkin is determined to maintain the focus on Southeast Asia and further strengthen the program LIASE has helped cultivate over the last five years.
Tags :
LIASE
Southeast Asia Symposium