Anti-Semitism on campus & how it gets silenced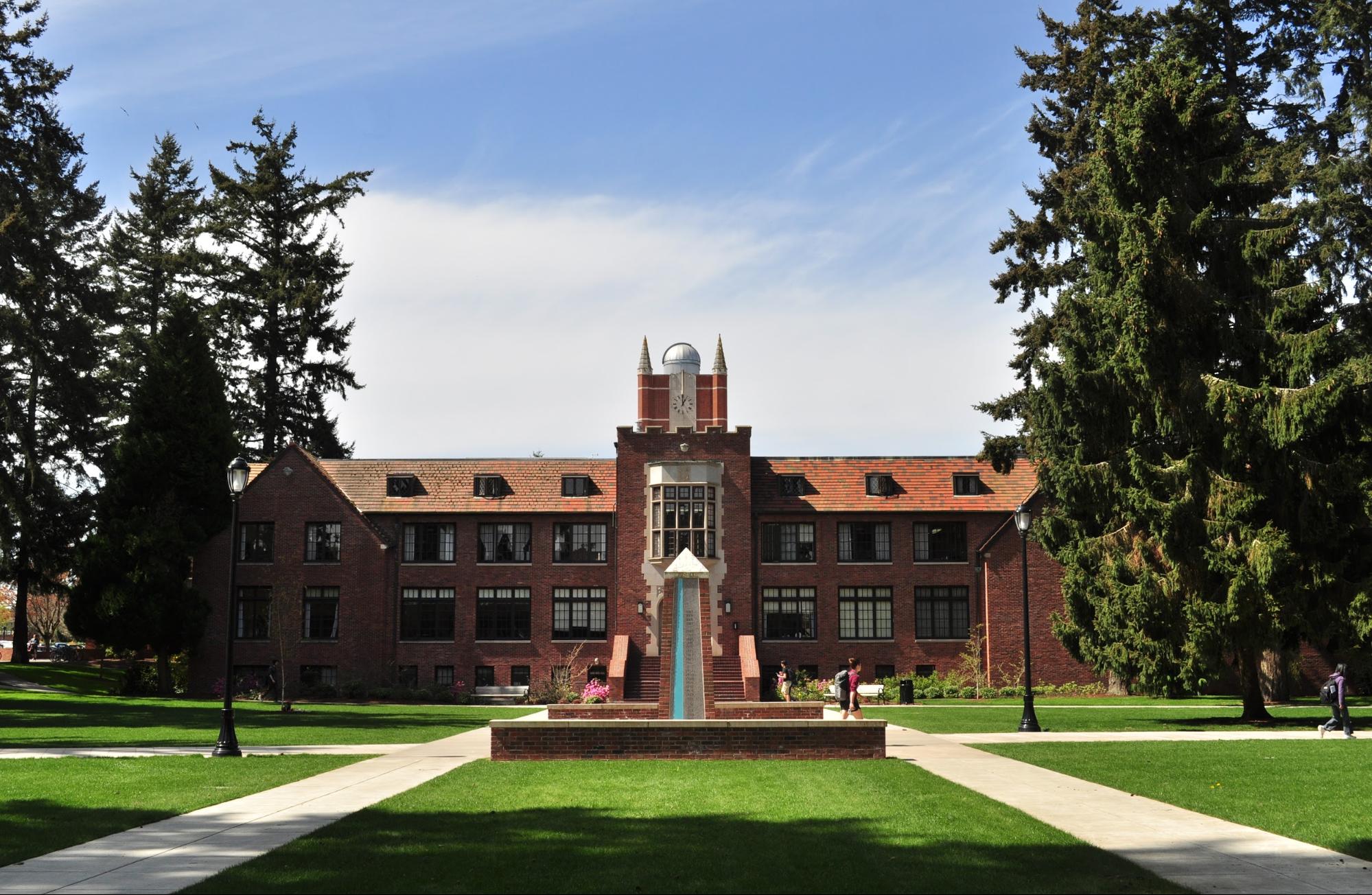 The Puget Sound color post, where some of the anti-Semitic graffiti was discovered — Photo courtesy of Wikimedia Commons
Puget Sound has a documented history of anti-Semitic incidents, beyond those that have happened in my three short semesters on campus. In our desire to be a welcome and inclusive university, we must support students who come from marginalized identities.
Before my first day of class, there was anti-Semitic graffiti found on campus. This was announced to first-years at the conclusion of "I am Puget Sound." The visceral and shocked reaction was instant. Sadly, this was not the first, nor would it be the last, anti-Semitic incident on campus.
This past week, I sat down with several Jewish students to discuss anti-Semitism on campus and how the University can change for the better.
Senior Chloe Grossman, a Jewish student who has been a leader in Hillel (now Jewish Student Union), shared with me about anti-Semitic events on campus.
"I hate that I type in vandalism and I see so many emails that are applicable to you," Grossman said.
She's right; multiple events of anti-Semitic graffiti were found between summer 2017 and May 2018. Five specific events we discussed in our interview: an event in July 2017, two in August 2017, one in October 2018 and one in May of 2018. Of these, only two were announced to select members of the campus community. While the event in May was never formally addressed by school officials, all of these events have been verified by a number of Jewish Student Union members on campus. So, what can school officials do better?
"One, they can stop sweeping everything under the rug. … If something happens, they need to tell us it happened," Grossman said.
This is especially important due to the increase in anti-Semitic violence since the 2016 election. Grossman discussed that at the Logger Diversity Summit 2017 (just days prior to the anti-Semitic graffiti), this fact had been heavily discussed.
Anti-Semitism is on the rise again around the world. We need to discuss its effects on our own campus. Hate-based incidents and attacks must be reported. Students deserve to know what is happening on the campus around them.
Sophomores Amelia Witt and Asha Berkes told me about their experiences with the anti-Semitic events. Berkes expressed that the University could have handled the events much more effectively.
"It was this chaotic moment … a very dramatic moment of everyone being very confused and upset and then it was completely dropped the next day," Berkes said. "Then we get this one email … saying there was multiple accounts but not actual specifics. I feel like nothing really happened after that."
Witt remarked that she did not feel too affected by the anti-Semitic events, citing internalized anti-Semitism. Berkes responded to this statement with a round of snaps and strong agreement.
Both addressed, as Berkes put it, "the subtle anti-Semitism that runs through daily life" in regards to conflicting schedules with High Holy Days and the Academic Calendar. Berkes expressed gratitude that her professors allowed her to miss class without any issues for the recent celebrations. However, she recognises that she is lucky in that as other students had more issues trying to change their schedule around the High Holy Days.
Outside of the classroom, Berkes discussed how she was at a party for Purim, a holiday she described as Jewish Halloween, and was dressed up, along with other Jewish students. Non-Jewish students arrived and began to make fun of those who had dressed up. As Berkes put it, "In our own space we couldn't even have a party. It was literally a Jewish party for a Jewish holiday."
Berkes also addressed the anti-religious attitude that exists on campus, pointing out that by and large the attitude is more one of anti-Christianity.
"You would never outright say, 'I hate Judaism', or, 'I hate Islam,'" Berkes said. "But I think that it erases those identities when you just say, 'I hate religion.'"
What can the University do? According to Allison Shapiro, a member of the Jewish Student Union (JSU), the school can hire a new Jewish Life Coordinator (JLC). The JLC would be an adult who would help with both administrative parts of JSU as well as act as a mentor for Jewish students.
Currently, we do not have anyone in that position. A candidate that had been highly considered over the summer ultimately had to turn down the position because the pay was not enough for her to afford the commute from Seattle. To fill in the hole, Chaplain David Wright has been helping the JSU in planning events and trying to support Jewish students.
"[He] has taken on so much and we appreciate all that he's done but understand that he can't do it all," Shapiro said.
Berkes, Witt and Shapiro said they hope that a new JLC will be hired soon. For now, they look to the new paid student positions that will help JSU in event planning. Applications for these positions can be found on LoggerJobs.
To all non-Jewish students, we have to do better, especially those of us who come from Christian backgrounds. Is your anti-religion one of opposing religion or opposing the negative components that can exist in religion? Is your attitude causing harm to your fellow students? Be willing to learn about religious identities different than your own. In regards to the general anti-religion attitude that exists on campus: check yourself.
Tags :
Anti-Semitism
silence