Archives and Special Collections showcases campus history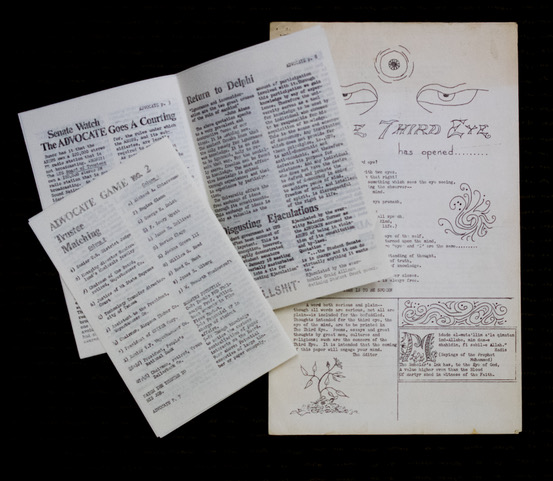 Photo pictures alternative student publications on display on Oct. 17 — Photo credit to Rebecca Heald
The Archives and Special Collections, or A&SC, is celebrating Archives month with pop-up exhibits once a week on the first floor of the library. "We've designed them so that when people walk into the library on Wednesday afternoons this month, they get a glimpse of what the archives has to offer and hopefully become intrigued about what else is in our collection," archivist and special collections librarian Adriana Flores said.
On Oct. 3 the exhibit was "Green Beanies at Puget Sound." This pop-up focused on an old campus tradition in which first-year students were hazed; they had to wear a green beanie or hair ribbon whenever they left their rooms. If they did not wear the green beanie or hair ribbon, upperclassmen would publicly dye their hair green.
The exhibit on Oct. 10 featured different scrapbooks from Puget Sound over the years. One was made by the group now called Hawaii club. Another was a personal scrapbook of Thelma Bestler, a student from 1920-1924. The Thelma Bestler scrapbook contains information regarding classes, university traditions and athletic teams. It includes photos, dance cards, invitations, tickets, posters, news clippings and notes.
On Oct. 17, the pop-up displayed alternative student publications. Issues of The Brail, The Third Eye, and The Advocate were featured. These were published in the 1960s and 70s, and they attempted to critique the University and social climate in ways that The Trail could not. They focused on topics that were controversial in the country at the time, such as the Vietnam War and Civil Rights. These papers also discussed controversies surrounding the University, criticizing the student government and the Board of Trustees. Students faced repercussions from the University for their contributions to these alternative school newspapers. Dennis Flannigan, a Puget Sound student who went on to become a Washington state legislator, was eventually expelled for his work on the The Brail.
On Oct. 24, the pop-up focused on Election Ephemera throughout campus history, mainly featuring archival documents.
The A&SC is home to historical materials that document the history of the University of Puget Sound throughout the years. This includes official records and campus publications, as well as photographs and even personal scrapbooks of students relating to their campus life. Other content in the A&SC includes manuscript collections, rare books, and artist books that relate to the Pacific Northwest.     
The A&SC is located on the second floor of the library, and is open Tuesday through Friday from 10 a.m. to 3 p.m.
"Students, faculty, and staff are all welcome to visit the archives and use our materials in academic papers, presentations or personal projects," Flores said.
Tags :
archives
Special Collections