Volleyball rallies to stay atop NWC standings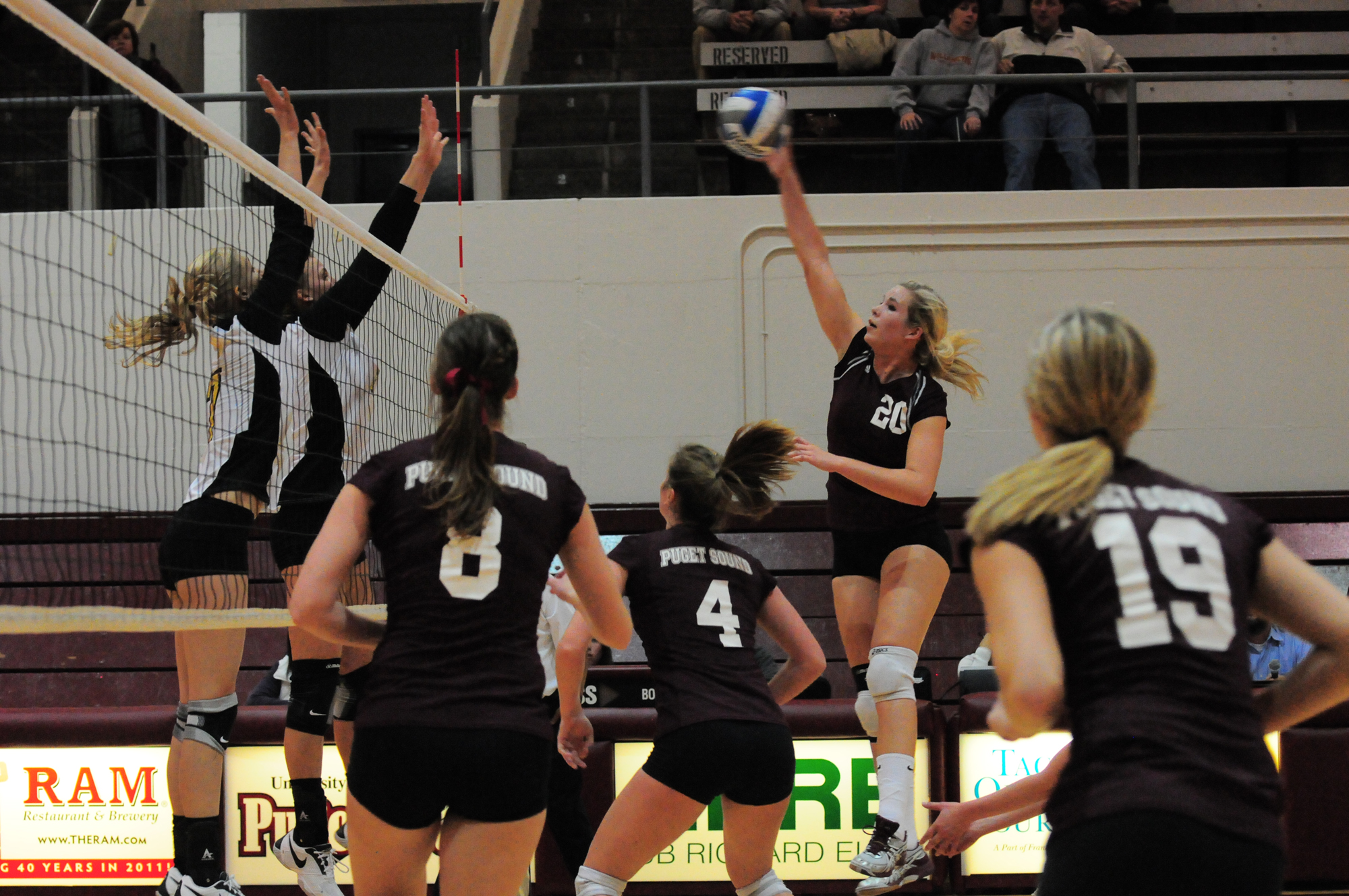 Halloween weekend was a weird one for the Logger Volleyball team.  Displaced from the Puget Sound Fieldhouse by the Race and Pedagogy Conference, they fell to George Fox on Friday night in a game played at PLU before returning home on Saturday to defeat Lewis & Clark.
Friday, Oct. 29 marked the end of the Logger's winning streak.  After 10 consecutive conference victories, the Puget Sound volleyball team suffered a 3-0 loss to the George Fox Bruins Friday.
From the beginning of the first set the Bruins took control of the court, holding the Loggers to a .000 hitting percentage.  They built a 11-1 lead early on and held strong for the 25-11 win.
The Loggers tested the Bruins in the second set, rallying from a late four point deficit to 23-22.  The Bruins, however, responded and pulled away for the 25-23 victory. The Bruins set the tone by taking an early lead once again in the third set. The Loggers stormed back to forge a tie at 18-18.  The Bruins responded by scoring the next four points and eventually taking the 25-21 set victory for the sweep.
Saturday Oct. 30 was Senior Day for the Loggers and it proved to be a better day for the team as a thrilling five-set match ended with a 3-2 Logger victory over the Lewis and Clark Pioneers. Looking to rebound from their previous day's match, the Loggers battled for the victory, leading the match with a 25-20 win in the first game.
However, the Loggers and Pioneers were soon involved in a see-saw match as the Pioneers won the second set 25-22.  The Pioneers also held the Loggers to a .111 hitting percentage during the third set, cruising to a 25-15 victory and a 2-1 match lead.
The Loggers regrouped as the momentum shifted in the fourth set.  The Loggers pulled away for a 25-15 set win and a 2-2 match tie.  Brynn Blickenstaff led the Loggers during the set with 15 kills and a .317 hitting percentage.
The intensity peaked as the fifth set was drawn even at 13-13, and the crowd erupted as the Loggers inched away for the lead and an eventual victory.  Although the Pioneers outhit the Loggers during the set, Natalie Monro hit the last of her 20 kills of the match to put the Loggers in the lead 14-13.  Stephanie O'Connor served match point and delivered an ace that secured the Loggers the victory.
The Loggers will be traveling across town for a meeting with PLU on Wednesday night before traveling to Oregon for a matchup with Pacific University on Saturday, Nov. 6.