A night at the circus with Cirque Zuma Zuma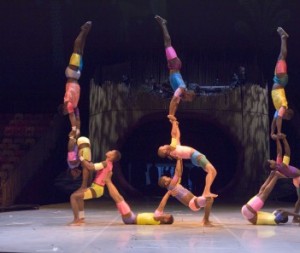 The night Oct. 28 offered students and locals clear skies, cool temperatures and for one lucky audience, a truly unforgettable experience.
On the 28th, the doors of Schneebeck Concert Hall opened for the world-renowned music and performance group Cirque Zuma Zuma that delighted those gathered (this reporter included) the whole night through.
Cirque Zuma Zuma has traveled all over the world offering sold-out shows across both Europe and Australia and last Tuesday night the University of Puget Sound was lucky enough to welcome the group to the Pacific Northwest.
The goal for the night was for audiences to sit back, relax and enjoy all that this unique troupe had to offer and the group certainly delivered upon that promise.
The dimly lit auditorium was filled throughout the evening with upbeat melodies by the group's skilled performers that had audience members dancing in their seats and clapping along to the infectious rhythm.
The group offered more than music, however, while each song played, performers bounded across the stage offering dizzying displays of acrobatics and poise. Everything from acrobats, to strongmen, to clowns and more danced across the stage to the sound of wild applause.
Tuesday night featured an energetic and well-choreographed group of dancers who mesmerized audiences with traditional African dances and played the most impressive game of limbo that this reporter has ever seen.
Skilled men stood upside-down atop precariously stacked chairs and balanced everything from balls to candlesticks using nothing but a stick held in their mouths to the dazzled cheers of all those gathered. A hulking strongman marched center stage and amazed the audience by bending steel rods through the strength of his jaw and arms and from there went on to lift chairs and even a full-grown man through the strength of his jaw alone.
The show even featured a clown who communicated with nothing but a high-pitched whistle and who invited audience members to come up stage and join him in wacky displays to the crowd's laughter.
The show truly offered a unique opportunity to those gathered, myself included, due to the fact that I never had what can be considered the "traditional" circus experience.
Growing up in Southern California there were never many chances to go to see a big top complete with clowns, strongmen and live performances. While Cirque Zuma Zuma offered a different take on the circus element, it still felt like a circus nonetheless.
Another important aspect of last Tuesday night's show was that it helped expose audiences ranging from students at the University of Puget Sound to families within the community to a unique representation of traditional African culture.
The group prides itself on featuring a cast of diverse peoples from all corners of Africa who aim to deliver what they call an, "Affordable African Cirque Style Spectacle" to anyone holding a ticket to one of their shows.
Perhaps most important to consider, however, is how through hosting events such as these, the University of Puget Sound can establish itself as a staple for cultural diversity within the greater Tacoma community.
In the past I've reported on the arrival of the Afro-Cuban music group Mezcla and how they similarly treated audiences to a night of culture and entertainment.
Having performed in the very same concert hall as Tuesday night's group a month-and-a-half earlier we clearly see how through hosting these events can help spread the influences of other cultures to the students and families of Tacoma.
The University of Puget Sound has always prided itself on excellence, multiculturalism and a devotion to its students. In examining the 28th's performance, we can clearly see that Puget Sound is still upholding these time-honored values.
Tags :
Acrobats
Circus
Cirque Zuma Zuma
The Trail
university of puget sound