Checking in on the Master Plan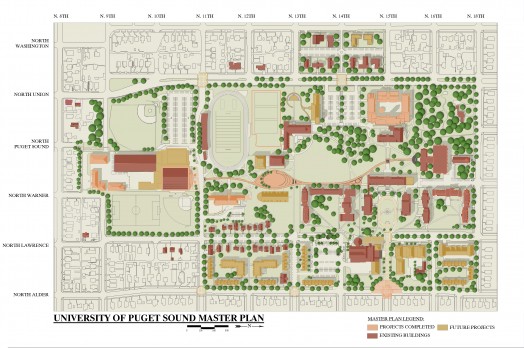 An overview of President Ronald Thomas's long-term improvement plan, past and future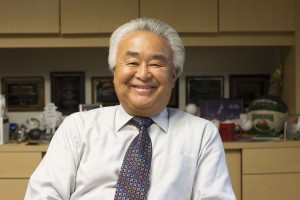 While many projects on campus are visible (such as new flowers being planted or the mowing of the lawns), there are some that go mostly unseen. This article will briefly touch on some of these 'invisible' projects in order to bring them to students' awareness.
As Dean of Students, Mike Segawa is just the man to highlight the important upcoming changes to campus. He spoke about one large building project and three groups that are currently working behind the scenes on campus.
It may be a nice surprise to first-year students to hear that the fitness center will be expanded within their career as a student here at the University.
"Seniors and juniors are probably not going to swim in a new pool, but our first-year students, they might," Segawa said.
With the fundraising nearly finished, it shouldn't be too long before construction begins.
"We'll probably stage the construction, because the aquatic center will be attached to the Fieldhouse and the fitness center will be on the backside. We're thinking that from start to finish it will probably be about a year and a half on those projects once we get started," Segawa said.
He explained that relative to the large construction projects that have been happening the last seven or eight years, the work is beginning to slow down. The addition of a new aquatic and fitness center is the one major project left at this point.
However, three groups are hard at work with different types of ongoing projects. One of these is the experiential workgroup, which is a group of faculty and staff looking into the internships, work and job opportunities for students.
"We're trying to get a handle on what everyone is doing, and then figuring out where we might need to do more," Segawa said. "Because those kinds of experiential learning opportunities are really what we call high-impact educational practices… they're really helpful in terms of a student's education."
A second example is the enrollment workgroup, which works with the board of trustees to provide the administration with feedback and guidance related to the school's enrollment. One aspect of the workgroup is the Tacoma Public Schools Commitment, a financial aid initiative for students graduating from Tacoma high schools.
Finally, a group that will be much more permanent on campus is the Sexual and Gender Violence Committee (SGVC). A smaller group that was started by Dean Segawa last year has become the more official and structured workgroup this year.
"The reason behind the transition from a working group to a formal institutional wide committee has to do with what I and many others on this campus believe is important work that necessitates permanence, continuity, transparency and increased visibility," Michael Benitez said.
Benitez is Chief Diversity Officer, Dean of Diversity and Inclusion and Title IX officer here at Puget Sound. According to the University's page on prevention efforts, SGVC is a mixed group of staff, students and community partners responsible for examining the campus' work in preventing sexual and gender violence, as well as response and education.
Some new aspects will be implemented on campus, according to Benitez.
"An online reporting call-out box that will be made visible for students, staff and faculty to be able to file sexual misconduct reports online," Benitez said. Sexual misconduct includes sexual assault and harassment, domestic violence and stalking.
This project will include the "training and professional development for staff and faculty, and additional awareness, risk reduction and prevention education for students," Benitez said.
As for Dean Segawa's role in these projects, it is varied for each one.
"It's really twofold: having staff there and implementing recommendations that come from them," Segawa said, speaking of his involvement in the workgroups.
However, he noted that for the fitness center/aquatic project he would be much more of an observer.
These four 'projects' are examples of the type of work that goes on at Puget Sound. All of it intends to be supportive, though some of it is visible, and others are invisible.
Dean Segawa assures that there will always be smaller-scale work done during the summertime, much of which is done on residence halls and houses. With maintenance work constantly underway, committees and workgroups are hard at work finding more ways to support current students.  Alongside a new fitness and aquatic center in the work  serving as something to look forward to, students should be aware that projects are always taking place on the campus. Whether or not they are directly visible, they will still leave an impact.
Link to 2023 Master Plan.
Tags :
Campus Changes
campus community
campus issues
campus life
dean
master plan
masterplan
mike segawa
on-campus projects
SGVC
Title 9
Title IX