Dr. Uchenna Baker becomes new dean of students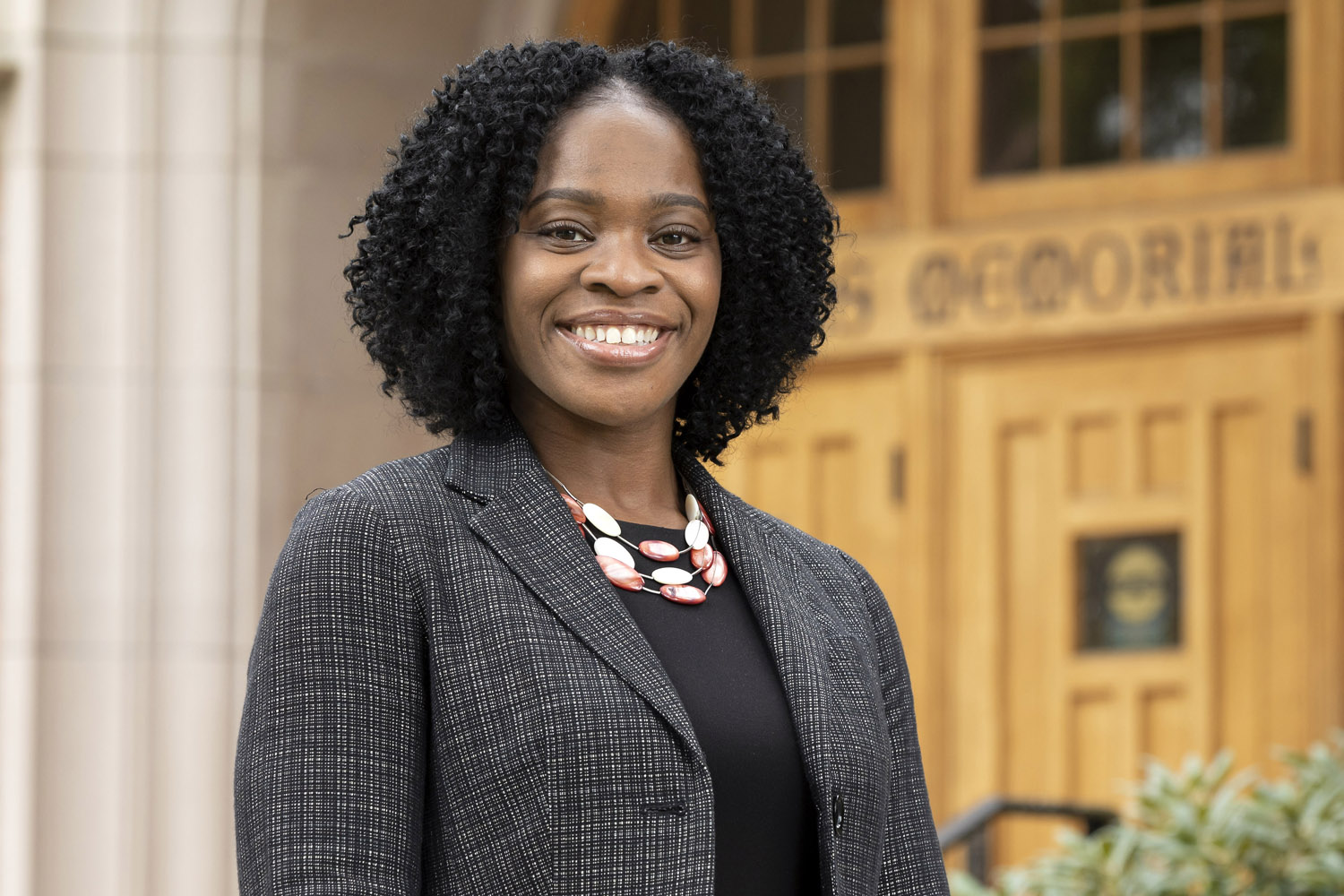 Dr. Uchenna Baker, Vice President of Student Affairs and Dean of Students, in front of Collins Memorial Library, Wednesday, July 18, 2018.
University of Puget sound has seen many administrative changes in the past three years, including new school president. Fall semester started off by welcoming the new dean of students, Dr. Uchenna Baker, to campus. Dr. Baker is taking over the job of former dean Mike Segawa, who retired last spring.
Dr. Baker has a long background in education with 15 years of experience in student affairs. She has worked at many different institutions of different sizes, including Rutgers University, Utica College, and several more. She feels that her past has well prepared her for her new role at Puget Sound.
"Having the opportunity to be able to work at different types of institutions has given me such a broad perspective. The last institution I was at was very similar to Puget Sound in that it was a liberal arts institution, a lot of focus on high- impact practices and also lots of work with faculty members, so we tried to engage students in learning all over campus," Dr. Baker said.
"It feels very similar at this institution, so I will say that all the opportunities I've had to work at so many institutions and being in the field for 15 years, and being at a similar school to Puget Sound, has really prepared me for this role," Dr. Baker continued.
Dr. Baker has several goals for her new job, one of which is focusing on ensuring that the students and the administration work collaboratively to make the University the best that it can be.
"In my role inevitably I'm going to be part of the administration, right? But in my role I'm also committed to the success of our students.It's my goal to make sure all of our students experience a safe, inclusive educational environment on campus here at Puget Sound," Dr. Baker said.
She emphasized the importance of sharing information between the administration and the student body in order to ensure that both parties are well- informed of the goings-on around campus.
"So the way I look at it is being a part of both and being committed to both the students and the University means making sure both groups are well informed on what's happening with students and what's happening with the administration. You know, everyone experiences campus from a different lens, which is inevitable, right? My hope is that we can look at this as collective work," Dr. Baker said.
While she is already fully involved in her new job as dean, Dr. Baker is new to campus. Her biggest goal is to get connected with students as quickly as possible.
"First and foremost I think it's important to learn as much about our students and our institutions as possible, you know I've been in the field for 15 years but I've only been at Puget Sound for at this point two months. So my goal is to learn as much about the institution as I can and to learn about our students, get to connect with and meet as many students as possible," Dr. Baker said.
Working with students is her favorite part of her job. Dr. Baker is excited to get out on campus and begin to advance the Department of Student Affairs even further than it already reaches into campus life. Student Affairs encompasses programs like ResLife, which deals directly with students. Dr. Baker highlighted that she also would like students to reach out to her and get to know her better.
"I love working with students, and I'm adamant when I say that I really can't do good work without knowing my students. So if there are ways that I can get involved and get connected, don't be afraid to reach out and invite me to places. Meeting students at their spaces is where I can really connect with them, so I want to invite my student body to invite me places. If there are ways I can support the students, if there are issues and concerns I need to be aware of … connecting with students is part of my learning so I want to get as connected as possible," Dr. Baker concluded.
The Dean of Students' office is located on the second floor of Wheelock Student Center in WSC 208. Students interested in getting to know Dr. Baker are encouraged to send her an email at dos@pugetsound.edu and drop by when she is available.
Tags :
dean
Dr. Uchenna Baker