Jacobsen Series showcases School of Music faculty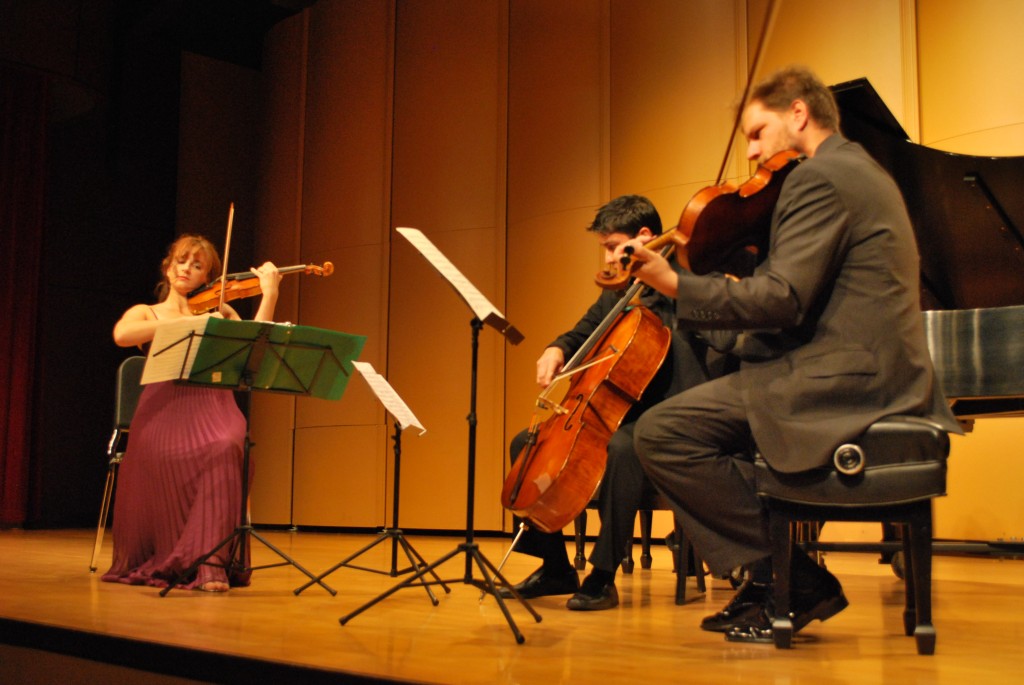 The School of Music continues their Jacobsen Faculty Recitals this year with a series of unique concerts. There are three more available to experience this year, so be sure to stay tuned (pardon the pun) so you don't miss out!
The Jacobsen Series is a unique opportunity for faculty members to put their best feet forward and demonstrate their enormous talents to the Puget Sound community.
The series was established in 1984 in honor of Leonard Jacobsen, former Chair of the Piano Department at Puget Sound. Ticket sales support the Jacobsen Series Scholarship Fund, which each year awards music scholarships to an outstanding member of Sigma Alpha Iota, the women's music fraternity on campus.
All Jacobsens, unless otherwise noted, happen in Schneebeck Concert Hall. Cake is offered after every performance, courtesy of Sigma Alpha Iota. Check the bulletin for reception location.
Tickets are $15 for the general public; $10 for seniors, students, military and Puget Sound faculty/staff; and free for Puget Sound students. They're available at the Information Desk in Wheelock Student Center, by calling (253) 879-3100, or online at tickets.pugetsound.edu. You can buy any remaining tickets at the door.
This Sunday, Oct. 26, at 2 p.m.
is "Romantic Bass, Trombone, and Friends!" It will feature Rodger Burnett on horn; Brian Chin, guest artist, on trumpet; David Krosschell on trombone; John Rojak, guest artist, on trombone; Ryan Schultz on tuba; and Judson Scott on trumpet.
The Phantom of the Opera, the original 1923 silent film starring Lon Chaney, will be shown next Friday, Oct. 31, at 6:15 p.m. for students and 8 p.m. for the public in Kilworth Memorial Chapel. It will feature live piano and organ accompaniment by Duane Hulbert and senior Sarah Stone, respectively.
This is not Hulbert's first experience with Phantom, as he first played live piano accompaniment for it at the Blue Mouse Theatre in Tacoma in the 1990s. The performance was so popular that when he concluded and went outside, he saw the 50 people outside waiting, turned around, went back in and did it again!
The final Jacobsen for 2014 will be on Friday, Nov. 14, and will feature Dawn Padula in "Masterworks for Voice." She will be accompanied by Jooeun Pak on piano.
Zachary Hamilton, a senior in the Music Department, has had lots of experience with the Jacobsens over his years at the University.
"The Jacobsen Series is the perfect setting to witness the working artistry of the School of Music Faculty," he said. "Each faculty member has a unique performance personality to complement her or his teaching style, and the overall picture is both exciting and enlightening."
Bronwyn Hagerty, also a senior, was a recipient of the scholarship last year, and this is her second year as the Jacobsen chair in Sigma Alpha Iota. She explained a bit of the mentality that goes into the selection of what recitals are held in a year.
"[The faculty] talk about pieces they're excited about and discuss if they can make it a possibility. For instance, Gerard Morris [Director of Bands] did his thesis on Kurt Weill's Violin Concerto, which is a work he's extremely passionate about, so he was able to talk it over with Maria Sampen [head of violin] and eventually performed it on a Jacobsen last year [as the main piece of the concert]."
She continued, "They also have pre-formed groups, like the Puget Sound Trio [Maria Sampen, violin; David Requiro, cello; and Duane Hulbert, piano], and since we got so many new faculty members to join the School of Music this year, they put on a recital involving all of them.
"And since the instrumentation was so unusual [cello, piano, bassoon, and trombone], they transcribed a cello trio with piano accompaniment for them all to play, or found pieces that involved as many combinations of those instruments as possible."
She encouraged music and non-music students to attend.
"Why? Because they're great concerts! And cheap too! Free, even, for students," she said. "It's also great because the faculty are super approachable, and it's because they're so nice and humble that we forget that they are also internationally-known, Grammy award-nominated artists. We're extremely lucky to have them!"