Men's and women's soccer remain dominant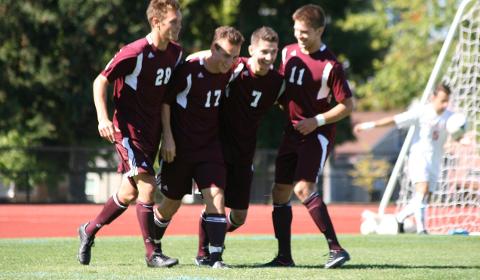 Men's and Women's Soccer Continue Recent Hot Streaks
After a tough start, both the men's and women's soccer teams have been unstoppable of late. No team wants to play either team right now, with the men winning five straight and the women winning four in a row.
The chemistry for the men's team took a little time to come together at first, but after the first few days the results started to show.
"We have 12 new faces on the team which maybe made it a little hard at first for a chemistry to set in, but after a couple days everyone began to bond and we started to gel more," first year student Ezra Kraus (Harvard, Mass.) said.
The season started slow for the men's team, but once they clicked everything, came together.
"I think we've had success recently due to a higher intensity during practice and in games. We have been able to come out fast on a bunch of teams and score early goals which has really helped us be successful," Kraus said.
The men's team has scored 21 goals through their five-game winning streak, averaging just over four goals a game. On the opposite side, they have only conceded three.
The women's team is not to be outdone, though. They have only allowed one goal in their four-game winning streak, and it doesn't seem like they will be allowing more anytime soon. Their season could be tremendous, and add to the past years of successful seasons.
"This is one of the better teams we've had and the difference is having lots of returners and lots of improvement from those returners," women's soccer coach Randy Hanson said.
Having a strong offseason can be vital in improving a team and if the full effort is not put in, it could lead to a disappointing season. The women's team had a great one.
"This the best offseason that we've had on our team, we've done a pretty good job on having our returners with increasing their fitness level and abilities," Hanson said.
The women's team, now 4-1 after last week's 1-0 win against Linfield, will play George Fox and Willamette on Saturday and Sunday respectively. Both at home and conference games. With a 2-0 record in conference, this weekend's games could be huge.
"I'm looking forward to all of [the games]…We have been lucky enough to be at home for this first stretch," Hanson said.
For the men's team, it is quite the opposite. They enter a stretch of five games on the road, all of the games are in conference. The season could all change in this stretch, and the players will certainly be ready to go.
"This team is different from previous ones because the commitment and intensity is much higher. We are honest and accountable for each other and I think that makes our friendship and chemistry stronger," first-year player Ben Whitham (Claremont, Calif.) said.
Being a team first has helped them in being successful. Without the grit they possessed through the first couple of losses, they might not have been where they are today. With a 5-2-1 record they are on the rise, and every single player made an impact on where they are today.
"If I had to choose certain players that stood out, I would have to list all 31. We have an amazing team, and it's an honor and privilege to be a part of it," Whitman said.
The women's team possess the same qualities. They might not have had the recent success without their ability to work harder in the tough times. The players push each other harder and expect more. The determination is impressive.
"A real strength of ours is to have real good relationships within the team while we are competing. On all realms we are real good friends and also we're trying to be competitive friends. Our chemistry is really good," Hanson said.
Both teams are extraordinary, and it will not be a surprise if both of the teams continue their winning streaks, based on their accountability and desire to win.
Tags :
Athletics
logger
mens
soccer
sports
women's