An extraordinary journey: alum Jordan Hanssen to speak of rowing from New York to England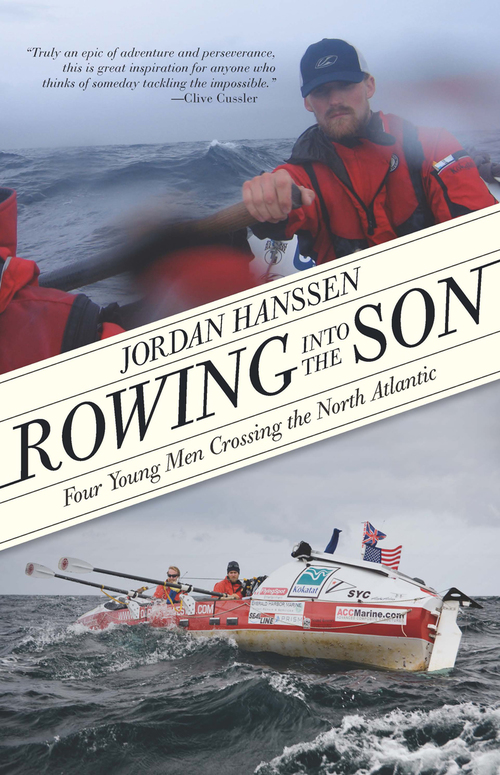 Alumnus Jordan Hanssen '04 will be on campus on April 2 to talk about his experience rowing across the Atlantic.
Hanssen will be at Collins Library from 7-8 p.m. to share his experience rowing a 29 foot boat across the Atlantic ocean in 72 days in 2006. He will be talking about his row in 2013 and his new book, Rowing into the Son: Four Young Men Crossing the North Atlantic and he will also discuss the many adventures he had during his trip.
Hanssen and his three friends, who are also Puget Sound graduates, were the only American team in the first ever race from New York to England. Hanssen decided to enroll in the race when he saw a poster in a boat house advertising the race across the ocean.
"I thought it was cool," Hanssen said. "It was a huge idea and it inspired me."
Hanssen asked his friends whom he rowed with if they would make the trip with him.
"Dylan LeValley 05', Greg Spooner 01' and Brad Vickers 05' and I rowed together at UPS and we decided to take this trip together," Hanssen said. "We were all taught how to row by Mike Hagman, who was the novice rowing coach at UPS at the time."
Hanssen also wanted to take the trip because of his father's death.
"My dad died of asthma when I was three. [Rowing across the Atlantic] unlocked a great deal of emotion for me and it became one of the reasons we rowed," Hanssen said. "The process of getting ready to row, rowing and writing about the event after helped me process some unresolved grief about my father's death."
The team partnered with the American Lung Association and named the boat after Hanssen's dad.
For food and water the team made special arrangements. Food on the first trip was based largely on a diet of polenta, rice, oats, tuna and 250 lbs of cheese and butter. For fresh water they used a spectra 150 water desalination unit that used reverse osmosis. It was powered by solar panels mounted on their boat. The trip was not easy for the team and they faced many obstacles.
"At first I was worried about the waves, and being in hurricane force winds was scary," Hanssen said.
At one point they almost got hit by a freighter, and by day 17 they realized that they were short on food.
"We rationed the whole way across. It was the hardest part of the trip and we lost 145 pounds total between the four of us."
The trip put a strain on all of them and Hanssen worried about relations with his friends.
"I was worried because the four of us had been through so much and this thing threatened to tear us apart. And it was close," Hanssen said.
Upon arrival Hanssen experienced myriad emotions. His family and hundreds of faces that they did not recognize were waiting for the team.
"People handed us food until we had too much to carry. We were so hungry, we came into port with a can of tuna and a half bag of polenta," Hanssen said. "I was expecting catharsis, but all I got at that moment was relief. I was 23 and this was the riskiest project I had ever done. It took a long time to process."
Hanssen decided to write his book for a sense of closure.
"Writing this book was an important part of finishing the adventure.  I needed to write it down for me and the guys I rowed with,"  he said. "I just hoped to tell a good story that was as true as I could make it."
Now Hanssen is President of a 501 (c)(3) called OAR Northwest, an education and research organization that uses adventure for scientific exploration and free adventure education.
He originally created it before his 2006 journey in order to raise money for his trip, and decided to continue the non-profit after his return. The organization is entirely volunteer run and they go on rowing trips.
This fall they will be rowing on the Mississippi River and eventually they would like to do a yearly row from Olympia to Alaska. They have done trips in the past, including traveling from Senegal to the U.S. and navigating the Salish Sea in Canada.
Hanssen looks back on his experiences at Puget Sound fondly.
"The school is beautiful, the professors were awesome but I loved the students [the most]," Hanssen said. "I am so proud of them and honored to call them my friends. Ten years after being out of school I am amazed at who some of my friends have turned into."
Students can meet Jordan and enjoy refreshments from 6:30—7 p.m. followed by his talk from 7—8 p.m. Copies of Rowing into the Son: Four Young Men Crossing the North Atlantic and t-shirts with artwork inspired by the row will be available for purchase at the event.
Tags :
adventure
Jordan Hanssen
Puget Sound alum
Rowing into the Son