Tim and Eric's Billion Dollar Movie relentlessly entertaining for its specific brand of humor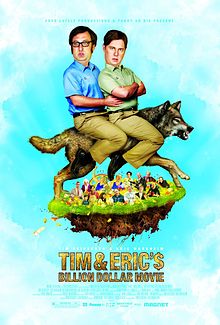 Tim Heidecker and Eric Wareheim, film students who took their personal brand of surrealistic humor to Cartoon Network's late night comedy block "Adult Swim" during the start of their hit-or-miss comedy careers, have broken their hiatus from production to deliver Tim and Eric's Billion Dollar Movie. Tim and Eric are the main characters in the film, which follows the duo as small-time filmmakers and television producers.
For fans, it's exactly the humor that they've waited for since the last season of their TV show, "Tim and Eric Awesome Show Great Job!," ended in December of 2010.
For the unitiated, their scathingly awkward brand of humor is just as inaccessible, eccentric and outlandish as it was on their television shows. Boldly unapologetic, the movie is either rain after a long comedic drought or more crude humor from a nascent and overhyped comedy underground.
The film starts as would any one of their TV episodes: with an advertisement for a monstrously ineffective and hazardous movie watching chair, courtesy of the comedically-named Schlaaang corporation.
What follows that interview is a short film and the consequent anger of Tim and Eric's Schlaaang company backers when they realize that Tim and Eric have wasted a billion dollars on ridiculous stage effects, personal assistants and lavish lifestyles.
Desperate to make the billion back and avoid repercussion from the corporation, Tim and Eric heed an advertisement that promises $1 billion if they rejuvenate the broken-down S'Wallow Valley Mall from its squalor, complete with ridiculously ineffective outlet stores, squatters and wolves.
The rest of the film follows the duo's progress as they misguidedly attempt to fix-up the mall and avoid their furious creditors.
From the non-diegetic music to their playfully mocking use of montage, choreography and dialogue, Tim and Eric masterfully skewer film and TV tropes from the point of view of content creators in both industries.
Styled at its core after low-budget public access programming, Tim and Eric's style of filmmaking transfers well to the big screen. Their use of little-known actors, inefficient and tasteless corporate overtones and faux-dramatic plot movements was more effective than ever. The creators hit their stride as they expanded on the brand of humor established on "Adult Swim" and on their comedy tours.
Their sarcastic, contemporary take on local media and business politics stands at the height of modern parody, their caricatures being so complex and deep that it's often difficult to tell the jokes apart from the duo's impressively idiosyncratic characters.
Tim and Eric have cast a range of supporting actors, most of whom have appeared in their previous works as guest stars on their public-access-from-hell skits.
Bigger-name stars such as Will Ferrel, Zach Galifinakis, Bob Odenkirk and John C. Reilly augment performances by lesser-known Tim and Eric favorites, such as Will Forte, David Liebe Hart and James Quall, to create an atmosphere both low-rent and laugh-out-loud nonsensical.
The cast, packed full of nearly "uncastable" character actors and seasoned comedy vets, demonstrates unity and coherence in its performance, selling Tim and Eric's brand of schlocky, devastatingly biting humor with impressive consistency.
That Roger Ebert gave this movie 17 out of 100 and the New York Post gave it zero, while the A.V. Club and the Village Voice gave the film 83 and 80, respectively, is indicative of the culture of comedy in the mainstream media, as well as representative of Tim and Eric's comedic style: you either get it or you don't.
Much in keeping with their cult hit TV-shows "Tom Goes to the Mayor" and "Tim and Eric Awesome Show Great Job!," the Billion Dollar Movie contains the same bold cynicism and mockery that the duo's devoted fandom has come to expect.
An audacious comedic offering in a time when major studio comedies have been playing it safe, Tim and Eric's film is parody at its sharpest logical extent. It's a must-see for diehard fans and indeed anyone interested in comedy off the family-friendly, thoroughly-beaten path.
PHOTO COURTESY/WIKIPEDIA.ORG
Tags :
Adult Swim
film review
surrealist humor
Tim and Eric