Senior Art Show displays hard work of to-be graduates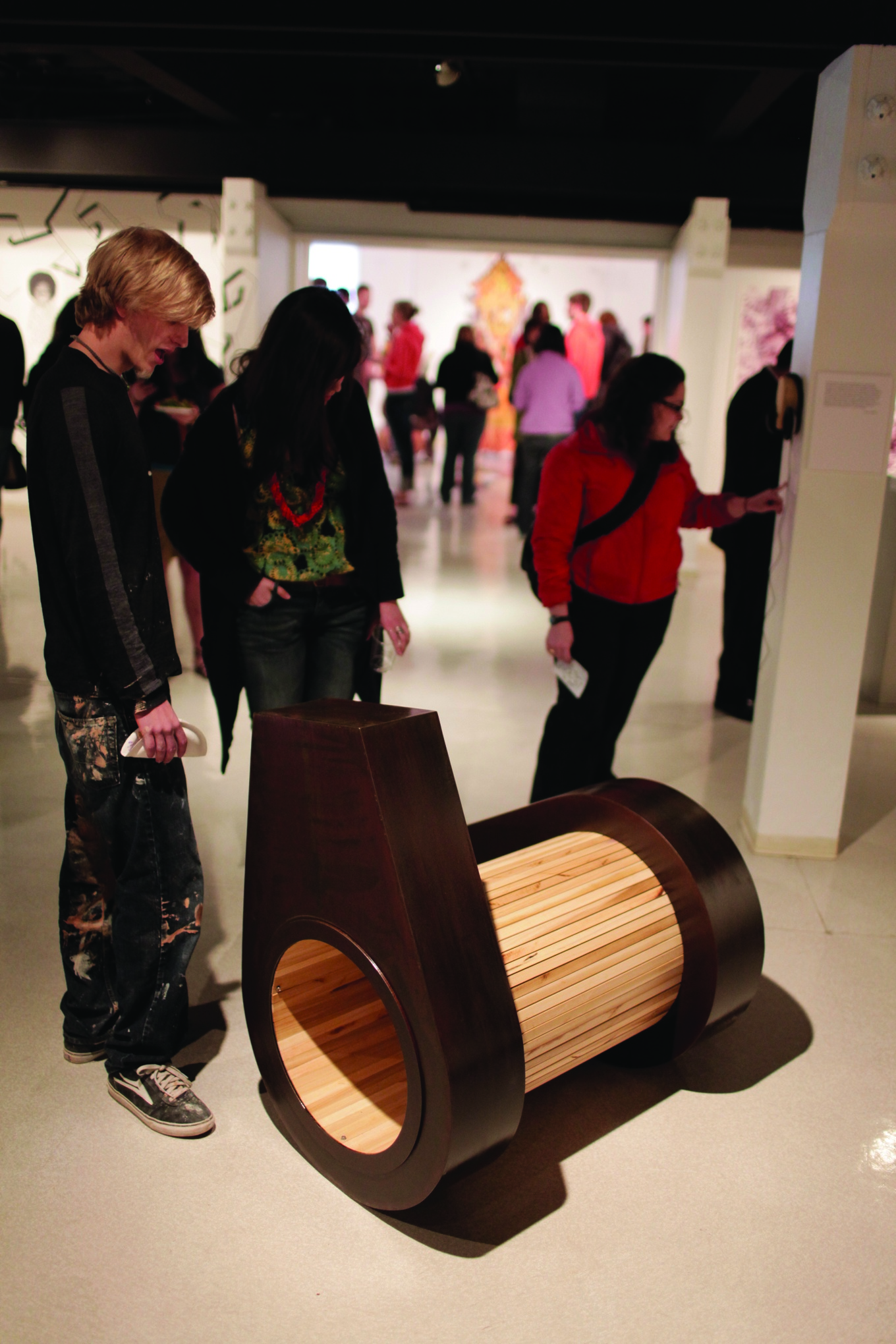 Kittredge Hall and Art Gallery, I would venture to say, is unknown to a significant number of students. While we have all passed the building hundreds of times it is by no means a campus hotspot.
May the Senior Art Show then enlighten my fellow students to the passions of eight up-and-coming artists in Puget Sound's own exhibition space.
I feature three of the eight graduating Studio Art majors and their works' journeys from concept to finished series, all of which deal with humanity to some extent.
Stepping through Kittredge's open doors, Mary Wolfe's art is to your immediate right, wood grain adding a nice contrast to the whitewashed walls. Her aura-ed portraits appear all too familiar, even if one does not immediately know Wolfe's subjects.
In Wolfe's junior year abroad in Australia, she captured her friends' identities by means of clothing and gestures, an unfinished series, which led to Wolfe looking at how it is we identify and perceive ourselves via the portal of Facebook.
"I wanted to push it [the unfinished series] more and comment on how anyone can use Facebook, and with profiles ever-changing, I fix a person into space," Wolfe said.
Her process included "stalking" profiles, selecting certain ones at random and drawing from their pictures and information pages to make decorated birch wood panels, all done without the subjects' consent. The images in miniature copied from Facebook and Google were scanned into Photoshop, manipulated to look more radiating, stretched, printed on thin paper and transferred onto wood and painted.
The result? Something that resonates with all of us as part of the Puget Sound student body and something that teaches us to see.
"From the beginning, this was for people who do not look at art, do not go to art museums. I am training people to look at art with comfortable art. They see it at a distance, go closer, what you are supposed to do," Wolfe said.
To the left of Wolfe, Jenni Denekas' Commencement Bay landscapes are also accessible, as the waterfront scenes are familiar.
"Each piece begins with research pertaining to the Superfund cleanup of Commencement Bay. In particular, I pick out the success stories, in which the cleanup of contamination from industrial pollution, restoration of habitat and the redevelopment of urban areas have all occurred in a creative and effective manner, with lasting positive impacts on the region," Denekas said.
A human connection is made when Denekas interviews those active in the restorative work. Next, she visits various sites and uses photography to capture light, composition and texture. Painting wise, she builds up layer of transparent layer of oil paint, referencing the snapshots, and halfway through, Denekas adds collaged words about the Superfund cleanup and restoration/redevelopment. Language is thus imposed over nature and manmade structures, becoming texture itself.
This artist's intent is to convey "the beauty of the local landscape—a beauty that stems not only from the natural features of the land, but also from the dedicated efforts of environmental groups, government agencies, local businesses and industry and the local community to overcome the environmental degradation that resulted from over a century of unbridled industrial growth," she said. "I want to show the local landscape in a positive light, not only because it is beautiful, but it has been a long road to regain that natural splendor—and it is a truly inspirational story."
Scattered in the middle of the gallery are Valerie Moreland's relatable sculpted forms, all arranged to play out groupings, such as family, or emotions, such as trust.
"We had a guest artist, Matthew Allison, in the ceramics studio at the beginning of the semester.  He had forms that barely had the human form, but with belly buttons. I liked the way he made wheel thrown forms into people," she said.
Inspired, Moreland set about bringing forth suggestions for forming females (curves) and males (straight lines) on the wheel. With the clay figures generally rendered in front of her, Moreland trimmed and further stressed the shapes into human bodies. Only when fully constructed did she work on arrangements, letting her pieces speak to her and form their own stories.
Moreland self-identifies as a functional potter who is "trying something new. I have been throwing for eight years and love it. Vases always seemed to have a gender to me, so I decided to go take that a step further and actually make them into people," she said. "After that I decided that they should show various relationships between people, because I feel that the relationships with the people around me make me who I am."
So, be the change you want to see in your campus by getting to know Studio Art majors' hidey-hole. The show will run until May 14.
[PHOTO COURTESY / GREG NISSEN]
Tags :
art
Kittredge
Senior