Campus drum circle picks up tempo with students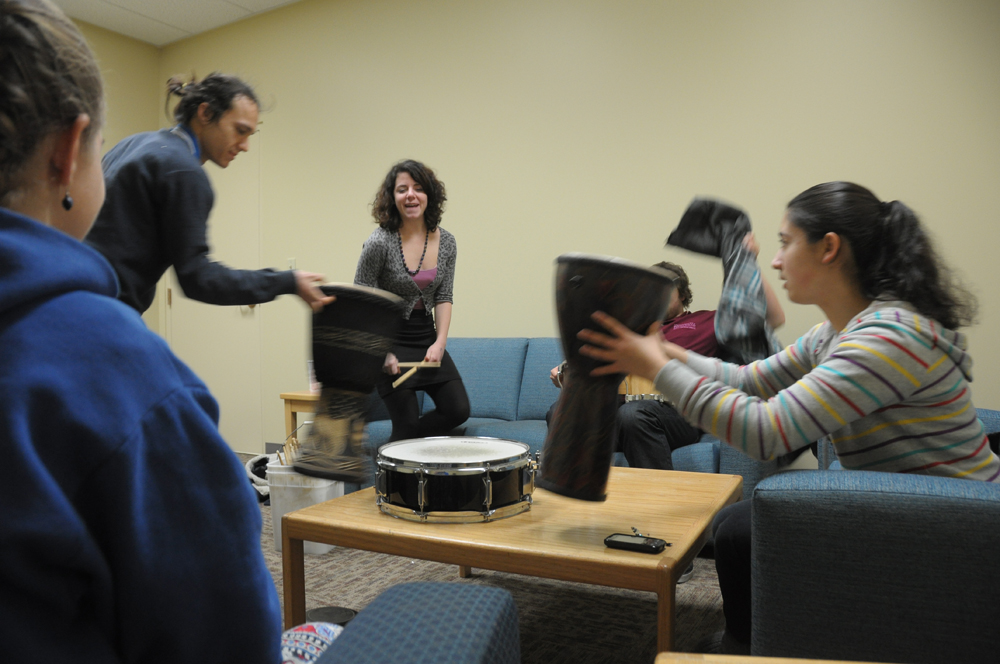 My first night with Puget Sound's very own drum circle club was certainly one for the books.
Senior Alex Frost, the group's president and founder, ushered me into the basement of Kilworth Chapel with a djembe under one arm and a bucket full of drum sticks in the other.
"Don't worry," he said, "it's a lot of fun. Everyone really enjoys themselves."
Unlike Frost, who has been drumming for several years, I have absolutely no rhythmic skill. I have avoided drum circles like the plague, afraid to embarrass myself in front of people who actually know something about it.
"Nobody had much experience when we started," Frost reassured me, "but everyone picked it up really fast." Frost was right, as I quickly found out. It's really hard to suck when you've got a group of great people drumming around you.
The drum circle, which has an attendance of anywhere between six and ten people per week (and sometimes more!) is comprised of a wonderful mix of students.
Aside from Frost, core members include Alex Greene, Mike Schmidt, Lydia Kleine and others, all of whom were drawn to the club for various reasons.
After all, it's hard to say "no" to an invitation from Frost, whose affable personality has drawn in the majority of participants.
To start the evening off, Frost directed us in a preliminary warm up. After choosing our instruments (I grabbed a pair of drumsticks because I wasn't quite brave enough for a drum yet), Frost began a steady beat on his djembe. One by one, everyone slowly joined in, each adding their own peculiar rhythm.
I found myself completely entranced, entirely sucked into the rhythms that circled the room in ever shifting patterns. After playing piano for several years, I had forgotten what it was like to play in an ensemble, and I'm happy to report that it was a nearly mystical experience.
Once the group had sufficiently warmed up, hands tingling from smacking drums, cowbells and drumsticks (or even a wok), Frost looked up and said, "All right. Lights off?" Everyone nodded their heads and Frost flipped off the lights. This time, Schmidt started the beat, and slowly everyone rejoined, less self-conscious now that darkness had consumed the room.
Participating in a drum circle for the first time was pretty incredible. Music is truly the best form of communication, and drum circles create an environment to maximize that communication.
Nobody knows whose idea is whose as a particular pattern makes its way around the room, become engulfed, swallowed, and then reemerges in each person's hands. If you haven't been to a drum circle before, I highly recommend it.
Luckily for us all, drum circle club meets every Wednesday at 7:15 p.m. in Kilworth basement. It's open to anyone, and all are encouraged to grab the closest drum (bucket, pot, pan, guitar or anything else they can scrape up) and join in.