Student market invites Loggers to create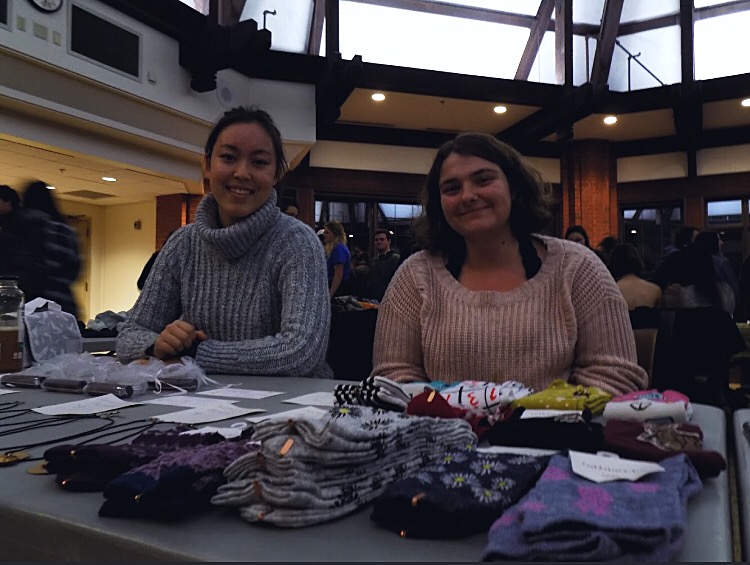 Students table, sell and showcase their art at the student market — Photo credit to Rowan Segura
Each semester, the student market provides student artist, crafters, bakers and makers of all kinds with an opportunity to sell their creations on campus. This semester's student market was held last Friday, Nov. 11, in the rotunda of the Wheelock Student Center. The market was made up of students selling their own art, crafts and baked goods. There was also a clothing swap table and a KUPS table.

"The student market is a bi-annual event (once per semester) that allows student artists, crafters and makers to sell their art at a market-style event. KUPS and student performers play during the event," Sophia Munic, organizer of the market, said. "It is a fun way to cross paths with people you haven't seen all semester as well as support your friends," Munic added.

When asked what made her want to take on this project, Munic replied, "My passion is bringing people together around artistic and creative environments. And as an artist myself I also have a great time at this event."

In planning the event, Munic focused on making the market an enjoyable experience. "My goal was for people to sell their art and and have a good time, pretty simple but still incredibly important. And it's always a really fun 'come as you are' kind of thing," Munic said.

Student vendors sold a wide variety of items, from customized clothing to baked goods to visual art of all kinds, including stickers and embroidery.

Junior Maddie Golitz was selling a collection of screen-printed T-shirts and sweaters, as well as stickers.

"I was looking for a way to sell my work, and there's no better way than among my peers," Golitz said.

Another junior, Arisa Dintcho, sold vegan baked goods, necklaces, crystals, lip balms and socks. "I really like crafts and making things, and when I first came to the craft fair I thought I could make a lot of the stuff people were selling so I thought it would be a good opportunity," Dintcho said. Both student vendors expressed that that they were enjoying the event.

Compared to past semesters, this student market was slightly smaller than usual. Munic also explained that issues with Room Reserve led to a lack of musical equipment, which barred some of the student performers from playing their sets.

Despite setbacks, the event seemed largely successful, with many students in attendance, and student vendors enjoying the opportunity to sell their work on campus. And though many musicians were unable to play, KUPS DJs still provided a musical element to the event.

If you were unable to attend this semester's student market, there is always next semester. Munic added that next semester's market will be a part of Earth Week, so an emphasis on sustainability can be expected.
Tags :
art
creative
Student Market