Students of Color Hour at the CWLT hopes to break down barriers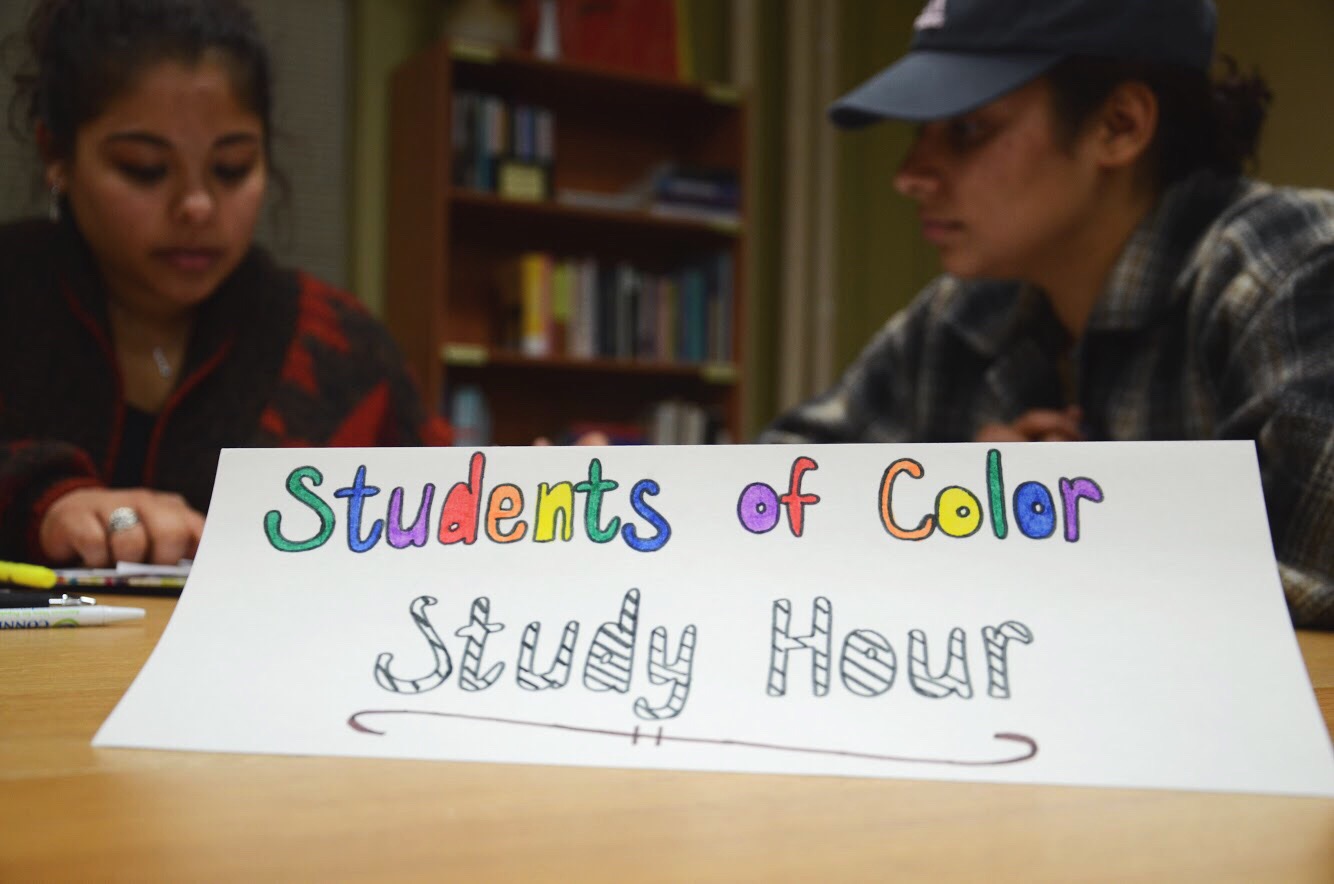 Pictured: Students doing homework at the CWLT on a Wednesday evening in October. — Photo credit to Rowan Segura
The Students of Color Study Hour was started in fall of 2017 by former CWLT employee and Associate Students of the University of Puget Sound (ASUPS) President Amanda Díaz.
Díaz describes the alienation she felt as not only a student, but also an employee at the University of Puget Sound and how that pushed her into creating the Students of Color Study Hour at the Center for Writing, Teaching, and Learning (CWLT).
"As a student of color working in the writing center, I was confronted with a feeling of isolation, defeat and self-doubt being surrounded by white students who were in the Honors program or who have always been 'good' at school. Finding little space for support as a student of color and a writing advisor, I carved out a space for a Students of Color Study Hour at our Writing Center where we could reclaim this space and find a small chunk of time where barriers to access were hopefully broken down, " Díaz said.
In her interview with The Trail, Díaz also asked that those working at the CWLT, and those in positions of power within the University of Puget Sound, interrogate their role within the institution and what effect it has on students of color.
"I hope that this study hour is a reminder that the CWLT is not 'for everyone' and that we in the CWLT need to look introspectively and make transformative changes in order to be inclusive and equitable to students of color and non-traditional students. I hope this is also a reminder that we can't  turn a blind eye to the needs that students of color need [sic] on our campus and that we can't solve the problems of racism on our campus with just this Students of Color Study Hour, but that this is a stepping stone for more transformational change," Díaz said.
The 2018 Fall semester Students of Color Study Hour is held every Wednesday at 8 p.m. in the CWLT in Howarth 109. There is no need to sign up, students can just drop in.
Senior and writing advisor Rachael Laitila is currently in charge of the Students of Color Study Hour.
Laitila wants to reach out to students of color on campus to make sure that they know that this space exists for them.  
"I'm hoping that through the Students of Color Hour we can create a space where people feel like they can come and feel welcome at the Center because I think that often it could be kind of a scary place and that's definitely not its intent. It's also historically not been a place for people of color. It's excluded people of color, so we really want to change that stigma," Laitila said.
Díaz's and Laitila's goal is for students of color to support one another in this space, both in terms of academics and in the shared experiences of being students of color at a primarily white institution.
"I think basically you can come here with whatever you want. It's a great place for just having conversation. It's a great place for working on anything. It doesn't necessarily have to be writing; it can be something for another class. It's just to hopefully get people more comfortable in the space and strengthening our community. Everybody should feel like they have a space here because it's a great resource, a great place to meet people," Laitila said.
Tags :
Color Hour
CWLT