Beta Coders club fosters computer science interest in local high schoolers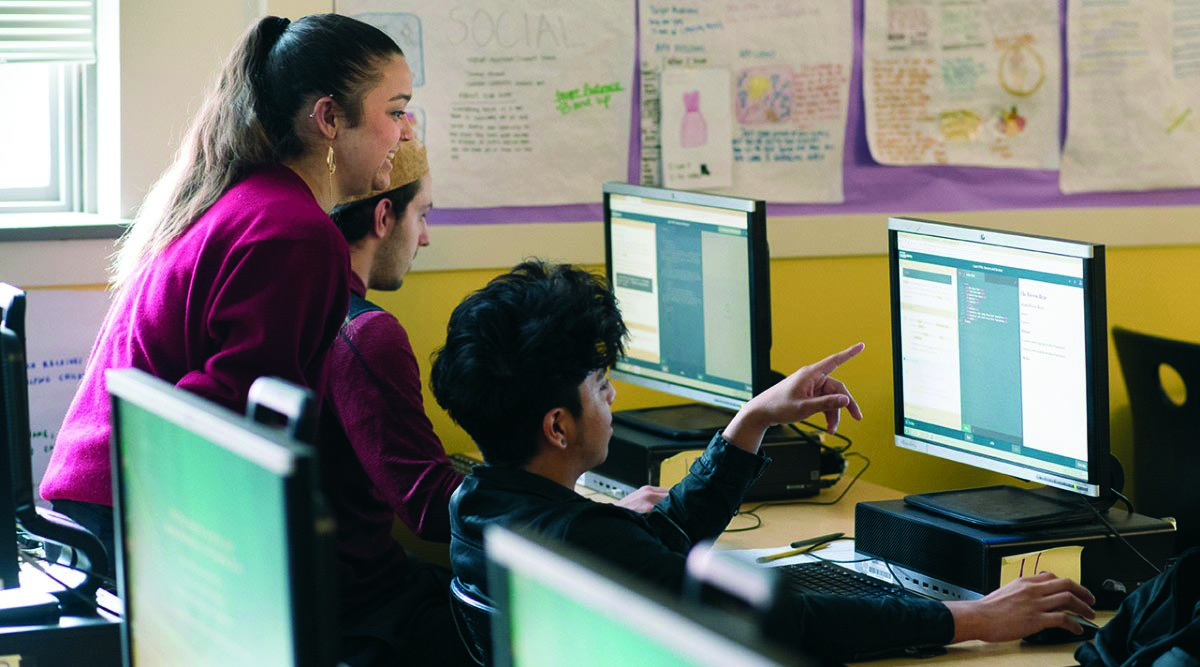 Club founder Sofia Schwartz assists a student at Lincoln — Photo courtesy of the University of Puget Sound
The Beta Coders club is helping to bring their knowledge about coding and computer science to local students at Lincoln High School. The club members aim to fuel passion in the subject and connect with high schoolers through teaching computer science. Since former student Sofia Schwartz  created it in 2017, the club has grown and now sends about 20 students out to Lincoln High School to tutor throughout the school week.
Members of the club have different levels of knowledge in computer science, and they all help however they can. According to club president and senior Kendall Aresu, there are three computer classes at Lincoln High School where the Beta Coders help. In addition to organizing tutoring schedules and connecting with Lincoln students, the club also organizes workshops on diversity in computer science through the Yellow House once a semester.
The Beta Coders aim to spread knowledge and interest in computer science and coding. According to club members, there is a need for this club for helping high schoolers to get engaged in this area.
"By giving students personalized attention, I feel it makes them more inclined to continue learning about computer science, whether it's in their class or afterwards," junior and Beta Coders member Noah Thomas said.
"There is not a lot of exposure to computer science in general in high school or even in elementary school. I think that the motivation was to spread the idea that coding is a really useful skill and to try to spread that throughout the high school age group," Aresu said.
The lack of general knowledge that high schoolers have about computer science puts the club members at somewhat of a disadvantage. Several club members noted the fact that it can be difficult for the high school students to grasp concepts.
"It is hard for a lot of students to understand the value of it," Aresu said. "It is really rewarding once they have that 'ah ha!' moment."
"Everyone is at such a different place in their lives. Some are just getting out of middle school, some are getting ready for college, and others are somewhere right in the middle," Thomas said. "It requires you to treat or act with individual kids in completely different ways."
Tutoring provides lots of help for the high school students but also for the teachers and staff that run the classes. With 20 to 30 students in a class who all need help with computer science concepts, it can be a lot for one instructor to handle. "That's where we come in, giving individual students the individual help they need," Thomas said.
The club members who help out at Lincoln take pleasure in knowing they're helping  strengthen the bond between the campus community and the surrounding Tacoma community.
"I have the privilege of an education here at UPS, and volunteering here in Tacoma is a really cool way for me to share what I've learned in technology and computer science and give back to the community," Thomas said.
The club generally doesn't hold weekly activities, but University of Puget Sound students are still welcome to join the Beta Coders. People interested in joining the club and tutoring high school students in coding and computer science can email Aresu at karesu@pugetsound.edu.
Tags :
coding
computer science
high school