Panel encourages awareness, inclusiveness at Puget Sound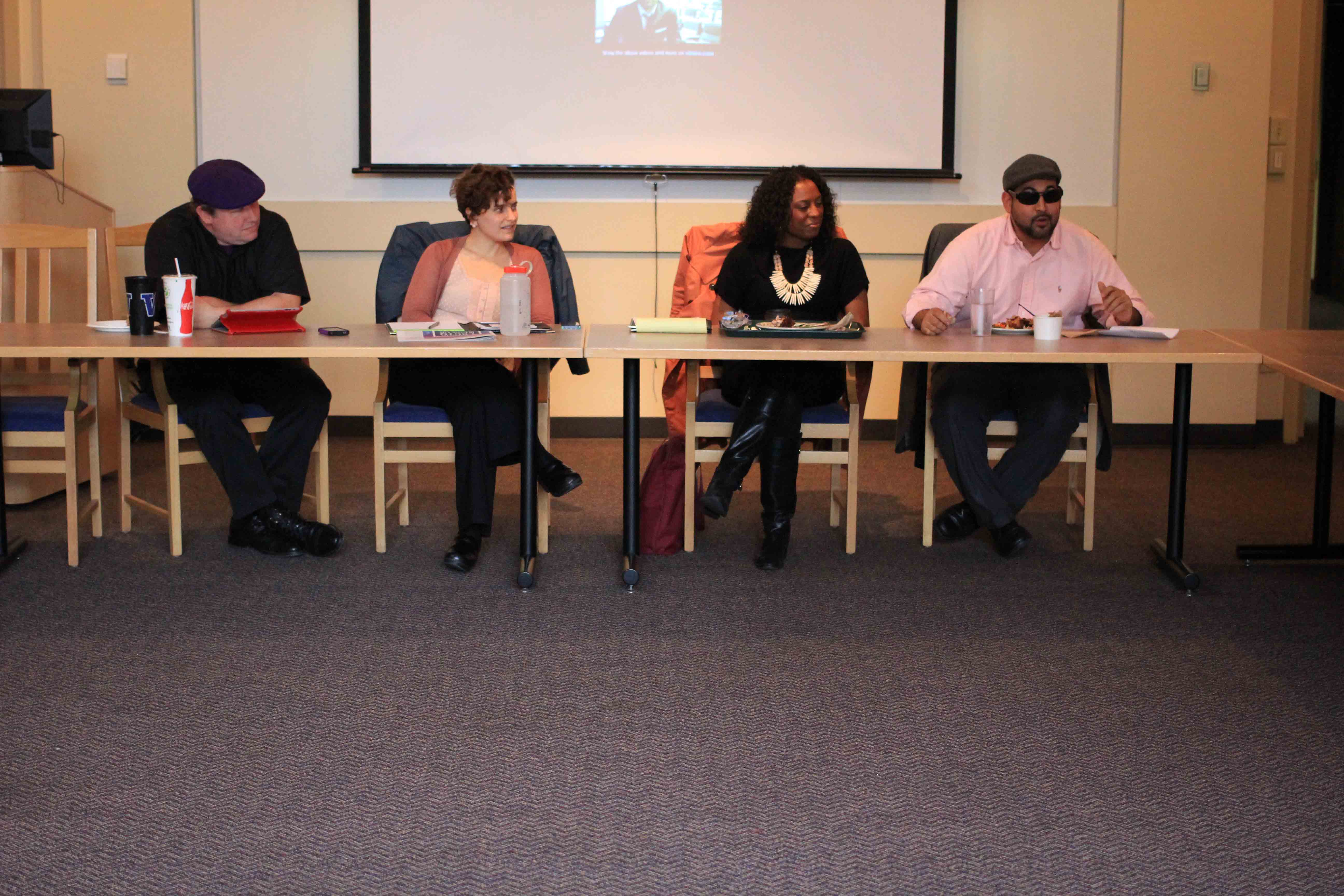 The brown-bag conference "Awareness, Understanding, and Action: Exploring Puget Sound Identity" took place in the Murray Boardroom on Nov. 6.
Asking the question, "What is social justice?", the conference was the first of many to discuss what social justice, inclusiveness and awareness mean for the Puget Sound community.
David Wright, Sarah Shives, Mike Benitez and Czarina Ramsay answered several questions about what social justice meant to them and what it means for our community, both locally and globally.
The conversation was divided into two parts: personal responsibility regarding awareness and global responsibility for equity.
Ramsay encouraged the community to take personal responsibility when it comes to language and behavior. She shared a story about one person whose ignorance and behavior badly affected her, and discussed how she struggled to help that person see how he affected the people around him. She explained that one-on-one interactions can be just as important in spreading consciousness and awareness of issues of social justice as curbing systemic injustice through legislation and large community efforts.
This means both being aware of, and responsible for, your own language and behavior and that of the people around you.
Many of the people in attendance approached social justice with a focus on equality and equity in communities.
The opportunity for all people to have an equitable chance to succeed is critical for an inclusive and socially just society.
Equal access to education and the means of survival were important topics; lack of access to housing, food and fresh water are economic factors that keep disenfranchised groups from meeting their potential in the global community. Issues like these systemically perpetuate poverty and ignorance.
We tend to think of these problems as "third world problems," but when Benitez shared the story of his journey to Puget Sound, it became clear that these things can be obstacles for people living in America as well.
Attending a university makes these problems less clear and present, so the panel encouraged those present to go outside of their comfort zones to approach these problems in their community, especially when it comes to volunteer work.
The panel made a special point of encouraging the community to recognize where there was injustice in their own communities and to combat it even if it meant alienating themselves from others.
They also stressed the importance of understanding when to engage with systemic social injustice. Benitez explained that anyone with a cell phone contributes to the oppression of people in Africa due to the importance of "conflict materials" in their productions, but in the same vein, it does not do anyone any good to beat yourself up over these failures.
These are systemic problems that will not go away if "enough people" stop using cell phones or laptops. Instead, members of the community who are fortunate enough to own those things should step up and use their privileges to approach the problem through legislation and consciousness.
So what does "social justice" mean to you? Students at the University can get involved with issues of social justice by volunteering, either to help underprivileged groups obtain the means to be productive members of the community, or to produce legislation that combats systemic problems that cause these groups to be unproductive in the first place.
They can also involve themselves by simply being conscious of the way they or their friends use problematic language that makes the University a less inclusive space.
Tags :
campus community
equity
global responsibility
social justice