Weekly TED showings welcome conversation, new faces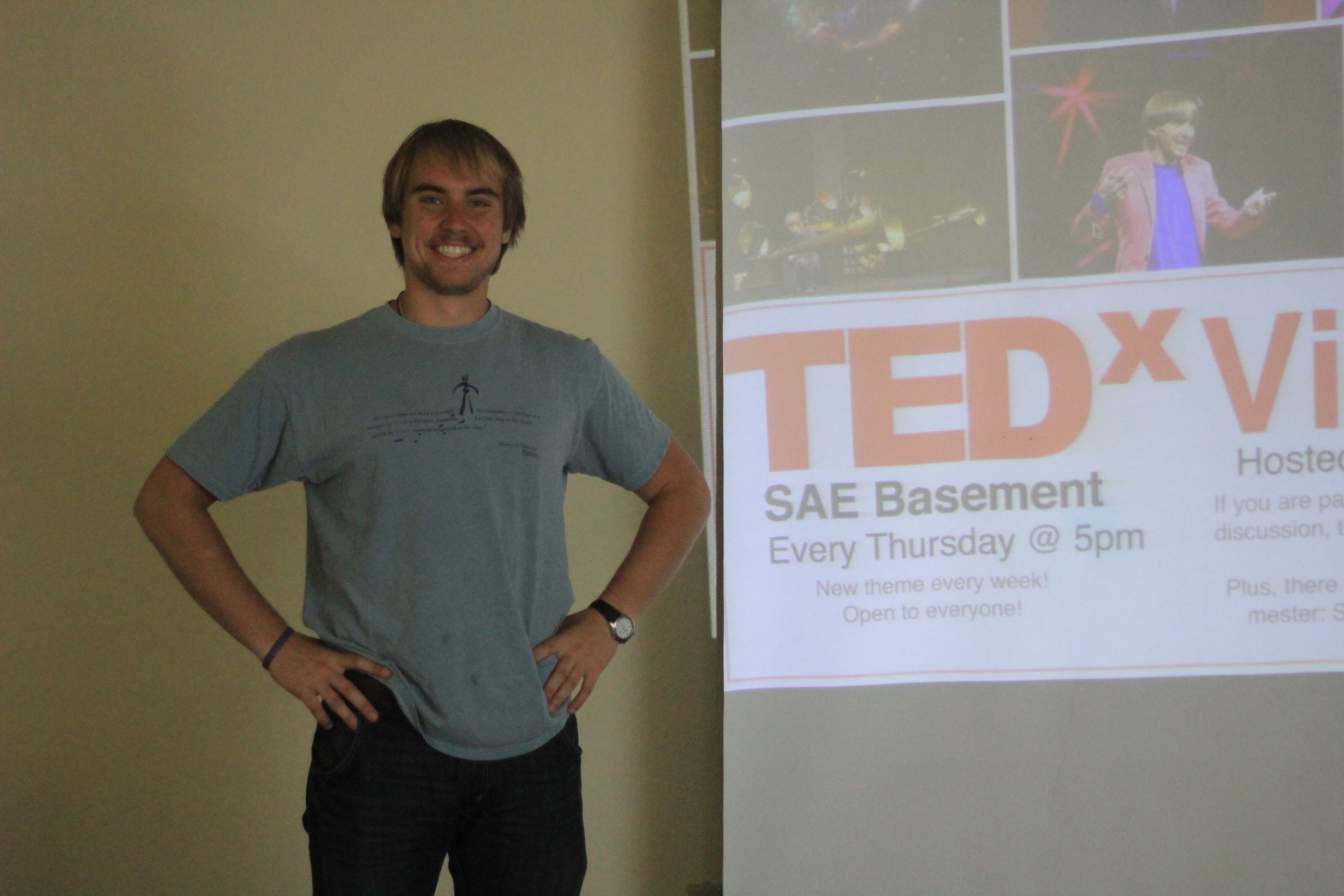 Every week on Thursday at 5 p.m., Sigma Alpha Epsilon (ΣAE) President Lee Pennebaker hosts open screenings and discussions of Technology, Education and Design (TED) talks. TED is a conference that promotes intellectual thought and encourages critical understanding of hundreds of topics ranging from environmental and political science to philosophical examinations of humanity.
Pennebaker started hosting screenings in his bedroom last Spring. He invited his friends to come over to watch and have an intellectual conversation about what they had heard. Eventually more people showed up than could fit into his room, so he moved the weekly event to the basement of (ΣAE). In addition to these weekly showings, this semester the event will be held on campus every three weeks, either in the Rotunda or in Club Rendezvous, where there will be free food provided.
"I find it hard to talk about things when we don't have the same body of evidence," Pennebaker said. He likes that the talks offer a structured and analytical approach to learning interesting and relevant information. Every week the screenings have a theme, which Pennebaker posts before-hand on the "TED viewings at UPS" Facebook page.
The discussion is not necessarily about agreeing or disagreeing with the speaker, but rather  exploring the ways in which the talks influence and inform the way the viewers see certain subjects. Having an intellectual conversation promotes non-academic learning and also brings the community together.
Pennebaker stressed that, though the screenings are held primarily in the ΣAE fraternity house, they are open to the entire community – except freshmen, who cannot go into the house until Spring semester.
"When I started this, even though it was in the frat house, I never wanted it to be just for my fraternity brothers… I still hold it in the basement because I wanted to remove the stigma, to make it a place where people could do more than just drink and party."
Though the fraternity seems like an exclusive club to people on the outside, it is a part of the community, and events like these allow the members to use their space and resources to promote intellectual conversation and community bonding.
Non-academic learning is one of the great experiences of college. Having this space to talk about these powerful and informative speeches is fundamental to the growth of a college student – the understanding that not all learning happens inside a classroom.
Tags :
TED