Commencement: Film debuts on campus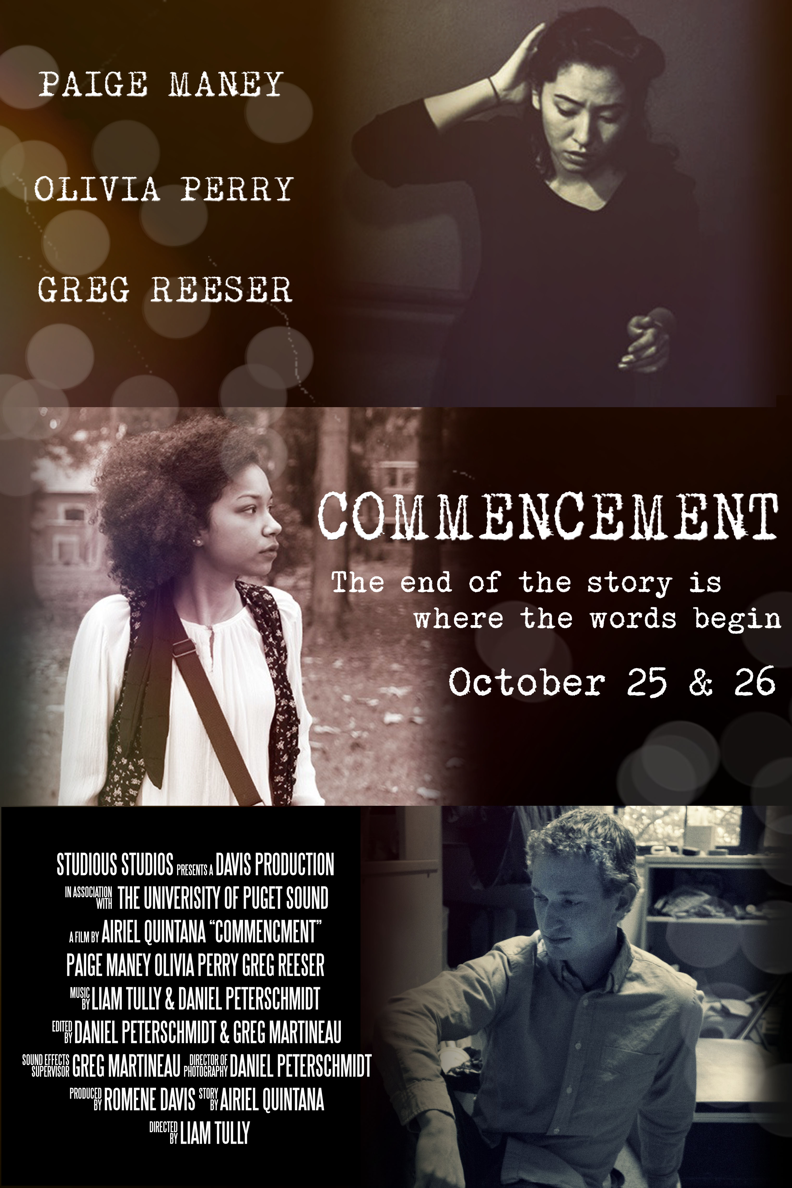 By SABINE GLOCKER
When people imagine movie directors, they imagine older people with ashen hair in expensive tuxedos at movie premiers. But what people don't often think of is how those famous directors started out.
Chances are they were in the same position as the people who made the film Commencement.
Liam Tully, director, is not an elderly man with millions of dollars to use for a film.
Airiel Quintana, writer, is not a famous writer who has had years of experience in the industry.
And Romene Davis, although currently working in Los Angeles for a casting company, did not start off having access to the people within the business.
Everyone involved in this student-made film was doing it for the first time—and the outcome is something to be admired.
Commencement is a film that takes place during three time periods, all of which are set at the University of Puget Sound.
The film discusses the issues of marginalized people.
The idea for the film first came about when Quintana and Davis were talking about the experiences of members of isolated social groups.
Their discussion snowballed into making a film.
In the 1940s, a Japanese-American student (played by Paige Maney) deals with the aftermath of Pearl Harbor and is sent to the internment camps.
In the 1970s, the issues with interracial relationships are shown; and in the 1990s, they explored a gay-straight roommate dynamic.
All three areas of time intersect together to create a beautiful film.
As a college production, the filmmakers did not have the luxury of a multi-million dollar budget or access to the newest cameras and the most famous actors and actresses.
They faced the issue of having only one camera, which they rented from ASUPS, and only had a small budget for costumes, also supplied by ASUPS.
The majority of the movie was a DIY effort. They built the boom and the steadicam. They did not all have the experience of big film industry workers, but they made do with what they had.
It was the first time for everyone. Tully referred to them as "movie virgins" and discussed how even though it was everyone's first time making a movie, they worked together and worked hard to make this piece of art.
Along with the lack of funding came the fact that the actors were not paid in anything but "love, cold weather, and butterfly kisses," Tully and Daniel Peterschmidt, the director of photography, laughed.
They talked to their friends, acquaintances, friends of friends and members of the drama department in search of people who would be willing to do the film for experience's sake, not for a monetary reward.
Although it ended up being very challenging to get people together, with everyone's busy schedules and the lack of pay resulting in less motivation, they worked hard and the work paid off.
The cast functioned well; their roles blended together and they figured out how to make a movie together without the help of an experienced filmmaker.
Tully said that although people may laugh at the outcome of the film, no one was to blame but him and his lack of directorial skill, because everyone was incredible to work with and he thoroughly enjoyed himself.
"Limitation breeds creativity," Peterschmidt said.
Despite the issues they faced, everyone loved working together. Everyone was "really positive," Tully said.
He talked about how he loved working with people who had never acted before because they were so open to learning and were excited to be given the opportunity.
Making a small-budget film without experience is a huge challenge, but people cannot become the next Toby Hooper or George Lucas without first starting off with friends and a small camera.
Peterschmidt said that making this film shows the "dedication people can have towards this sort of project" and that "a lot of love and hard work went into it."
Commencement will be screened in Rausch Auditorium on Oct. 25 and 26.
Tags :
Commencement
movie
Student Production