Promising array of music festivals for summer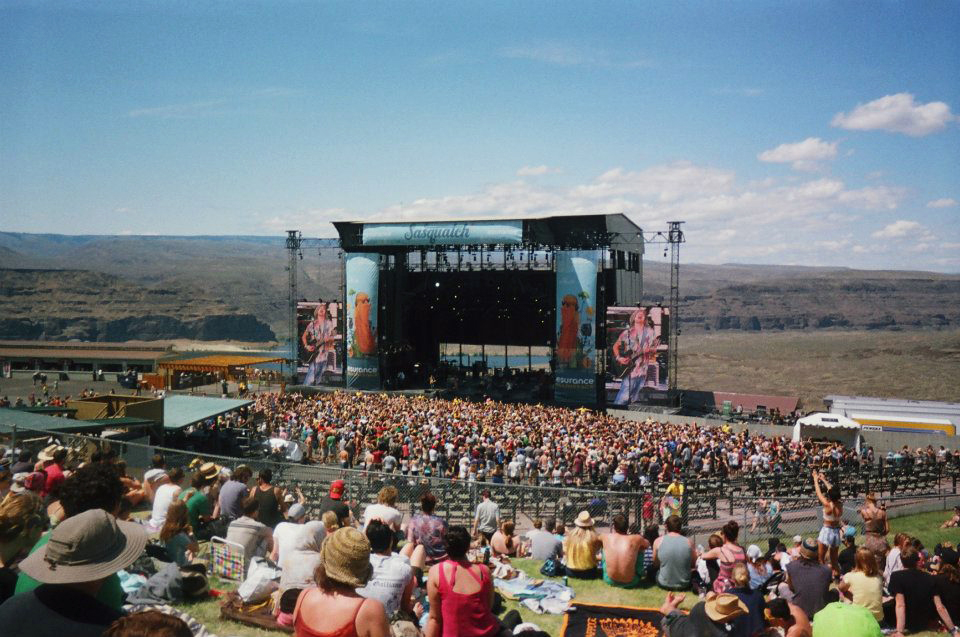 What gets college students to drop hundreds of dollars at a time year after year? What is worth the foot aches, port-a-potties, dehydration and being crammed amongst the incredible body odor of the unwashed masses? Despite high ticket prices, physical discomforts and outrageously expensive food, summer music festivals have been an undying tradition for American youth nationwide. These gatherings of listeners from all walks of life for one fleeting moment are sure to provide unmatched experiences and memories.
Summer music festivals have become iconic traditions, harkening back most notably to the Woodstock Festival of August 1969.
This weekend of music and art has remained a socially relevant event for decades, and perhaps foreshadowed the prevalence of summer music festivals as many attempt to recreate Woodstock's atmosphere of peace, love and music. Uniting thousands of music lovers in a park is almost certain to foster a climate of happiness and good vibes, as the cares of the outside world are checked at the festival gates.
Music festivals are also incredibly important in the music world because of the wide spectrum of performers that attend. Alicia Cohn states that in an ideal music festival, there would be a good mix of modern folk music, indie rock and oldies such as Paul Simon, the Grateful Dead or Bob Dylan. The eclectic tastes that many young music listeners have developed due to the incredible accessibility of all types of music has led to a demand for these festivals to become equally diverse.
Generally there will be a couple of the original rock-and-rollers, the ones we now consider 'oldies.' For instance, Outside Lands in San Francisco, Calif. boasts a performance by Paul McCartney, and has previously had headliners such as Phish and Stevie Wonder to balance out the modern indie rock and please a wide variety of audiences.
It is also valuable for the smaller names that perform at these festivals. "I would see them there and grow to love them," sophomore Aaron Pomerantz said, pointing out the incredible career-boosters music festivals can be. Frequently, the names in tiny print at the bottoms of lineups can end up being prominently featured only a couple of years later, such as Macklemore & Ryan Lewis and Radiohead.
No matter where you live or where you will be this summer, there is sure to be a festival in your neighborhood. If you are somewhere in the South, perhaps Bonnaroo Music Festival will fit your style. Taking place in Manchester, Tenn. every summer since 2002, Bonnaroo cites its inspiration in the Phish, Coachella and Glatsonbury festivals of the 90s. The festival was so successful in its first few years that Bonnaroo was able to purchase the 530 acres of performance space and now has a permanent mainstage installed.
If you find yourself in the Midwest, maybe Lollapalooza will be more your cup of tea. Now with Lollapaloozas being put on in Chile and Brazil as well as Chicago, Ill., Lolla, as it is fondly referred to, has become one of the world's most famous music festivals.
Lolla boasts a variety of genres, such as alternative rock, indie rock, hip-hop, EDM and comedy performances. Sophomore Lisa Tucker says that she went to Lolla three times, citing the most memorable performance as Regina Spektor in 2008.
"It had been 100 degrees all day and we sat through STS9 to get to the front to see Regina and it gently started raining when she started and it was beautiful," Tucker said.
And then there's the Pacific Northwest classic: Sasquatch. This four-day music festival, usually during Memorial Day weekend, takes place in George, Wash. Concert promoter Adam Zacks, who sensed an unmet demand for a music festival catering to more eclectic tastes, founded the festival in 2002.
No matter the location or the lineup, it seems that people are always hungry for another music festival.
"I would give my left hand," Tucker said, when asked what she would do for a ticket to a summer music festival.
"Dirty, dirty things" are what Pomerantz is willing to sacrifice just to frolic in the Gorge this summer, and Cohn is even willing to "participate in a team sport for three weeks" for her opportunity to go.
So pack up those water bottles and that sunscreen and get yourself ready for an experience that has become the symbol for youth and freedom in modern America.
PHOTO COURTESY / MOLLY BROWN
Tags :
bonaroo
lollapalooza
music festivals
outside lands
Sasquatch