KUPS and Northwest Sounds collaborate to host local electronic musicians at Oppenheimer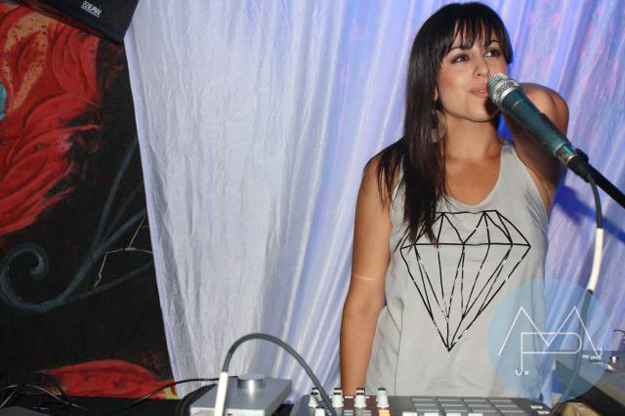 On April 26, Oppenheimer Café hosted a variety of local musicians from the Pacific Northwest for the Northwest Sounds Concert.
The concert, presented by Northwest Sounds and KUPS, featured the artists Natasha Kmeto, DJAO, Ghost Feet, Brownbear and Northern Draw.
Natasha Kmeto, a musician based in Portland, Ore., describes her music as "futuristic soul." There is definitely a futuristic aspect to her music since, as with the other musicians at the concert, it is electronic-heavy.
But she also brings her voice to the music, giving it a soul quality along with some R&B and jazz characteristics.
This combination of old-fashioned soul and R&B and futuristic beats is definitely apparent in songs like "The Ache" and "Snake Charmer," both off of her album The Ache.
Kmeto has released three albums: an EP, 9, in 2009, her first full-length album Expressor, and The Ache in 2012.
She has written many of her own songs, but has also covered songs such as "We Found Love" by Rihanna and has remixed songs by other artists. Kmeto has performed at events like Coachella, Bumbershoot and Decibel Festival.
Alex Osuch, known by his stage name DJAO, is another electronic artist based a little closer to Puget Sound, in Seattle.
He is not attached to any particular genre, and has been influenced by as wide a spectrum as hip-hop, metal and soul. Like Kmeto, he has created many remixes of songs by other artists, but has also made much of his own music.
Osuch also performs with vocalist and guitarist Zuri Biringer. He released the EP Wuhn, his debut album, in September 2011.
The band Ghost Feet is made up of artists Calvin Erdal and Rachel Dubec, who met while attending Evergreen State College in Olympia, Wash.
With Erdal putting together the percussion and Dubec on the guitar, their music creates an interesting fusion of acoustic and electronic. Their debut EP, Wires and Chords, was released in May 2011.
Electronic artist Andrew Desmarais is a Washington native who goes by Brownbear, inspired by the northwestern forests of the state.
His musical influences come from all sorts of genres varying from hip-hop to folk and even old radio transmissions; his album, Touching Scents, was released in August 2010.
These four musicians are produced by the label Dropping Gems, which produces many other artists in the Pacific Northwest such as Bone Rock, Citymouth, Gumar, Rap Class, The Great Mundane and Timeboy. These artists mainly create electronic music, as do the previous four mentioned.
The Portland-based band Northern Draw, not under the label Dropping Gems, is also an electronic band. Northern Draw has released two albums: Coffee & Queso in July 2010 and the EP Lurking with Intent in January 2011.
These five bands performed in the small setting of Oppenheimer Café, drawing a crowd of Puget Sound students that watched as they worked with great amounts of technology to produce music.
Along with KUPS, Northwest Sounds also worked to host this concert of Pacific Northwest electronic music artists.
Working in conjunction with ASUPS, Northwest Sounds works to both bring local music to the Puget Sound campus and to give lectures on the music industry and music business.
Thanks to KUPS, Northwest Sounds and Dropping Gems, we at Puget Sound were able to have these exciting local music artists come to campus and perform at no cost to the students.
The Pacific Northwest, especially cities like Seattle and Portland, is home to many enriching music communities, and the University is lucky to be caught up right in the middle of them.
For more information on any of the artists under the Dropping Gems label, please visit, http://www.droppinggems.com/.
PHOTO COURTESY / FACEBOOK.COM/NATASHAKMETO
Tags :
brownbear
djao ghost feet
dropping gems
natash kmeto
northern draw
oppenheimer cafe