Emerging artist George Watsky worth listening to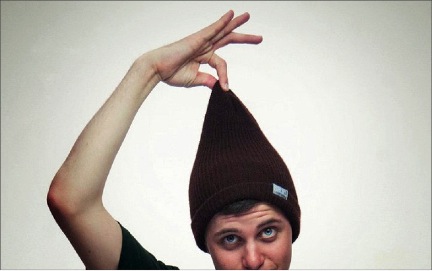 Secrets are hard to keep, and with a good secret it feels as though everything people say is designed to get you to spill the beans. In the case of Watsky, spilling the beans is a public service because good music should be shared, not kept a secret.
George Watsky is a 26-year-old rapper who hails from San Francisco and is about to leap onto the national stage. He is most known for his YouTube video "White Kid Raps Fast," where he indeed raps quite quickly. He is a Grand Prize winner of the National Youth Poetry Slam in 2006 and has been featured on HBO's Russell Simmons Presents Def Poetry.
His new album Cardboard Castles debuted March 12 and features 17 songs. Starting with fast beats—"Fireworks"—moving to soulful ballads—"Dedicated to Christina Li"—and finishing with fun jams—"Dent in the Moon"—this album has it all. The lyrics Watsky writes inevitably end up stuck in my head, and the songs on this new album are no different.
Watsky's style comes from his background in poetry, with his music often having more in common with free-style poetry than it does with rap. Lyricists such as Eminem, Lupe Fiasco and Nas have laid the groundwork for rap to be about more than just swearing and heavy beats, and Watsky runs with this.
He is known for rapping at light speed, and that in its own right is energizing to listen to. However, when he slows his songs down, trying to impart meaning and emphasis over skill and rhyming ability, he truly shines.
Off his new album, the track "Tiny Glowing Screens Part 2" is a great example of this slowed-down brilliance. Discussing the significance of an individual's life and how to find meaning, he connects with the listener on a level not using traditional rap themes but rather the human condition.
He says this song is "for anyone who's felt really small and big at the same time." There is nothing wrong with rapping about guns and cars, but on a campus where students are more likely to be assaulted by library books and raindrops than the police, Watsky's message resonates.
His songs clearly come from a personal place, interlacing aspects of his childhood with plans for the future. As his life changes, so will the content of his music; though hopefully the energy and care that currently go into his work will endure.
Becoming a sellout seems unlikely, but he does say in "Strong As An Oak," "I'd rather be making the choices I'm proud of than chasing a mountain of money / But if that mountain comes to me, I'm climbing it." Fame and success may change his outlook on life, but as long as his ability to lace interesting messages into rhyme endures, his music will be listened to.
What makes Watsky worth a listen is his ability to rap with meaning and purpose while rhyming with incredible fluidity. Combining his lyrical skill with good beats makes him an artist that could become a chart topper.
He still has a long way to go, though, only having just come off his first tour and now releasing his second album. Much in the way that Macklemore and Ryan Lewis had swelling regional support before they burst onto the national scene with "Thrift Shop," Watsky is poised to do the same.
For more information on George Watsky and his musical pursuits please visit www.georgewatsky.com.
PHOTO COURTESY / GEORGEWATSKY.COM
Tags :
cardboard castles
george watsky
local music