Puget Sound building names: past and future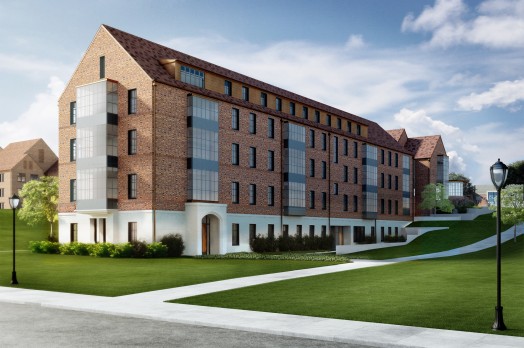 New Residence Hall: With all of the hype over the New Residence Hall, how do we name it?
All around campus, there are plaques and named public spaces commemorating Puget Sound's multitude of  friends and benefactors.  Alumni, their parents, entire families, professors, corporations, foundations and others have all made enormous contributions —through financial, academic, and other means—to develop and advance the University's vision for higher education.
Whatever one's thoughts are on philanthropy or the motives behind giving, there is no denying that there are a few people who dedicate herculean efforts and/or six figure checks to make the Logger experience one of the best in the country.
The biggest movers and shakers at the University have entire buildings named after them or in honor of an individual of their choice. So, what does it take to get a Puget Sound building dedicated to you or someone you love?
There are no concrete answers, and there are most certainly more detailed stories behind the name of each building, but most of them share some common characteristics.  As the New Residence Hall  comes together in the next few months, here are a few insights into the names and stories of other buildings.
Money matters; more than anything else, giving money to the University or financing the construction of a building is the best way to get a chance at naming a building.  To be clear, it has to be oodles of money, and the baseline price is always rising.
Back in 1957 and 1962 when Harrington and Schiff were built, they were named after mother-daughter combo Margaret Harrington and Helen Schiff.  Both women gave $100,000 to the University.  If you were to donate that amount today at an inflation-adjusted amount, you would not even get your name etched into Benefactor Plaza. The people whose names are listed there have each donated at least $1 million over their lifetimes.
Of the 25 named buildings on campus, 17 cite 'generous giving' as a factor in their naming, including Anderson, Baker Stadium, Collins Memorial Library, Harrington, Howarth, Jones, Kilworth Memorial Chapel, Kittredge Art Complex, Langdon, Marshall, McIntyre, Pamplin Sports Center, Schiff, Smith, Trimble, Weyerhaeuser, Wheelock and Wyatt.
There are six buildings named in honor of, Board of Trustees members who were connected with donating large sums of money.  Collins, Kilworth, Pamplin, Schiff, Weyerhaeuser and Wyatt all fall into this category.
Langlow House, Smith and Trimble are associated with Puget Sound alumni, the latter two having given large gifts to the University.  Langlow House, a freshman housing option provided to honors students, was named after the family that previously lived there.  Kenneth and Stanley Langlow attended the College of Puget Sound after returning from service in the U.S. Army during World War II.  For a brief period, the house was the residence of the brothers' fraternity, Kappa Sigma.
Three buildings are named after University presidents, including Phibbs, Todd and Thompson.  Edward H. Todd served as president between 1913 and 1942.  R. Franklin Thompson served from 1942 to 1973 and Philip Phibbs held the post from 1973 and 1992.  Before this grand trio carried the University for nearly 80 years, the longest a Puget Sound president had served was six years.  For those of you hoping to see "Ron Thom" grace the Tudor Gothic walls of the newest building, the prospects appear slim.  President Thomas needs to stick around for another 10 years or so before he's in the neighborhood of the three longest-standing presidents.
Professors tallied two buildings.  John D. Regester served the University between 1924 and 1965 as a professor, administrator, dean, counselor, head of the philosophy and psychology department and was the first dean of the graduate school.  Seward Hall was named for Dr. Raymond Seward and his wife, Olive Seward.  Mrs. Seward served as the president's secretary during her time at the University.  Dr. Seward was a physics professor between 1923 and 1955.
The only named building not yet mentioned in this article is Warner Gymnasium.  I have attended this school for almost two and a half years, and it was not until I read about the gym on the Puget Sound website that I made the connection.
Warner Gymnasium is named after Warner Street.  It was so obvious, I missed it.  Moral of the story: you can donate millions of dollars, dedicate several decades of you life to Puget Sound academia, rack up 20 or more years as a president… or you can be a long slab of tar and rock.
Whose name will appear on the New Residence Hall?  The building itself is actually self-funded through the anticipated income generated by its future residents, so it is unlikely someone will swoop in to pay for the building themselves, making a name-prediction more difficult; your guess is as good as mine.
Tags :
Building Names
features