S.A.C. grant could solve unsustainable printing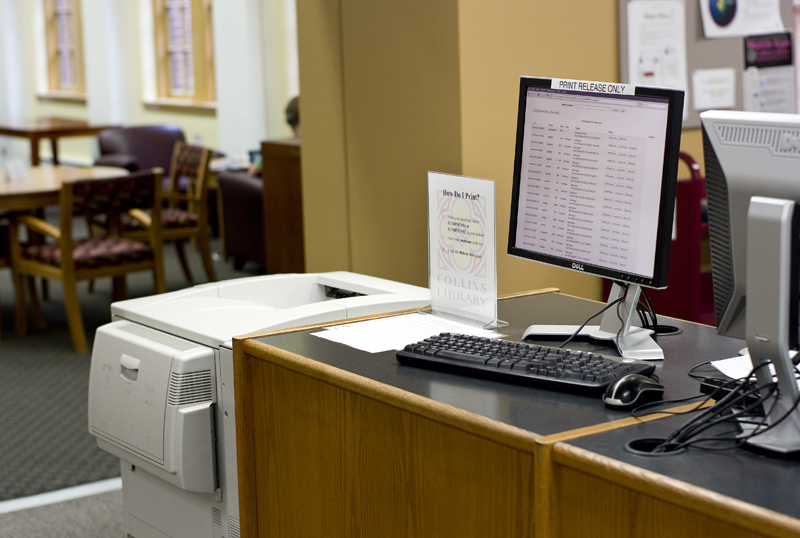 The library is full of paper. I see it everywhere, including in the garbage and recycling containers. Some of that discarded paper measures 8.5 by 11 inches, is unwrinkled, and has one brilliantly blank and usable side.
Some days, I spend long minutes staring into those bins and think to myself, 'How wasteful. This paper should not be thrown away. An institution that professes to value sustainable practices ought to be willing to set up a printer designated for the use of recycled paper.'
It is the responsibility of the students who support conscientious resource management on campus to politely but insistently request that such a minor recycling program be instated.
There used to be a cautionary plaque in the library commons stating that our insatiable paper consumption feeds on something like 11 million trees annually. Many of those deceased arboreal spirits would still be living and producing oxygen if we re-used paper.
A program of this magnitude could be easily undertaken. Perhaps some motivated library work-study employees will search the campus catacombs for an abandoned but still functioning printer, and revive it for the sake of sustainability. Others could be deployed to collect the single-sided paper that has been tossed into bins or forgotten on the windowsills of the reading room.
There once were small cardboard trays next to the printers into which one could place single-sided sheets, but last I noticed, they had vanished. So about a year ago, I filled out a comment card pitching this paper collection and printer installment plan to the library. A librarian promptly responded, saying that it was a good idea, but unfeasible.
In good conscience, I cannot accept this dismissal of a simple practice that would allow Puget Sound to follow its 'Loggers cut waste' creed. If the library cannot do this for whatever reason, perhaps you can.
For the past few years, Puget Sound's Sustainability Advisory Committee (S.A.C.) has offered a grant of some few thousand dollars to students who want to execute a well thought-out and effective project meant to promote sustainability on campus.
One shining example was the UPS Bike Shop. Another, the ill-fated vermiculture apparatus that languished amid melon rinds and coffee grounds behind the S.U.B. It was eventually dismantled.
It is my hope that some student or group of conscientious individuals will apply for a grant and join the rank and file of the Waste Reduction Task Force so that this paperrecycling idea will not go the way of the lowly worms. This is a basic solution to what has become another result of inexhaustible collective indifference.
Paper is as paper does, but if it does not get re-used, then excessive consumption, malodorous pulp milling, owl-displacing deforestry, habitat destruction and environmentalist's remorse are perpetuated — or, if you will, recycled.
The easiest solution is to be mindful of our habits and alter them so that something positive can happen. We could start a tree-planting club to offset our consumption, but 11 million saplings will be hard to come by. I disagree with that credit system anyway, for it merely transplants the problem.
I implore you, O seedlings of the future, to go forth, write to the library and apply for a S.A.C. grant. Seize our dilemma by its putrid roots so that the innocent trees may go on living and avoid a tragic, single-sided fate at the mechanized jaws of Weyerhauser, or the slack lips of unread peer-review articles.
To contact S.A.C., email sustainability@pugetsound.edu.