National Occupational Therapy Month raises awareness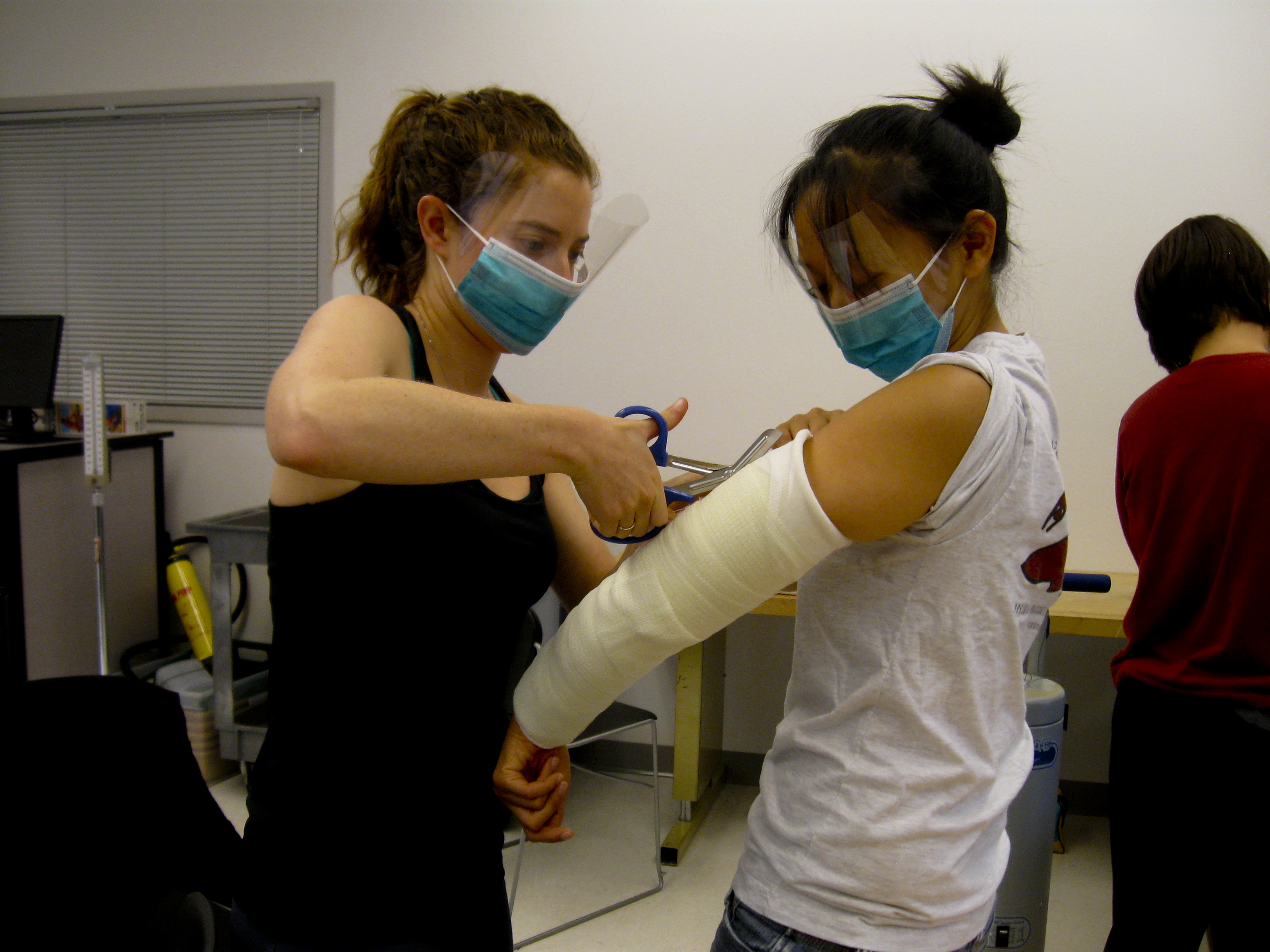 April is National Occupational Therapy (OT) Month, and the OT department at Puget Sound is celebrating by raising awareness about their field.
Occupational Therapy is a rehabilitation therapy that focuses on helping a wide variety of people participate in their everyday occupations or activities. This covers a variety of daily tasks such as getting dressed, taking a shower, driving, cooking and going back to work.
Clients of occupational therapy include those recently injured, those born with mental or physical disabilities, those who acquire a disability at any point in life (from a motor vehicle accident, a stroke, etc.), those who are recovering from more extensive surgery and people with cognitive issues that affect their participation in daily activities, among others.
Because of this wide client base, occupational therapists take a holistic approach to therapy, analyzing each person's abilities and the environment in which they live.  While it may look like many of the treatments are just games, like the use of the Wii, occupational therapists use such tools to help their clients regain balance, improve their visual skills and achieve their overall goals.
Occupational therapists work in a variety of settings including the NICU, schools, hospitals, private homes or private practices among others.  Depending on the work setting and environment, occupational therapists are part of a treatment team working with a physician, nurses, physical therapists, speech language pathologists, school teachers, parents or care givers, and the client to provide the best care.
Occupational therapy focuses on the functional abilities of a person and their daily living tasks. Where physical therapy tends to be more bio-mechanical, focusing on building muscle strength, occupational therapy often focuses on the cognitive aspects of a person's abilities.
The Puget Sound Occupational Therapy program is one of the three graduate programs on the Puget Sound campus.  The program is nationally recognized for its faculty excellence and dedication to teaching, and it draws students from around the country.
"The Puget Sound program is one of only a few in the nation with an on-site clinic.  The last semester in the program we get to treat a pediatric and an adult client from the community getting hands on experience before going out for at least 6 months of fieldwork internships," said second-year OT student and former Puget Sound undergraduate Sarah Bicker.   "We also have several nationally recognized and published professors, making the program that much stronger."
Bicker is drawn to the study of occupational therapy because she wants to help people live a better life.
"[I want to] get a great job where I can truly make a difference in a person's functional abilities and improve their quality of life," Bicker said of her post-graduate goals.
As a second-year in the program, Bicker is completing her thesis and works with two clients of her own.  Bicker enjoys working with her clients while still under the supervision of her professors.  Because of this preparation, Bicker will be ready to successfully work in the real world. After she graduates, Bicker will be interning in different capacities in the field.
As April is Occupational Therapy Month, OT students will be tabling in the S.U.B. on April 11, 12 and 13, encouraging students to try some of the adaptive equipment and learn about the OT program.
Occupational therapists are important in helping people return to their normal lives.  We may all face difficulties performing our daily tasks someday, so if that day comes, ask yourself: What can OT do for you?
Tags :
occupational therapy